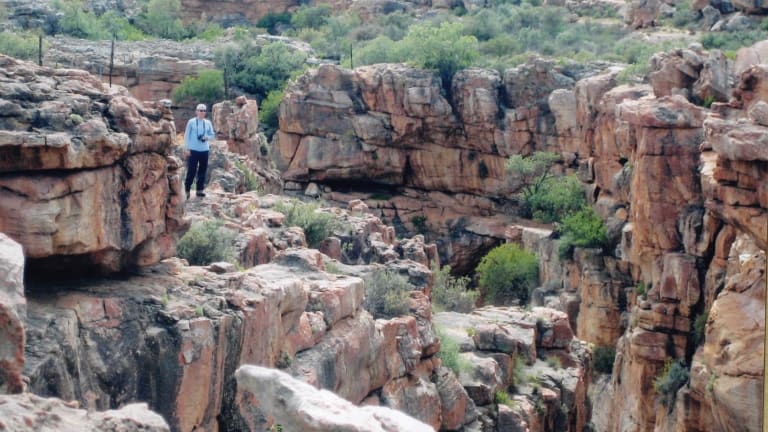 Publish date:
Family Trip to South Africa
Here are some family-friendly ideas on where to stay and what to see in South Africa.
Thinking of bringing your family to South Africa? Here are some family friendly ideas on where to stay and what to see. These photos are from a trip a few years ago. Our daughter was a 2 and I was pregnant. Some people found this trip very adventurous. I thought it was an opportunity I couldn't pass up.
Related: Creative ways to preserve your family travel memories
Mr. Momtrends was there for work and I got to tag along and see the sites. Though safety precautions must be made, I found the country warm, inviting and magical. The people are amazing and the food is so delicious. Plus there are so many natural wonders to see.
This post is sharing the highlights of the trip. Seven fun excursions and safe activities to do with kids in South Africa.
7 Ideas for Your Family Trop to South Africa
1. Everyone loves Elephants. Just and hour outside of Johannesburg, the elephant sanctuary was a tremendous success. My daughter only had to put up with a 60 minute car ride to the Magaliesberg Mountains. The scenery was rugged and rocky and the camp was outfitted in true safari style. But rather than getting in a jeep to experience the gorgeous pachyderms, we were able to get up close and personal on foot.Our three-hour excursion included a lunch at the open-air pavilion. Meters away were four rescued elephants. Each had a unique story and they ranged in age from 7 to 18.
I was impressed that the tour was kept small in size--there were 10 humans and four elephants in the encounter. The tour provided lots of academic information (did you know the gestation period for an elephant is 22 months!), as well as opportunities to touch, feed and walk (that's me in the photo) an elephant--all big fun for toddlers. The price was 1100 rand for two adults (free for under 3) which equals $157. Try getting this experience in anywhere but Africa and you'll be disappointed!
2. Rhinos! Another great day trip is the Rhino & Lion Nature Reserve. In less than an hour we were able to explore the monstrous game park all from the luxury of our car. The highlights: The white rhinoceros and the lions. Once we finished the main drive (about an hour) we stopped into the visitors center. There we walked around and saw a baby hippo frolicking in her pool and five new tiger cubs getting a bath--over the top adorable. Older kids and adults will love the "hands on" portion of the reserve. Our friend got to pet a cheetah--how's that for a wildlife encounter. There's also a terrific playground complete with trampolines and snack bar. I don't know if what my 2 year old will remember more fondly: getting bounced on the trampoline or splashed by a hippo. Only time will tell.
As for lodging in Jo-burg, we picked the all-suite Ten Bompas hotel. They've got playards and are very accommodating for families. We set the crib up in the living area and assure ourselves a couple peaceful nights thanks to the spacious and well-appointed rooms. Johannesburg is unsafe at night. Warning: You need a driver to get around the city and for excursions. We did not do any driving here. This portion of the trip was business for my husband and I picked my activities carefully.
From Johannesburg, we flew to Cape Town. Cape Town is more cosmopolitan and much safer than the business capitol to the north. Many tourists visit each year and this is where many safaris start. In general, it is a lovely place for a family vacation. There's a ton to do with kids of all ages and compared to many other S.A. cities, it's quite safe.
We stayed at the Vineyard Hotel. They were completely prepared for kids–high chair, pack-n-play and humongous tortoise. We rented a small garden cottage–two bedrooms two baths–perfect for our group. The hotel has a few dining options and is located on a rambling property.
3. Visit the Garden. Five minutes drive away from the hotel is the world-renowned Kirstenbosch Gardens. One could certainly make a full day of this botanic nirvana and we did. Little ones will love climbing rocks and checking out the sculptures (and yes, you can touch them) in the spellbinding sculpture gardens. They are running a concert series in the garden on Sundays–check it out if you intend to visit. There's a nice cafe on the grounds for lunch.
4. See Penguins. Another adventure involved a trip to Boulder's Beach to see the "Jackass Penguins." We found them dignified and charming. The drive takes about 45 minutes from Cape Town proper–and it's a breathtaking drive along the coast. It was a thrill and I did my best to stay focused and on the left. Everyone loved these little waddling fellows.
5. Ride a Pony. From Cape Town we went to Grootbos nature preserve. This was our home base for whale watching and hiking. And the place where our daughter fell in love with horses. They had the sweetest little pony ever named Gimley.
6. See Whales. Grootbos is along the Garden Route--a drive named for the scenic views between Cape Town and Plettenberg Bay. We drove from Cape Town and stayed for 3 nights. I wish we'd had more time. The hikes through the Milkwood Forest were stunning and seeing a whale pop out of the ocean took our breath away. Hundreds of Southern Right Whales head to Walker Bay in June thru December. Plan your trip accordingly.
Our final destination was the glorious Bushman's Kloof resort. Located in the Cederberg Mountains, this resort is home to some amazing cave drawings and a no-kill safari. The staff are attuned to your family's every need. We rented the Koro Villa with it's own pool and dedicated staff. It was beyond luxurious.
7. No Kill Safari. This was my kind of spot--a luxurious spa, glorious grounds and a no-kill safari. Bushmans Kloof is a malaria and predator free area, that's why we brought our young family there. We saw nature in relative safety. Our favorite sighting was an ostrich.
Have you ever considered a trip to South Africa? Next time we go, we're adding a safari!
MORE TRAVEL FROM MOMTRENDS
PIN IT!
Use Pinterest to save your favorite family travel articles, and be sure to follow our Travel with Kids board.