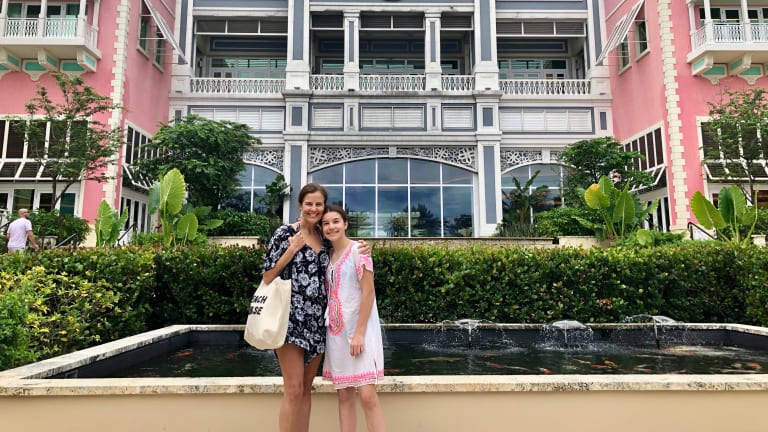 Family Trip Grand Hyatt Baha Mar Bahamas
Planning a beach getaway to an affordably luxurious Baha Mar property
Last year 6.6 million visitors descended upon the Bahamas in search of sun, sand and fun. Many of these millions were families looking for a spring break that would entertain the kids and give the parents a bit of luxury and relaxation. On my fourth family trip to the Bahamas, I split my time between Atlantis and the newer property the Baha Mar. Though I only had 24 hours to work with I took plenty of notes about planning a family trip to the Grand Hyatt Baha Mar Bahamas property. Let's jump in.
Related: Family vacation to Hamilton Princess Bermuda
30 Second Overview of Grand Hyatt Baha Mar
Type of Resort: Large and bustling
Best Age Range for Kids: Under 3 or over 13
Food: Excellent, expensive and lots of options
Activities: Tons
Childcare: Yes, for kids 3-12
Spa: Very high end
Clientele: East Coast Private School Families on spring break, some diversity
Charm factor: Relatively low, but points for the flamingos.
Use Expedia to plan you next trip to the Bahamas
Baha Mar Video Review
I'm going to start including this overview at the top of each travel review to make life easier on parents. There's too much information out there for us to digest. I hope this helps. If you're still interested in the property, I've got more details.
Grand Hyatt Baha Mar Rooms
Baha Mar opened in April of 2017 and is split into three distinct properties. The SLS hotel is sleeker and clubier, that's where the single folks go. The Rosewood is the most posh property with a private pool, more swish rooms and lobbies and an air of exclusivity. The Grand Hyatt is the largest property and has 20 bars and restaurants on property. 
All three hotels can use the beach and the Hyatt's facilities, hence it is the hub of the resort. The hotel offers 1800 rooms including 230 one, two and three bedroom suites. 
Each room includes an ipad that can be used to plan activities and meals.  There's also a Baha Mar App. It's handy way to book your spa and sports activities as well as meals. 
Rooms are well-appointed but the walls are thin. I could hear the cleaning staff in the hall and my neighbors.
Flamingo Cay
One of the distinctive things about the Baha Mar is the sheer size of the resort. With a convention center, golf course and three hotels, the Baha could seem overwhelming and impersonal. To battle that, they rely on doses of charm. The flamingoes are a great example. Native to the Bahamas (they are the national bird), the flamingo is the mascot of the resort. 
There's a sweet sanctuary for the birds with daily feedings and a fun flamingo parade. And you'll definitely want to try the instagram-worthy yoga with flamingoes. 
Find these moments of fun and make them your own. At a sprawling space like the Grand Hyatt it takes some planning to create a vacation that will serve your family well. 
Momtrends tip: give yourself plenty of time to get from point a to point B at the resort. It took 10-15 minutes to walk from the beach to our hotel room. On the upside, we got in plenty of exercise, on the downside we did feel like we were running late all the time. Not a bonus on vacation!
Baha Mar Grand Hyatt Design
The developers for the Baha Mar property tried for grandeur. And a big part of this appears to be the casino. The resort is home to the largest casino in the Caribbean, boasting 100,000 square feet of gaming space. It's a lot. There are more than 1,000 slot machines, 126 table games, race and sports betting, mobile gaming, and exclusive areas for high rollers.
Bonus: The resort is a quick 15 minute ride from the airport. A huge cascading waterfall greets guests upon arrival, and when they are working, there's a special fountain shows on the man made lakes that surround the property. The fountains are choreographed to music, film and lights. Sadly, on my visit the fountains weren't working.
The Sanctuary
Immerse yourself in the natural splendor of The Bahamas as you get up close to sea turtles, stingrays, nurse sharks, native birds, and more. A delight for all ages, The Sanctuary lies at the heart of Baha Mar's commitment to environmental conservation and education.
Kids can get a hands-on encounters with sea creatures like sea stars and observe larger creatures in the lagoon like sea turtles and sharks.
Over in the Aviary we were fortunate to see a bird feeding. I loved the team member who was in charge of the birds. She clearly loved her job and was full of fun facts about the birds.
The Current
Baha Mar is doing a great job embracing the local culture. There's stunning Bahamian art throughout the resort. In addition, they've added a cool art space called The Current.
Part art gallery and part studio, this space is meant to celebrate the community of artists on the island and get guests involved in creating. Sign up for a class or simply give yourself time for  leisurely stroll through the space.
Kids Stuff
If you're looking for a spa appointment and a bit of "me time" Baha Mar is set up with the Explorer's Club for parents to drop-off kids ages 3-12. The club makes use of the full resort and I love that they really get out and use the property.
Sessions are in three-hour blocks and are $55 each. There are evening sessions available too. Use you app to book.
For right now, Baha Mar doesn't offer any teen or tween activities, this is a miss considering the destination and who it serves. I'd love to see a gaming room for kids, a teen art class and teen surf or kayak lessons. 
ESPA
I love a good spa day. I was deeply disappointed I didn't have time to truly experience this gorgeous spa. ESPA is sprawled over 30,000-square feet. It's home to the health club and nail spa.  The health club has spectacular views and a space for an outdoor workout overlooking the Atlantic. 
ESPA features 24 private treatment rooms and the design aesthetic is sublime. The lighting and decor are all beach zen. 
Water 
The property has a wide swath of cable beach and plenty of toys to play with. The beach is kept clean and the water is clear and inviting. Baha Mar employees life guards at the pools and on the beach.
I will say the resort over packs the sand with beach chairs. It felt cluttered on the sand. To really get away, head out on a kayak or paddle board or simply float on one of the inflatables. 
Families will love the complimentary rental program offering stand-up paddle boards, single and double kayaks, water hammocks, floating lounges, personal floats, snorkels, and masks. Motorized equipment can also be rented, but fun can be had without motors.
Where I Ate at Baha Mar
One of the big reasons to pick Baha Mar is the food. This isn't a buffet kind of place. It's for foodies who want to taste exciting flavors. 
For breakfast we headed downstairs to the Regatta Food Hall. The assortment would make even the pickiest eater happy. I had wonderful smoked salmon and fresh fruit and my daughter did a made-to-order omelet. You won't get a view, but you'll get a family friendly space and a ton of options.
Want to grab a quick iced coffee? Momtrends note: Nestled into the back of the resort is an always-busy Starbucks. 
For lunch we picked up tacos and chips at one of the beachside food trucks. El Jefe had fantastic fresh chips and zippy salsa. It was the perfect casual meal to enjoy at the beach.
Our fancy dinner was at Cleo Mediterraneo. You can read my full review here. The restaurant space is open and airy and has a feel of the islands. They honor the ocean and the creatures that live there. The staff is bustling, but cooly on task. I wish the staff had walked us through the menu a bit more and pointed out the favorites. 
There are plenty of bars and lounges for a little kid-free fun. Live music is everywhere --use the app to find out what's going on each day.
Get more ideas on where to eat in the Bahamas here.
Planning a beach getaway to an affordably luxurious Baha Mar property
You've got to know your audience. My 8th grade daughter was along for the ride. She's a kids who loves to be active and can't sit still for much longer than 45 minutes. She's an adventurous eater and loves water sports. She was extremely happy at Atlantis, and unsure of why we had to switch hotels. After seeing the beach and pier at Baha Mar, she was sold. As she gets older, I think she'll really appreciate the "scene" at this hotel.
Clearly I've just scratched the surface of Baha Mar and 24 hours can never give a reviewer (or family) a true feel for a property, but as an overview, if your family likes a vibrant location full of activities, Baha Mar should be on your warm-weather destination short list.
Plan your trip https://bahamar.com/
More Family Island Travel from Momtrends
Our review of Grand Cayman Kimpton
Pin it!
Use Pinterest to save your favorite luxury family vacation ideas. Be sure to follow our Travel-with-kids board here.
This Family Trip Grand Hyatt Baha Mar Bahamas feature is not sponsored. The trip was hosted.