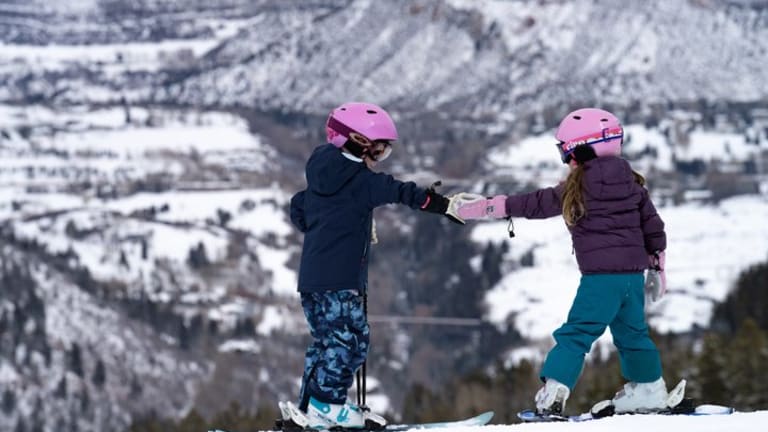 Planning your Family Ski Trip to Aspen Snowmass
As winter approaches, Aspen Snowmass prepares for the upcoming ski season with upgrades and new safety protocols to create an awesome experience.
Families love skiing at Snowmass. If you are looking for a spring break that can keep a wide variety of snow lovers happy, Snowmass should be on the top of your list. This sizable resort tries to combine excellent service with a huge expanse of terrain making it a top destination for families from around the world. Mark your calendar, 2021 opening day is set for Novemeber 25th to Aspen and Snowmass.
Here are some quick Mountain statistics: Base 8104 ft. Summit 12,510, 21 lifts, 94 trails with an average annual snowfall of 300. Types of trails: easiest: 6%, more difficult: 47%, most difficult: 17%, expert: 30%. There are 3 terrain parks (Snowmass Park, Makaha and Lowdown), a 22-foot superpipe and a beginner pipe.
What's New at Aspen Snowmass
Snowmass has invested in skiers in a BIG way this winter. They have updated lifts, improved snowmaking and built a grand new experience for kids called the Treehouse Kid's Adventure Center. Also new this winter, guests will have the ability to manage and complete the check-in process long before arriving in-resort with the new Aspen Snowmass Account Portal and the updated capabilities on the Aspen Snowmass App. 
COVID precautions at Aspen Snowmass
Let's start with the big stuff, the team at Snowmass is making the safety of ski families a top priority. New safety protocols will be instituted across every aspect of the business and will include distancing protocols, face-coverings, limits in buildings and all recommended health and safety measures from County and State agencies. In addition, redesigned operating procedures they will be introduced in ski school, lift lines, on-mountain dining and in rental and retail stores.
This year your trip will all be based around the new Aspen Snowmass Account Portal. Use this tool to manage and complete the check-in process before arriving in-resort. After purchasing lift tickets, ski rentals and lessons online, the Account Portal will lead guests through a step-by-step process to access trip confirmations, complete digital waivers and registrations, and how-to download the Aspen Snowmass App. They idea is to get all the details booked before you arrive to the mountain. 
This allows for fewer points of contact while in resort. Guests can now completely avoid the ticket office by ordering Aspen Cards to their hotel or home within 72 hours of purchase, or utilize pickup boxes to print cards in resort.
"Skiing and riding promotes well-being and renewal for all of us during what has been a year we will never forget," says Katie Ertl, senior vice president of mountain operations. "We look forward to providing the same level of service we have become known for while continuing to add to the in-resort experience with new improvements and enhancements. This year is going to look different, but, even from a distance, it will offer a sense of a community and of connection. There will still be the fresh mountain air, the awe-inspiring scenery, and time outdoors with one another. Our teams are on-hand to offer the best possible experience we can."
The Ski Experience at Snowmass
The updated Aspen Snowmass App now allows users to access all of the information and functionality of the ticket office all in the palm of their hand.  It's going to be an essential tool to use when managing you family trip. The app supplies an easy way for guests to have less points of contact while visiting Aspen Snowmass and spend more time on the hill.
We've now taken the kids to more a dozen ski resorts and Snowmass was notable for having some of the most interesting terrain. I'm an advanced intermediate and had plenty of blues and groomed blacks to work with. My favorite lifts were Elk Camp, Sheer Bliss, and Campground. My "expertish" husband loved all the blacks. The only lift lines are at the base. Once you're up the mountain, things thin out. Don't miss trying out the "poma lift" up to Cirque. You don't have to be a double black skier, there are other ways to get down from the peak or 12,510. And it's worth the views!
New for Kids at Snowmass
The Treehouse Kids' Adventure Center is a multilevel, approximate 16,000 square-foot childcare and ski school facility in Snowmass Base Village. The facility is the main access point in Snowmass for both childcare and children's ski school with rentals, childcare and ski school all under one roof.
The first of its kind in the ski industry, the Treehouse brings the great outdoors inside with Colorado-themed playrooms such as the Butterfly Room, the Trout Haven Room, the Beaver Lodge room as well as a multi-layered climbing room for exploration. This summer, the remodel will change approximately 4,000 square-feet of the interior on the check-in level with the goal of better flow, expediency and guest experience for children's Ski & Snowboard School registration. Ultimately, the remodel will help both kids and parents get out on the hill faster and enjoy more time on the slopes.
Learning at Snowmass
The Snowmass ski school is a well-oiled machine. Hundreds of kids from tots to teens go through the programs each day and Snowmass knows how to make it fun. The seasoned instructors are masters of putting the kids at ease and sending the parents off on their way. Cutting down on drama is an art form. The wide range of instructors speak a number of languages and are trained to help newbies and advanced kids get the most out of the experience.
Don't leave the lessons just to the kids. Even grown ups can benefit from learning something new. I took a private lesson with Barb. She was fantastic and got me to try black and bumps that I would have never tried without her. I can't stress enough how much MORE fun skiing is if you are constantly improving your abilities.
Yes, it's pricey. The full-day private is $680 these lessons can have up to five participants. This is the same rate for a full-day Family Private Lesson. The family that skis together stays together. The pro will work with your family individually or as a group based on needs and abilities. The girls loved the lessons and especially enjoyed the kid-friendly tree trails that had little critters in them. Check it out:
Childcare is available for babies as young as 8 weeks up to age 4 at the Treehouse Adventure Center. This is a licensed facility for infants and toddlers. The Snow Cubs program will take the kids out for a one-hour private class for $145 (rentals included).
Lessons begin at age 2.5 and go strong through the teen years. Ages are grouped:
2.5 to 4: Specially designed for those not completely potty trained! Safe and fun with plenty of break time!
5 to 6: Young Kids. We had one in this group. She loved it. Coach Nicky and Martha really improved her skiing in the two days she was there and she was eager to go back every morning. $149 for a full day with a 7-day advance ticket (includes lunch & lift ticket)
7-12: Our other girl was raring to go for her lesson with the "big kids" her coach Johnny Mika had her jumping all over the place and getting down some big black runs. $107 (included lunch and lift ticket)
13 to 17: Also $107 what's notable is that these classes seemed very popular. It's cool to ski and get better. At many other resorts, lessons drop off at 12 or so. It's amazing that getting better and better has a level of cool.
Apres Ski at Snowmass
When we weren't skiing we loved the vibe of the village. We usually opt to cook the majority of the meals in when we head out on a ski trip. But the variety of dining at Snowmass will tempt even the most accomplished chef. There are so many tasty options on mountain and off. For sophisticated palettes, the Viceroy is the swank new spot in town. We ate at the 8K restaurant on one of our last nights of the trip. For families, my advice is to book an early table. The elegant setting might seem a little daunting but with a 6pm table we had plenty of company—there were at least six other families there with small children. I ordered a rack of Elk ($53) as a splurge. I thought the local game was so tasty and a great way to try something new.
In Snowmass Village there are lots of casual dining options. For a slightly more upscale experience, we had lunch at Venga Venga. This was my favorite meal of the trip. Celeb chef Richard Sandoval has a great slope-side tequila bar and cantina. We stopped in for a midday lunch. There were three or four margaritas to pick from (might just make your afternoon runs a little better). They offer 120+ tequilas. Add in a delish guacamole plus soft shrimp tacos and you've got a lunch made in heaven. The perfect après-ski meal or break from a hard day of hitting the powder. If you are lucky, you'll nab a slope-side table and sip your margarita by the outdoor fire.
On Mountain we tried the Mid Mountain Elk Camp. This is the newest on-mountain restaurant and offers hungry skiers a huge variety of offerings. From roasted chicken to an amazing salad bar, there were tons of healthy and hearty options. FAMILY FUN: On Friday nights in season (de to March) families are invited to Ullr Nights from 5:30 to 9pm $10 for adults and $5 for kids. The evening offers entertainment and a great variety of food. The families we spoke to raved about this weekly event.
Next time: We tried to get into Krablloonik a dining experience combined WITH a dog sledding ride. But they were fully booked. How cool does this look though:
Where to Stay at Snowmass
For our four-night stay we were hosted in Timberline a ski-in/ski-out condo. The condo was a quick 2 minute walk to the Fanny Hill run and had a nice Colorado vibe.
We loved our fully outfitted kitchen and the kids adored the cozy loft. After a big breakfast at home, it was just a matter of slipping on our boots and then a quick 5 minute ski to the base of the mountain where Ski School meets. And we could walk to the Snowmass Village in about 5 minutes.
Our lodge had a new pool with stunning views of the mountain and two hot tubes (one adult and one for the kiddies). The fitness room was in a state of renovation it was getting some brand new cardio equipment--but there was plenty of space to stretch. We found the front desk staff very helpful. They gave us ski locks, handled a fax and were helpful with kid-friendly activities.
At Snowmass ski season runs from late November through mid April. The resort is conveniently located about 15 minutes from the slopes, and the Aspen airport is adorable.
Tips for Skiing Snowmass with Kids
Book lessons and lift tickets early. Call the office at 877-2828-7736
Helmets are required for all ski lessons
Label all the ski clothing you bring! We had our poles misplaced if you are bringing your own gear label. Label. Label.
Arrive 15 minutes early to your lesson. It can be a bit chaotic at the base. On our first day there were close to 800 kids heading to ski school. Everything was well organized on the part of Snowmass, but with two kids it took a bit of time to find the two designated drop off areas.
Drop and go. Don't linger. It makes the kids nervous.
If skiing isn't your thing, the Village has lots of shopping options. If you find yourself a little sore, I recommend the yoga class. I rejuvenated with a après ski yoga class with Erica. The stretching class was the perfect thing to rejuvenate my tired muscles.
Snowmass Discovery Center
The Discovery Center in town has a small exhibit dedicated to the find at the Zieglar Reservoir near Snowmass (we could see the dig site from the top of the mountain). They found the largest collection of Mastodon bones anywhere. In total, 4826 bones were pulled form the site many are being assembled at the Denver Museum now. You can visit the main site at the Denver Museum of Nature & Science. This small site is just to get you excited. Find out more about the find here.
For little kids, I suggest story time as nice after school treat. Located at the Discovery center in the mall, a professional storyteller treated kids ages 6 mos. to 10 years to the verbal tradition of sharing tales. Our kids were mesmerized by the stories of dragons, Jack (from the beanstalk) and more. And there's always the popular s'mores. On Tuesday & Thursday the Village offers free s'mores to kids from 3:30 to 4:30pm.
Once you get to Snowmass you don't really need a car. The lot we parked at was a short jaunt from our condo. We skied, walked or took the free shuttle for the rest of our time at the resort. Cars are definitely optional.
For convenience, great snow and plenty of entertainment, Snowmass is sure to please. This is an ideal spot for families that have kids that range in age from babies to teens. Heck, even bring along the skiing grandparents. Everyone is sure to have a fabulous time.
MORE SKI FEATURES FROM MOMTRENDS
PIN IT!
Use Pinterest to save your favorite family travel features. Be sure to follow our Ski Moms Pinterest Board.
Momtrends was not paid for this post. As with most of our travel coverage, a large portion of the trip is covered. We are never given a script and are always free to form our own opinions.