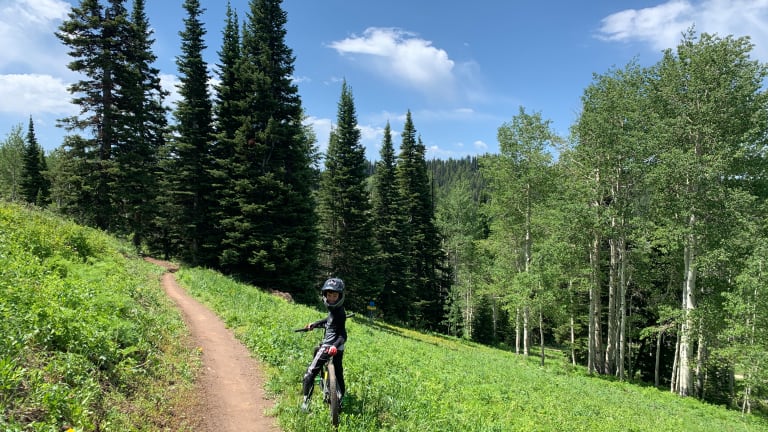 Family Mountain Biking Resorts
This summer has been unusual to say the least. Our plans for a family trip to overseas were sidelined by COVID-19. Camps were canceled. Group getaways on hold. In the midst of it all, we still found a safe way to get out of the house, get active, and explore the outdoors. The ticket to our summer activities? Family mountain biking.
Many ski resorts in the Western U.S. reopened this July with limited summertime activities including downhill and cross-country mountain biking. The resorts we visited in Wyoming, Montana and Oregon had all implemented upgraded safety and hygiene precautions including mandated masks, hand sanitizer stations, separated seating, and only allowing lifts/gondolas rides with your family members.
In addition, mountain biking provided its own unique COVID protections – a full-face helmet and gloves, bike-length social distancing from others, and single-track trails that kept everyone separate and spaced out helped to make me feel safer.
Whether you're an experienced downhill rider or brand new to mountain biking (me!), here are three family-friendly mountain biking resorts to add to your must-ride list.
Grand Targhee Resort - Wyoming
The first time we tried to visit the Grand Targhee Resort bike park in Alta, Wyoming it rained, sleeted and snowed. In July! Apparently summer snow can be quite common, but this California girl was not prepared! Luckily we had a chance to come back a week later and my boys were so glad we did. The Grand Targhee Resort bike park has been voted #2 in the Top 5 Best Bike Parks in the Northwest region on MTBparks.com for the last three years and my boys were eager to see if the runs lived up to the hype. Spoiler alert: it did.
With 2,000 vertical feet of lift-serviced downhill and more than 70 miles of multi-use trails for biking, hiking and horseback riding, Grand Targhee had trails for every mountain biking level. The beginner green run off the Shoshone lift was long and smooth with gentle banks that wound through grassy hills, wildflowers, and shady groves of trees. Two intermediate blues also came off the same lift allowing beginners like me and my youngest to step up our game as our confidence grew.
My older boys and husband spent most of their time on the Dreamcatcher lift with a variety of blues and blacks that offered big jumps, rocky drop offs, and wall rides. The layout of the lifts at Grand Targhee makes it great for families - the two lifts are close together with most of the runs ending in the same vicinity, so it's easy to connect back up between rides.
Grand Targhee offered a full range of trails for beginners to experts, had a great family-friendly vibe and stellar trail views. Of the dozen or so downhill bike parks my family has done over the years, Grand Targhee definitely won us over as a top family mountain biking park.
Where to Stay: Rent a two-bedroom condo on the mountain at the Sioux Lodge so you can cook your own meals, park your RV or Sprinter in the overnight camping lot, or stay down the mountain in Driggs.
Be Sure To: Split a platter of Trap Bar's famous nachos, and ride Dreamcatcher to the top of the mountain to check out the 360 degree views.
Big Sky Resort - Montana
Big Sky Resort in Montana certainly lives up to its name - a sunny day at Big Sky base camp is hard to beat. This summer, the mountain has two main lifts running for mountain biking that provide access to more than 40 miles of downhill biking. Explorer is where I spent most of my time on a long green trail called Easy Rider that winds back and forth across the mountain as well as Rabbit Run, an intermediate run.
Across the Mountain Village, my older boys rode Ramcharger 8, Big Sky's new high-speed, 8-seat, heated chairlift with a weather-proof bubble that came in handy when it started hailing! This big, fast lift meant my boys spent more time biking and less time waiting in lift lines. A third lift, Swift Current, that is being prepped for replacement soon, is only running on the weekend and provides additional access to over a dozen other blue, black, and double black trails.
One of the highlights of Big Sky bike park was the staff. Endlessly encouraging and friendly every time we loaded onto the lift, the summer staff helped to create a positive family atmosphere throughout the mountain. Big Sky also excels at providing a lot of options for non-bikers. The Mountain Village has archery and ziplines, disc golf, an escape room, and Adventure Mountain that has bungee trampoline, giant swing, gem mining, and mini golf.
Where to Stay: While Big Sky Resort offers a number of accommodations on the mountain, during the summer, I like staying down in Big Sky Meadow Village. The town is just an easy 10-minute drive away from the base of the mountain and offers a wider variety of affordable food options for families.
Be Sure To: Make a reservation to do the Nature or Adventure Zipline (limited to family groups during COVID) and grab a designer hot dog and Montana-made ice cream from Yeti Dogs at the Mountain Village.
Mount Hood Skibowl - Oregon
Our final stop was at Mount Hood Skibowl. Mount Hood keeps snow well into summer - we heard that pro snowboarder Shaun White was hitting the halfpipe the same days we were in town! - but we opted instead to check out the two-wheel fun at Skibowl's bike park.
Even though Skibowl has over 40 miles and 1,500 vertical feet of lift-serviced trails, the resort has a smaller mom-and-pop type feel. Only one lift to mid-mountain was open during the week and there are just handful of trails to choose from, most of which are intermediate and advanced.
My boys' favorite part was finding the Freeride Bike Park which had three different paths through the trees filled with fun berms, jumps, gaps, log rides and more.
Where to Stay: There are some lodging options just minutes away in Government Camp or opt as we did for a AirBnB 15 minutes down the road in woodsy Rhododendron.
Be Sure To: Enjoy a pulled pork sandwich from the Outback Grill, and then take a ride on the alpine slide, the only ½-mile dual alpine slide in the Pacific Northwest (one free ride with your bike lift ticket).
MORE FAMILY TRAVEL IDEAS FROM MOMTRENDS
PIN IT!
Use Pinterest to save your favorite travel posts. Be sure to follow our Travel With Kids Pinterest board here.
Momtrends was not paid for this post. Thanks to Grand Targhee and Big Sky for providing bike rentals and lift tickets.