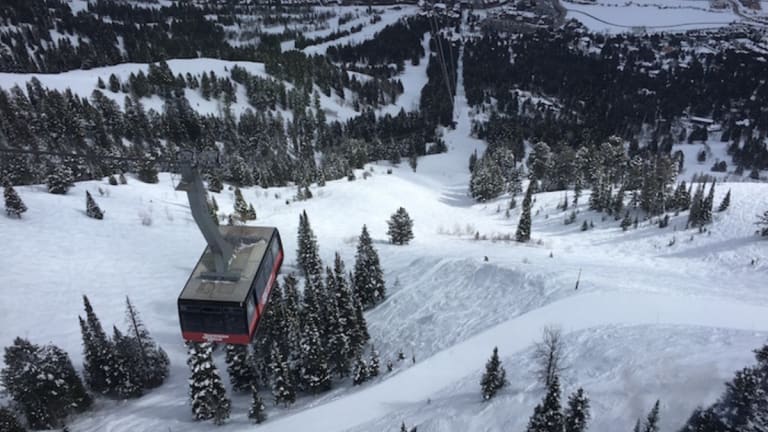 Family-Friendly Tips on How to Ski Jackson Hole
How to Ski Jackson Hole. Tips for planning the perfect family ski trip and advice on how to navigate this challenging mountain.
Jackson Hole loomed big for me. Serious skiers talked up the snow quality and the steepness. In my mind, it was for advanced skiers only and the resort wasn't really on my radar when the girls were little. Well, this year we finally made it out West to experience Jackson first hand. And while the snow lived up to its epic reputation, I was pleasantly surprised to find out there was plenty that Jackson Hole could offer me.
Related: 7 Activities for Family Fun in Jackson Hole, WY  
First let's talk about the stunning setting. Jackson Hole is located in Grand Teton National Park. Skiing here is like nothing else I've ever experienced. It's remote and gorgeous and you really feel like you've gotten away from all the "busy-ness" of life.
Since there's so much to talk about with Jackson Hole, we're going to break it up into two posts:
On the Snow: favorite runs, ski school and on-mountain fun (covered here)
As a working mom, I relish these big ski trips as a chance for our family to bond. I really wondered if the mountain was going to be too tough for me and my younger daughter (I wasn't too worried about Mr. Momtrends and my oldest). I didn't want to get stuck on the bunny slopes while they had all the fun.
Family-Friendly Tips on How to Ski Jackson Hole
Good news friends: even if you aren't an expert skier you will adore Jackson Hole. One of the first things I'm going to tell you is that Jackson Hole is a mountain that requires a plan. You don't just hop on a lift and hope to find a run that'll work. Get a map, opt in for one of the free mountain tours or better yet, hire a guide. Complimentary mountain tours leave from the front of the Walk Festival Hall at 9:30am every morning. Trust me, you don't want to wing it.
Hiring a Pro to Navigate Jackson Hole
We took our own advice and got a guide. We were matched with Paul. He grew up skiing the East Coast, but was drawn West when he had a family. Paul made our introduction to Jackson Hole so much better. He got us properly warmed up on some easy, wide blues before finding steeper, bumpier terrain for us.
A good ski guide like Paul, can of course help you improve your skiing, but he'll also know where the best snow is and how to steer clear of crowds (not that you'll find any of those once you're up the hill at Jackson Hole). Yep, guides as expensive. But so is wasting a day of your precious vacation or getting injured because you skied out of your depth.
There's A LOT OF BACKCOUNTRY to ski. This is where guides come in handy. You might be missing out on the best snow if you stick to the trails served by lifts.
There's plenty of backcountry terrain. In fact, our kids instructor had them hiking and skiing on a few afternoons. They took the Bridger Gondola up (the summit is at 9,095') to hike up to the Headwall. A quote from my 11yo, "it was really hard to hike, but SO worth it."
From the starter terrain park off of Antelope Flats to the bigger ones off the Casper Quad, you'll be catching plenty of air. Burton sponsors the four "stash parks" and kids can't get enough of them. In addition to the Burton-made features, there's cool god-made features too--like the "bath tub" and Corbet's Couloir. Have you heard of this? It's a rocky chute that daredevils take on while onlookers gape. No one in our family gave it a go.
Fun for Beginners at Jackson Hole
You don't have to plummet down Corbet's Couloir to enjoy the top. We accessed Corbet's Cabin by the high-speed aerial tram--it's a great ride--10,450' feet up to the top of Rendezvous Mountain (and please take precautions with the altitude). The crew up there make killer waffles. Top them with Nutella and you've got a little slice of heaven (and yes, I felt really close to heaven that high up!).
Jackson Hole has plenty of challenging terrain. I'm betting you already knew that. But did you know there's plenty for beginners to do? And better still "advanced" skiers like me can get a great balance between challenging runs and cruisers. If jumps and tricks are your thing, Jackson has you covered.
If you plan to take on the mountain solo, be sure to download the Jackson Hole app.
Ski Safety at Jackson Hole
PUT THIS NUMBER INTO YOUR CELLPHONE 307-739.2650 this is on-mountain help. Remember there are unique weather patterns at Jackson Hole. Conditions can change in minutes. Have a plan and let someone else know your plan.
Now let's talk about what makes this spot beloved by skiers. I want a resort that gets consistent snow, and Jackson Hole delivers. Nearly 500 inches a year. That's big snow. It can be quite cold. Especially at the base. Jackson Hole has a "temperature inversion" and often the base will be colder than the upper mountain. Weird but true.
Ski School at Jackson Hole
One thing I can't give an accurate review of is the ski school. Our trip was in late March/early April. JH had lost many ski instructors to their spring and summer jobs (most mountains have to hire seasonally like this). The school was light on instructors and it showed. Our girls bailed after a half-day of school. They found the 10:1 instructor to kid ratio overwhelming. During peak season, I'm told this isn't an issue and you can expect much smaller groups.
The ski school is located at the Cody House. There will be some forms to fill out and gear to gather. You'll definitely want to book lessons ahead of time. Then head outside to find your instructor in the "Kid Ranch" section.
This is for children from 6 months to 17 years old. For the tots, it's a fully licensed daycare provider, for bigger kids it's about instruction in a fun group setting. There are both ski and snowboard options
TIP: If you are planning on a last spring trip book a private instructor.
Here's what we did: We pooled resources and hired a private guide for our kids. We had two sets of friends also vacationing at JH. In total there were 6 girls between 8-12. It 100% made sense to hire Hillary and set her off with the kiddos. As you can see, the girls are all smiles.
Jackson is full of quirky surprises. My girls took me on a wooded path called "Barbie Woods" where locals had strung up Barbie dolls from the trees--most definitely unauthorized and NOT on the trail map.
Jackson Hole knows how to get folks up a mountain. Many East Coast and West Coast resorts struggle with this (hello Vail, I'm talking to you). JH invests big money into people moving. Jackson is great about investing in skiing. Last year they opened a new high-speed quad--the Teton Lift. It can move 2000 skiers and hour. The Aerial tram can hold 100 people and flies up 4,000+ feet in 9 minutes. You can take the tram back down the other way (a lot less crowded--now's the time to get your photos) after a waffle. Everything off of the tram is expert, plan accordingly.
Favorite Ski Spots at Jackson Hole
Take the Teewinot Quad to a short traverse to Apres Vous Quad (this serves Apres Vous Mountain 8,481' vertical). Head to Upper Werner. Split off to Upper Teewinot to get your legs warmed up.
After a warm-up run try the Saratoga Bowls.
Use the Thunder Quad Lift skiing the Laramie Bowl.
Ski Kemmerer, a wide single black off the Teton Quad Chair
Race at the Nastar course off the Apres Vous Quad then heading to the Stash park at the bottom.
Jackson Hole by the Numbers
133 (named) trails
50% expert, 40% intermediate and 10% beginner
12 lifts including Bridger Gondola and "Big Red" Aerial Tram
2500 acres of in-bound terrain
4,139-foot vertical drop
Average of 459"/year over past 5 yrs in season.
Beginners have a nice area down low (sorry no views for you guys) off the Teewinot Quad. It's not a huge area, but it is thoughtfully designed.
Jackson has stellar snow and breathtaking views. It's a mountain for families that embrace skiing "big" the reward is getting in gorgeous runs away from the crowds. Once you finish for the day you can surround yourself in luxury. Going big is a way of life here on and off the mountain. There's a spirit of independence and freedom that you'll won't experience elsewhere. Book your trip here http://www.jacksonhole.com/
MORE TRAVEL FROM MOMTRENDS
PIN IT!
Use pinterest to save your favorite family travel features. Be sure to follow our Ski Moms Pinterest Board.
For more ski fun check out our Family Ski Guide
Accommodations were made by Jackson Hole to facilitate this review. Many of the experiences we paid for on our own. All photos are property of Momtrends.