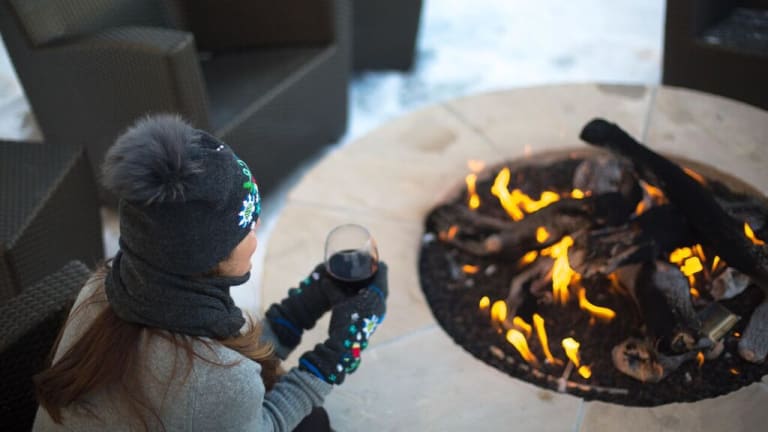 Family Friendly Hotel in Breckenridge
The Residence Inn Breckenridge offers families touches of luxury at an affordable price for a ski holiday.
Breckenridge Colorado is a haven for families that love to ski and snowboard. The town is home to one of the largest resorts in Colorado, plus it boasts a robust arts scene and wonderful food options. That's why families keep coming back to this destination ski town. One thing missing was a family friendly hotel in Breckenridge.
Book the The Residence Inn Breckenridge on Expedia here.
Related: Tips for skiing Breckenridge with your family
Location Matters in Breckenridge
When I think family-friendly, I think about a few things—space to move around, convenience, flexibility, and a relaxed atmosphere. The new Residence Inn at Breckenridge has this all while also being well-designed and thoughtfully appointed with little luxuries.
About 2 hours from the Denver airport, the new Residence Inn (owned by Marriott) is incredibly convenient to downtown Denver and to the slopes. Tucked at the end of town, the Residence Inn boasts prime access to everything a family can desire.
Upon my arrival, I was pleasantly surprised at how naturally the inn blended into town. The architecture didn't feel too corporate—it's a charming spot that looks deceptively small from the road. I was able to find super-convenient parking out front and easily carry my gear to the lobby.
At check-in, you'll be greeted by a friendly face and a warm welcome. Right by the check-in desk you can help yourself to some fruit-flavored water (and you should since it's so dry in Colorado). The clerk can give you the lay of the land. Remember, this model is about being lightly staffed to save on money. You'll have to get your own bags to the room and take care of most of your planning. If you are willing to let go of the high-touch service aspect of many ski resorts, you're going to love this place. It's all about warm efficiency.
Checking in Residence Inn
What about the rooms? I was extremely impressed with my spacious, modern, and highly functional room. First, there are hooks galore. If you have ever skied before you know there are NEVER enough hooks for your gear. Well, Residence Inn knows what skiers and boarders need. There were 8 hooks in my room. Impressive.
In addition to the huge bed, there is also a sleeper sofa that could easily accommodate two small kids. There is also a small dining table that seats four and an efficiency kitchen. This is just one configuration that is available. There are rooms that can fit families of 6 or larger. Everything in the hotel is a suite—so you and the kids will have room to spread out.
The room had a sophisticated palate of colors and modern artwork. Nothing too bland and generic. I appreciated the crisp linens and uncluttered room.
Amenities at the Residence Inn
The main lobby area is very attractive with stellar views of the mountains. There's a big roaring fire, plenty of seating, and a relaxed vibe. I suggest you grab a drink from the bar and pull up a seat by the outdoor fire pit. Jaco makes a great Gluehwein (heated mulled red wine). Sip and take in the surroundings.
If you need some R & R, head up to the roof and slip into the heated pool or hot tub. You'll be surrounded by the snow-capped sights, and not a lot of crowds.
Exploring Breckenridge on Foot
You can order light snacks or bar food at dinner time, but I suggest you either do something quick and easy in your room or head out to enjoy one of the splendid spots in Breckenridge. Some fantastic restaurants are just steps away—there's no need to get into your car. Enjoy the walk to town and the fresh air. If you want to pick up food to make in your room, head to the Breckenridge Market (there is also a wine/beer store right there) which is only 0.2 miles away. I picked up my favorite Annie's Organic Soup and some salad fixings and made myself a little feast for under $15.
My visit was really well-timed. Breckenridge was hosting the annual Winter Snow Sculpture Contest and the Fire Art Festival. If you can forget about the world-class skiing for a moment, these two festivals alone would be worth the trip to Breck.
I mean, how do you even create something this gorgeous out of snow! Both art events were free and open to the public. Definitely bring the kiddos. I saw tons of strollers out and about. Kids can feel safe walking downtown, traffic moves slowly and everyone is on the lookout for pedestrians.
Breckenridge has a thriving artists community and an entire art district. It's not unusual to happen upon an event and most things are quite family friendly. The stroll to the scenic River Walk area is under a half a mile and the Breck Art District is even closer—it's home to galleries, studios, and performances spaces. My walk home from the district took less than 10 minutes.
Speaking of home, my bed was mighty tempting after a day on the slopes. I popped some popcorn in my microwave (provided free to guests) and watched a bit of a movie before tucking in.
Starting your Day at the Residence Inn Breckenridge
For breakfast, plan on the free buffet. You'll get cereal o'plenty and all the carbs you'll need for a day in the snow. Make a waffle for the kids and sip your coffee as you map out your day. The shuttle driver is super helpful and friendly.The free Residence Inn shuttle is on a continuous loop. I never had to wait more than 15 minutes for a lift. Hop on the shuttle from the lobby exit and head to Peak 9 or the Gondola at Peak 7 to start your runs.
I've skied Breckenridge before withe the kiddos—it's a great big bear of a mountain. The ski area is nearly 3,000 acres and has five huge peaks. spanning 2,908 acres. Did you know? Every beginner and intermediate trail is groomed nightly so you can enjoy endless turns throughout your day.
I suggest you start your day on Peak 9 on the Beaver Run Super Chair. Just on the edge of Main Street this area gets less traffic and is really close to the Residence Inn. I loved popping in and out of the trees on the American run and the all blues on Peak 9 stay relatively wide open. If you want to ski the top of North America, head over to the T-bar on Peak 8. You can read more about skiing Breck here.
I didn't want to wait in the line (it's long to get up to the Horseshoe Bowl, but it's 100% worth doing if you've got time. Once you get up there, it's wide open and awesome skiing) to get to the highest elevation. There's so much to do, it can be overwhelming. In all, there are close to 200 runs and four terrain parks. Give yourself five days at least, and you still won't get bored.
What else should you know? The free high-speed Internet is FAST. You can bring your furry friends (I saw plenty of dogs on my visit) and you'll get your Marriott points. There's a modern functional gym and a convenient room in the lobby to safely stash your ski gear each night. Can you use Marriott Rewards points? Yes, yes you can. Time to celebrate and spend those miles, my Marriott Rewards hoarders.
Bottom line: With the looks and feel of a high-end resort, the Residence Inn Breckenridge fits right into this luxurious Western town. What you trade off in services, you more than make up in savings. Your family will be right at home here, pack up your skis and boards and head up I-70 to make memories in the snow.
Plan Your Visit
Book the The Residence Inn Breckenridge on Expedia here.
600 South Ridge Street Breckenridge Colorado 80424 USA
+1-970-453-1181
MORE FUN IN THE MOUNTAINS
PIN IT!
Use Pinterest to save your favorite family travel features. Be sure to follow our Ski Moms Pinterest Board.
This is not a sponsored post. Accommodations were provided to facilitate this review. All images are property of Momtrends and may not be re-used without express permission.