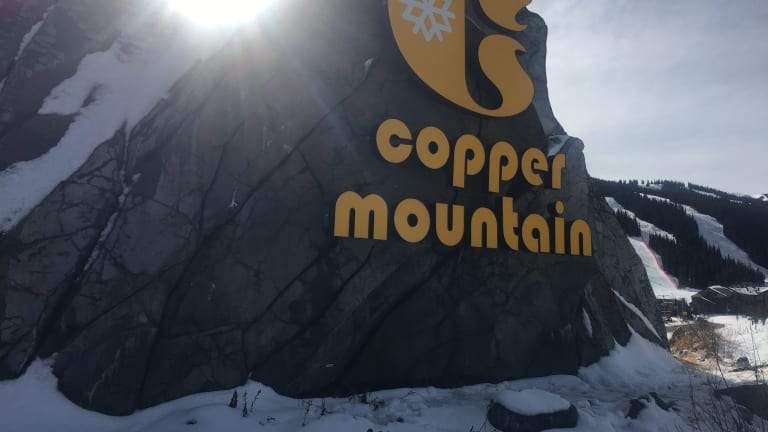 Copper Mountain Family Ski Trip
Fun on the slopes in Colorado
Ski Season starts early at Copper Mountain in Colorado. That's why we make an annual Copper Mountain family ski trip.
Since Copper is so high up (base level is 9,712 feet above sea level), it's one of the first places to get snow and it's easier to make snow (which they are very, very good at). Our girls both ski race and there are early-season camps there over Thanksgiving.
For recreational skiers, Thanksgiving might be a bit early to plan a trip, but by early December, Copper is cranking out the snow and enjoying a few good "god-made" snowfalls to liven things up.
Copper by the Numbers
On our visit, only about 10% of the trails were open - it's okay because they have a whopping 142 trails when they are fully operational. We love the runs off the Accelerator Lift.
2,490 skiable acres. It's a place where you can spread out. The 24 lifts really help get skiers on the snow and out of lines. 
302" of annual average snowfall. What god doesn't provide, an awesome snow-making team fills in.
Where We Stayed
Over the years, we've tried a lot of different options at Copper. We've stayed in a number of buildings in Center Village. Center Village has the advantage of being the hub of most of the activities. This year we tried something new.
We stayed in the East Village in Copper Springs. This has the advantage of being a little quieter. And you might see an Olympian or two coming out of the Olympic Training Center. The East Village is connected by a shuttle or it's a short drive to Center Village.
Lindsey Vonn was training on the mountain when we were visiting. She even stopped to sign autographs.
Copper Springs condos are well-appointed. Our kitchen had everything we needed to make dinner and breakfast (we like to do that to cut down on expenses (click here for more ideas on how to save as a ski family).
The Springs also has a pool room, small gym (though guests get access to the nearby athletic center), fabulous outdoor hot tubes and an indoor sauna. And this was my view each morning!
No matter where your condo is located, you'll check in to the main lodging center (near Woodward Barn) to get your keys. This is also where you can find the spa (great treatments, but not very fancy) and a gym with all the gear you'd need to train like an Olympian. There's also a fabulous indoor lap pool. No fees for any of this (except the spa treatments for resort guests).
What's New at Copper Mountain
Copper is adding new retail and food options to the village. On our visit, we had a delish breakfast at Toast & Co. Settle in to a fabulous breakfast that will fuel you for a full day on the slopes. The setting is trendy with cool fixtures and a fun, fresh vibe. The menu skews towards the savory with lots of farm-fresh produce and yummy food combos (look for the Colorado Proud products). At night it's open for après ski with hand-crafted libations and small plates featuring local purveyors.
Look out for Ten Mile Tavern to open soon. it'll have open-air seating (and indoor options too) with an elevated pub menu paired with a signature 10 Barrel craft beer. With 20 beers on tap, guests can sample a flight or enjoy a personal favorite while socializing with friends, family and locals.
Copper is a Great Place to Learn
Our girls started with ski school at Copper four years ago, now they can ski everything on the mountain. If you have first-timers or beginners in your family, Copper is making your life easier.
New this season is the Kokomo Express Lift and Koko's Hut Debut in Copper Mountain's West Village. No beginner wants to get bowled over by a snowboarder racing down the slopes. Copper has a designated area where beginners can get all of the fun, with none of the crowds! Thanks to a new chairlift, the Kokomo Express lift, a Doppelmayr high speed detachable quad, newbies can get going quickly and easily. 
At the top of Kokomo Express there's a brand new lodge hut called Koko's. The 2,500 square foot building provides seating for 200, restroom facilities, and grab-and-go comfort food, all complemented with a large outdoor deck and sweeping panoramas of Copper Mountain and Tenmile Range. 
I love that Copper keeps pouring money into the on-mountain experience. It's what keeps our family coming back year after year.
Copper App 2.0
New for the 2017/18 winter season, the Copper App now includes updated tracking functionalities. A new friend finder allows you to connect with your friends and family in real time, track their location on the hill and message members of your party all within the application. With the on-mountain stat tracker, get real-time GPS mapping and stats that include runs and lifts taken, distance, top speed and vertical descended.
Take a look around the sweet Center Village at Copper
Ten Things to do on your Copper Mountain family ski trip.
1. Ride the Coaster. The Rocky Mountain Coaster climbs 5,800 feet and is one of the longest coasters in North America. It operates in winter and summer.
2. Sugar Lips Donuts. These sweet treats are family favorites. Find the tiny shop in the Center Village and watch your donuts get made.
3. Download the App: The apps includes events, conditions, deals and more.
4. Jump on the trampolines at Woodward. The "barn" features foam pit jumps, indoor ParkSkis and ParkBoards, skateboarding, BMX, scooters, mini ramps and lots and lots of trampolines. 
5. Breakfast at Toast & Co. Copper's newest food option in the Center Village. 
6. Tubing. Head to the tubing hill over in East Village for nighttime fun.
7. Enjoy s'mores in Center Village. Gather round the orb and melt some messy chocolate.
8. Head to the Spa at the Copper Mountain Resort Spa & Athletic Club, We love the "Travelers Relief" $210 for a 50 minute Moisture Lock Facial and a 50 minute Altitude Adjustment Massage.
9. Book a lesson. Even the most experienced skier can benefit from learning from the pros at Copper.
10. Soak in an outdoor hot tub as you take in the views of the Rockies.
This Copper Mountain family ski trip is not sponsored. Lodging accommodations were made, we paid for airfare, food and lift tickets.