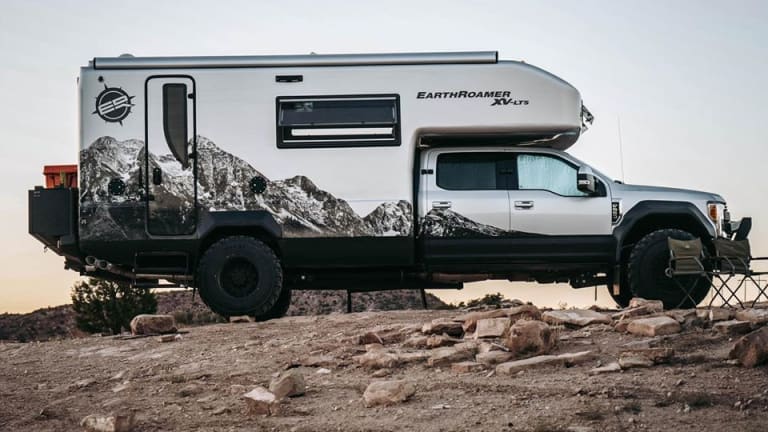 Earth Roamer Coolest Camper Ever
Thanks to the EarthRoamer, even the fussiest mom could imagine camping this summer.
Thanks to the EarthRoamer, even the fussiest mom could imagine camping this summer. Designed for up to four people, this built from a basic Ford 550 model and then souped up. When set up as a camper it has 6' 5" stand-up height in camper and a California King-size over-cab bunk.
Check out more cool campers at Outdoorsy
What's New in the World of Camping
I'm totally into the concept of glamping. Luxury camping is definitely my idea of fun in the outdoors. Now with a ride this cool, I think the RV trend might be for me as well.

Yes, it will require fuel, but we love these green features. The Roamer is self-contained and not dependent on external water or power hookups. The car's batteries are charged by rooftop solar panels and dual engine alternators while driving.
It's a solar/diesel hybrid with four-wheel drive that can get just about anywhere--mountains or sea. They've been around since 1998 and now make a few models and have a pre-owned market as well. 
What is it like inside the Earth Roamer
The Roamer's got a shower, highly efficient kitchen and a cassette toilet waste handling system. There's a 85 gallon water tank--hello hot shower after a long hike! It's the ideal way yo get to all those national parks and enjoy world-class hiking with your family.
The interiors are luxurious (as you would imagine at this price point and there's loads of customization to be done. 
More About the Earth Roamer
Each EarthRoamer is built custom to order. What's it going to cost? Completed 2020 EarthRoamer LTis range from around $600,000 and up depending on options chosen and custom work. And you'll need to be patient. They typically have a backlog of 4-6 months. Head to www.earthroamer.com for more details.

Pre-owned vehicle are also available. The company reconditions PreRoamed campers and provides them to new families at a discount. Every PreRoamed EarthRoamer sold must pass our stringent 500+ point inspection. This is the exact same inspection that every EarthRoamer must pass before leaving production and ensures a turn-key experience for the new owner.
If you are seriously thinking of making this larger purchase. It's a great way to discover if the Roaming lifestyle is right for you and which design features work for your family.
Want to get into a camper sooner? Experience the magic of outdoor travel with the best RV and trailer rentals on the planet with an Outdoorsy rental.
Getting into Camping
To get your kids excited about camping try throwing an indoor camping party. We've got some great ideas here.
More Travel Ideas from Momtrends
PIN IT!
Use Pinterest to save your favorite family travel destinations to help inspire your next trip. Be sure to follow our Travel with Kids board here.
Momtrends was not paid for this post.