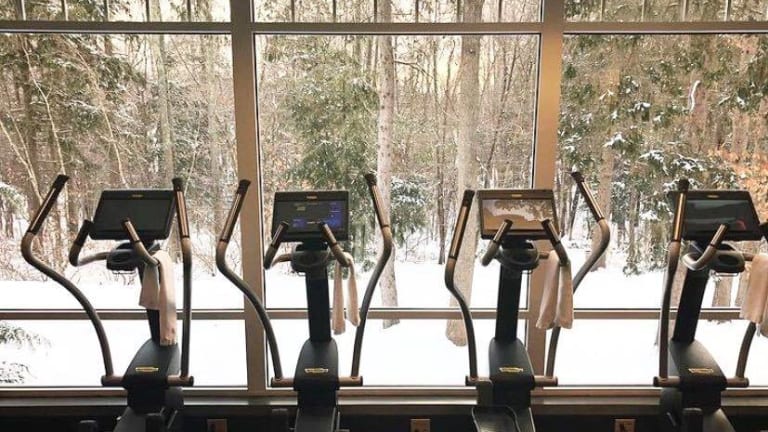 Canyon Ranch Lenox Review
Trip planning help to offer you a good idea for what's in store for you at this world-class retreat.
Heading to the Canyon Ranch in Lenox I had unreasonably high expectations for the trip. It's not fair to have an experience so built up prior to a blog review, but the name is storied and the Canyon Ranch brand so strong it was inevitable. Here's the spoiler--the resort really delivers an exceptional experience. Our Canyon Ranch Lenox review should help you with trip planning and offer you a good idea for what's in store for you at this world-class retreat.
Related: A first-timers guide to Canyon Ranch
Canyon Ranch Lenox
Here's a video overview of the two days at the resort:
The History and Charm of Canyon Ranch Lenox
Nestled into the Berkshires, it took us about 2 hours and 45 minutes to get there from New York City. The original site was a glorious home called Bellfontaine built in the 1870s. Over the years it had varies incarnations and in the late 1990's the Canyon Ranch company purchased the property to create an East Coast haven similar to the Arizona property.
There are 126 rooms available in the new facility. Dining and lectures take place in the old grand manor and a enormous gym/wellness facility bridges the two buildings. The property is surrounded by acres and acres of greenery (if you want to bike or drive, there is plenty more pristine nature to be found, but we mostly stayed on property). The perfect bucolic setting to leave your worries and bad habits behind.
Arriving at Canyon Ranch Lenox
I brought along two members of the Momtrends team--we made it a business retreat as well as a treat for another successful year in business. But we saw plenty of couples there (love this as an anniversary trip!) as well as single women looking for a break and renewal.
The attention to details starts well before you arrive. The resort was in contact with information about booking special classes, spa services and providing recommendations on everything from diet to lectures based on individual health profiles.
Momtrends Tip: I highly recommend looking through the information before you arrive on property. There are more than 200 services offered--it can be a little overwhelming if you don't narrow the choices.
You'll also receive This Week at Canyon Ranch--it's a publication with all the offerings of the week. This will be your bible and we found it easy to ready and easy to plan our days.
Here's a sampling of our day:
8am WAKE-UP WARM UP STRETCH (25 mins)
9am BREAKFAST in main dining hall
10am YOGA FOR ATHLETES (all classes and lectures are about 50 mins unless otherwise noted)*
11am INFLAMMATION & IMMUNITY LECTURE
12 LUNCH & LEARN Demo chef prepares and shares tips on healthy dining. We saw Pecan Chicken with a Maple Orange Glaze
1pm ROLL 'N RELEASE
2pm TOUR OF PROPERTY
3pm SHOCKWAVE & UNWIND
4pm MEDITATION
5pm down time and relaxing in spa (don't miss the eucalyptus steam room)
6pm MASSAGE I recommend the signature Canyon Ranch massage. The best I've had in years!
7:30pm dinner in the formal dining room (make reservations!)
*everything starts on time so be early or at the very least punctual.
This glimpse is just the tip of the ice berg. There are dozens & dozens of options. In fact, I think you'd need at least ten days to sample everything. Top on my list for the next visit include taking tennis lessons, trying the aerial adventures outside (a ropes course) and doing some hiking.
What to do at Canyon Ranch Lenox
You'll likely want to try a lot of new offerings. And you should. That's one of the benefits of an all-inclusive resort like this one. We really enjoyed the pain/gain of the roller class. Since I own a foam roller and only know the basics, the instructor armed me with a lot of new exercises to help my muscles recover after workouts. The "Shockwave" class was also awesome. We loved the energy of the instructor and definitely got our heart-rate up in 30 minutes of stations.
If you want to dial it down, that's ok too. Plenty of folks opt for just a class or two added with serenity and enjoying the glorious gardens and grounds. Hey, that's why the hammocks are there! All the little touches make this a truly unique experience. The staff was quite efficient and friendly and we loved the ubiquitous flavored waters everywhere. We all carried our special labeled (and free) Canyon Ranch water bottles and refilled throughout the day with lemon water or cucumber water. What a luxe way to stay hydrated.
Speaking of taking it easy, we decided to tuck in early and get up early. There is nightly entertainment (when we were there entertainment included a comedian and movie night). Focusing on the healthy living aspects were paramount for us, so we wanted to rise and shine!
Canyon Ranch Lenox Overview
Who should go?Women of any age looking to focus on health and vitality. Teens (14-17) are welcome with adults. Here's the best part students can come FREE with their mothers. Find out more here (can't wait to take my girls) There is a BIG emphasis on weight loss. Though that wasn't our focus, the dietary information provided was a terrific reminded to stay the healthy course.
Don't miss? The gift shop is packed with stylish workout gear. I found a great yoga cover up.
Good to know: The resort doesn't offer alcohol. You can have wine/beer if you bring it to your room.
How much is this going to cost? That depends on how you go and how many extra you add in. We loved that the property has a no-tipping policy. We left our wallets in the room and travelled light. When we called to book a weekend in late August (two nights) the rate for the weekend was $2540 per person with a $280 spa credit per person. This is for a deluxe room and this includes taxes and gratuity and all tips. And remember this is an all-inclusive resort. Rates drop Sept. 2nd. and the same trip was $2286 because Sept. is the anniversary month. 
Book your trip here http://www.canyonranch.com/lenox/plan-your-stay/make-reservation
MORE TRAVEL FROM MOMTRENDS
PIN IT!
Use Pinterest to plan your next getaway. Be sure to follow our Travel board on Pinterest.
Momtrends was not paid for this post. We were treated to a weekend at this resort to facilitate the review.