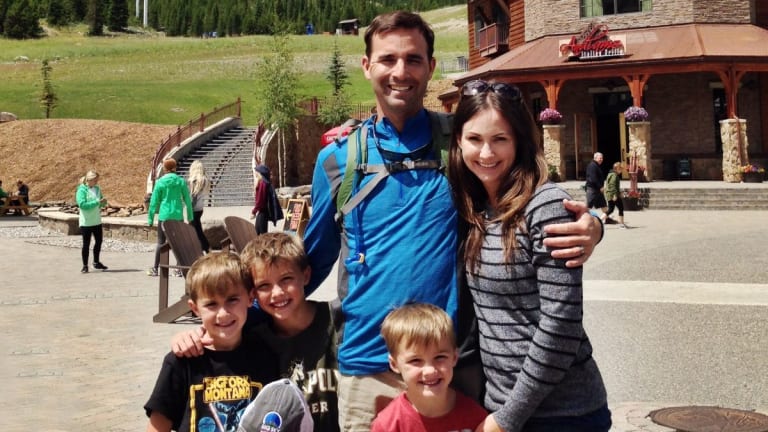 Big Summer Fun at Big Sky Resort
Five ways to get your family active in the Montana mountains this summer.
This July on our family's annual, month-long summer road, we spent four weeks driving from Southern California to Idaho, Montana, Wyoming and Utah. Our northern-most stop was at the beautiful Big Sky Resort in Big Sky, Montana. While you may know Big Sky Resort as an amazing winter-time skiing destination (and it is! We featured it as one of our top picks in our Momtrends Family Ski Guide!), it also has lots of reasons for year-round visits.
Here are my family's five must-do activities on your next summertime visit to Big Sky.
Music in the Mountains Summer Concert Series 
Our first stop as soon as we arrived in Big Sky was the live summer concert series put on by Big Sky Arts at the Center Stage at Town Center Park. The free concert is held on a big grassy lawn surrounded by food and drink vendors. The Art Council brings in a wide range of musical guests ranging from soul and funk to classical to bluegrass. We got to enjoy the soul/reggae/R&B covers of The Suffers and enjoyed local tacos and BYWOM (By Word of Mouth) burgers. Hearing live music in a new town is a great way to get to mingle with the locals, and this outdoor venue gave us a great first sunset view of the surrounding mountains.
Nature Zipline  
Big Sky Resort offers two different zip lines: the Nature Zip that takes you over treetop canopy and the Adventure Zip which is designed for speed. We opted for the Nature Zip which has a lower weight limit (aka good for younger kids) and starts with a 20-minute hike up the mountain (they give you breaks along the way to catch your breath, get your picture taken, and learn about the mountain). Then you get hooked in to the first of three 300' to 500' long zip lines. The guides are super helpful and encouraging - my boys started off a bit nervous and ended up wanting to go first in line and even attempted doing one upside down! There are also professional photographers that are positioned at various points during the zipline who are snapping your pictures so you can have great action shot memories of your adventure.

Lift-Assisted Mountain Biking 
This was my oldest's first time mountain biking, and he had a blast! Kids and adults alike can rent downhill or cross-country mountain bikes along with helmets and all the protective pads. A lift ticket takes you up the mountain with the option of over 40 miles of trails including beginner, intermediate and advanced runs to make your way down. My husband loved that the beginner run only took about 20-30 minutes to complete which meant that my son got lots of opportunities to try - and improve on - his ride in his half-day rental. 
Smoke Jumpers Giant Swing 
Located in the summer base camp is the Smoke Jumpers Giant Swing. Kids are hoisted up four stories and then, on their command, released in a giant swing! It's definitely a thrill! Buy one ride at a time ($13) or an unlimited, transferable pack for $49 (worth it) that can be used on the Giant Swing, Bungee Trampoline, and Climbing Wall - all located steps from each other at Base Camp.

Gem Mining 
Kids love gem mining. You may be asking why you are spending $10 for a bag of rocks, but when you see your kids sitting quietly, intently focused for 15-20 minute (longer if you have persistent kids with longer attention spans) sifting, swirling, and poking through the rocks on a mesh screen in the water trough looking for precious gems, you'll be a believer. And there are indeed cool rocks in there! My boys each found over a dozen noteworthy stones in their bags that they could identify with a handy chart that comes with the rock bag. I recommend grabbing yourself a cold beer and your kids a rock bag and both enjoying a little quiet time.
And this was just the tip of the activity iceberg at Big Sky Resort! If my boys were older there was also a high ropes course, archery, skeet shooting, golf, and deluxe paintball to name a few as well as a variety of free activities like mini golf for the kids, frisbee golf and lasso practice. Obviously, we'll have to return!
As you can see, the location is gorgeous, the activities varied, and the options for family fun plentiful. But what we were most impressed with were the staff members. From the restaurants to the retail stores, the zip line to the hotel bellman, the staff was incredibly friendly - and not in a fake, I'm-being-paid-to-be-nice-to-you kind of way. There were genuine questions about what activities we'd done from the guy clearing our dishes and sincere, kid-friendly encouragement from the zip line instructors. Great outdoor fun + amazing helpful staff + gorgeous location? I call that a must-visit family destination.
For more on visiting Big Sky Resort in the summer, fall, winter or spring, visit bigskyresort.com.
What Else You Need to Know About Big Sky
MORE SKI FEATURES FROM MOMTRENDS
PIN IT!
Use Pinterest to save your favorite family travel features. Be sure to follow our Ski Moms Pinterest Board.
Momtrends was not paid for this post. Our accommodations and activities were provided to help facilitate the review. Opinions expressed are my own.