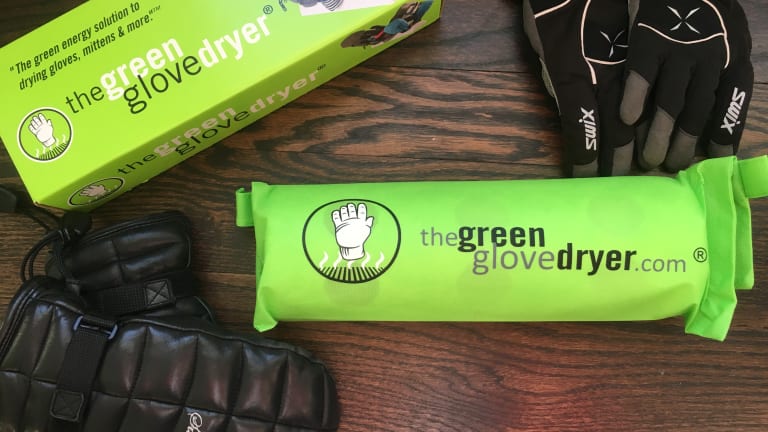 Publish date:
A Better Way to Dry Wet Gloves
Winter solutions for moms: the Eco Glove Dryer is a better way to dry wet gloves...and mittens, and boots, and running shoes!
In this family, we LOVE to play in the snow. We ski, we hike, we play with the puppy -- all things that leave our snow gear cold and wet. While we are all about PLAY, what we don't love is the aftermath: soggy gloves and damp boots. This winter we discovered the Eco Dryer and it's a better way to dry wet gloves...and mittens, and boots, and running shoes!
Here's our exclusive Ski Moms deal save 20% off and get free shipping with code: SKIMOMS2021
An Eco-Friendly Way to Dry Wet Gloves
Since winter doesn't seem to want to let up on us, I thought it was time to share this eco-friendly ski mom trend. The Eco Dryer was dreamed up by a Mom Boss, Karen Smoots.  Like most inventions, this one was created out of necessity. 
Karen's New England family was outdoors all the time in the snow and during mud season. They had fun. They got wet. As Karen says, "We were tired of stinky, wet gloves every morning! Laying them on our vents just didn't work." 
Karen was looking for a more eco-friendly option than sticking everything in the dryer or using an expensive electric boot dryer. She wanted a simple solution that would get those pesky spots INSIDE THE GLOVES and in the toes of shoes, dry overnight. 
How this Glove Dryer Works
The Eco Dryer was born. The plastic device works with your heating system to get air where it's needed. The key of the design is ventilation. Karen mastered a design that gets air into the gloves and boots efficiently without draining the electric grid. 
Setting Up the Eco Dryer
Karen sent me a model to test and I was hooked. It's a "snap" to assemble and works with your floor vents to quickly dry out your snowy gear. Once the Eco Dryer is assembled, it's just a matter of finding a heat and air source to work with.
When the Eco Dryer is placed over a floor register (vent) or against a baseboard register (vent) it allows the heat/air to circulate throughout the gloves and boots. It's smart, the design lets you dry from the inside out. 
And unlike those cheaply made Dry Guy dryers available on Amazon, these are safe to leave 24 hours a day. You just set it and forget it. BONUS: They use ZERO extra electricity. 
Extension nozzles are also available for bigger boots.
Momtrends Tip: The first time we tested this product we set it up COLD. The trick is too warm the parts on a vent FOR SEVERAL HOURS PRIOR TO ASSEMBLY.
Real World Snow Testing
First step, we all played in the snow. We got our shoes and gloves really wet thanks to a day of skiing and snow running. Then we headed home. We set our gloves and boots on the dryer and then let our forced air system do the work overnight.
The result? Everything was completely dry by morning. Easy peasy. When we were done drying and heading out for more fun, the dryer went back in the mudroom for storage. It's light and so convenient. 
Where else does the Eco Dryer work? 
While the vents are great, you might not always have access to them when traveling. With a little experimenting, I have found a few more ways to use the Green Glove Dryer.
On top of radiators
Next to radiators
On the hearth
Now, none of these options will dry as quickly since there is no forced air going into the glove, but it's WAY more efficient than drying things flat. 
Get creative on how you use the Green Glove dryer. The key is how the design helps ventilate the gloves and boots. I plan to travel with mine to Vermont!
Confession: I will admit we have a custom boot dryer from Canada in our Connecticut house. It cost more than $1,000 and it does a great job, but so does the Eco Dryer for just $24.95.
Don't forget our deal: Ski Moms save 20% off and get free shipping with code: SKIMOMS2021
MORE SKI FEATURES FROM MOMTRENDS
PIN IT!
Use Pinterest to save your favorite family travel features. Be sure to follow our Ski Moms Pinterest Board.
This A Better Way to Dry Wet Gloves feature is not a sponsored post. Green Glove Dryer DID sponsor our Ski Moms Giveaway.