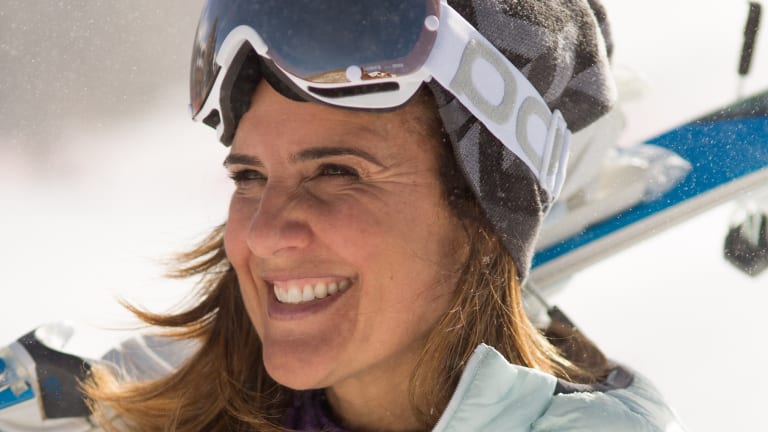 Stylish snow-ready clothes for the slopes
The best clothes for the slopes from Arc'teryx
You know I love my time on snow. This winter I found a new-to-me brand to love.  Arc'teryx is my pick for this season's most stylish ski wear. And the good news is - it's functional as well as chic. 
These skiing and snowboarding essentials will keep you warm and dry all day while also looking sharp. Ladies, it's hard to be in the moment if you are shivering. Arc'teryx is made to get you out exploring and as an added bonus, it looks fabulous too.
When I was out at Copper Mountain in November, I took some time off the ski trails to put together this ski fashion feature for you with my favorite Colorado photographer David Neff.
Stylish Base Layers
Start with the vertices hoodie in dahlia. This bright pop of color is more than a stylish ski top, it's also got a balaclava style hood. If you've been outside lately, you know how important it is to have a great cold weather base layer. 
This sleek style can be worn for all sorts of winter workouts, and it's super soft right against your skin.
Puffer Jacket You Can't Live Without
We all know the importance of a great lightweight puffer, they work magic at keeping the core warm. The Arc'teryx Atom Jacket in Dew Drop is insulated Coreloft™. It's super packable (in case you decide to jet off to Apsen). This hoodie jacket makes a super-warm mid-layer or a light top layer for spring conditions. 
Best Fitting Ski Pants 
My struggle for great ski pants has ended. I've been looking for a pair that has the length to cover my boots without being incredibly baggie. Sure, I know the snowboard style is oversized and slouchy. But I'm a skier and frankly I'm not cool enough to pull off that look. I want layers that don't make me look bulky and that allow me to ski in style and comfort. The Sentinel Pant in Azalea is simply amazing.
The Arc'teryx Sentinel pant has GORE-TEX® on the outerlayer. This keeps you nice and dry even in the snowiest conditions. The PowderCuffs™ seal out snow and are built from rugged 100D Cordura®. Keprotec™ instep patches prevent damage from edge cuts - I have other ski pants that fray at the bottom (not stylish). The attention to detail helps these pants resist tears.  Inside, the pant has a warm flannel liner; on warm days it's fine to put these against your skin. 
These are the best-fitting pants you're going to see on the mountain and they let you really move! The double side zips open wide for rapid ventilation. Integrated Slide'n Loc™ attachments link with the Sentinel and Scimitar Jackets' powder skirts, creating a unified clothing system that moves with the body and helps seal out driven snow.
How to Style Helmet Head
I wear helmets all the time now (I like Pret Helmets). Which means I usually have helmet head. To solve the problem, I always have a hat on hand. This Scando Hat in Meteorite from Arc'teryx is super cute for when you are on the mountain but not skiing. At the end of your ski day, swap your helmet for a chic reversible scando toque.
PS In Canada they pronounce this style of hat a toque (pronounced tōk which rhymes with coke). You learn something every day! 
Shop the Arc'Teryx collection for women, men and children here. This Canadian brand is know for high performance outdoor equipment, but I think the style they bring to the slopes is notable as well!
2017/18 Family Ski Guide
Want more ideas on how to stay fashionable and warm? Check out our 2017/18 Family Ski Guide. It's full of ideas on what to wear and how to stay warm!
Photos by David Neff http://davidneffphoto.com/ all images are property of Momtrends Media.
This is not a sponsored post. There are affiliate links in this post.