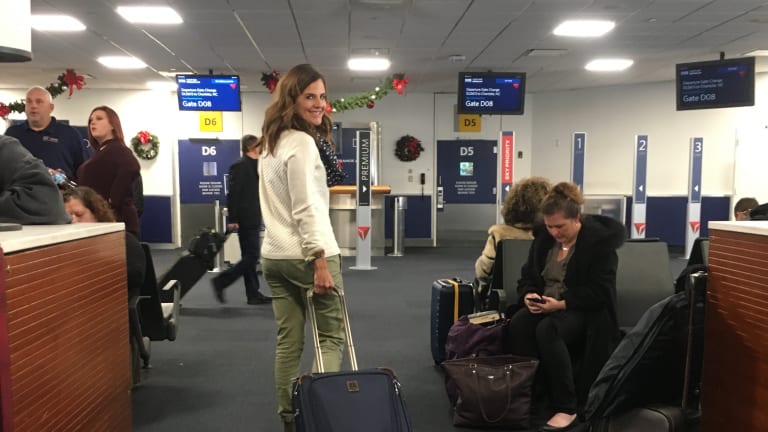 Best Overhead Roller for Women Travelers
Travelpro Crew Expandable Suitcase Review
Last year I made platinum on Delta. This means I travel a ton and my luggage gets a good workout. After 10 years, my old Travelpro rolling suitcase was ready to be replaced, I started my hunt for the best overhead roller for women travelers.
Work trips are great for building my business, but it also means I'm away from my family a fair amount. See that delicious 10 year old in that picture? I want to get home to her as soon as I can. To make my travel time as seamless as possible, I pack smart and apply some strategic planning. Most of the time, this means carry-on only for me. Wasting time in baggage claim is simply not in the cards.
I've been a devoted Travelpro consumer for years. My last bag went on HUNDREDS of trips to more than 30 countries, so when it was time to replace my bag, I reached out to the brand.
I told them I wanted a bag that was the largest legal bag to fit into the overhead on most flights. This was the most important factor for me. While I am a streamlined packer, I also love my shoes and always bring workout gear on trips, I need as much space as I can get away with!
Best Overhead Roller for Women Travelers
They suggested the Travelpro Crew Spinner, a trendy, durable roller bag. It's got loads of style and it's high-tech! This is the civilian version of the flight crew standard designed for pro travelers. 
The Crew 11 2 25" Expandable Spinner Suiter is designed to get you where you are going in style. Pick from four different colors; I love the navy with the trim because it stands out in a crowded airport.
The exterior of the bag is made with "ballistic nylon fabric" with DuraGuard® coating for stain and abrasion resistance--which is good if you've ever had to check a bag and seen the airlines basically CHUCK it into the plane.
My favorite feature is the way it rolls. The wheels move effortlessly, allowing me to navigate busy airports with ease. Maneuvering through TSA pre-check is a breeze with the 360-degree dual spinner wheels. The eight wheels have "MagnaTrac® technology" - somehow Travelpro has figured out a way for the wheels to always roll straight. 
Bonus Feature: It charges your devices!
The Crew roller bag has an external USB port on it. I can connect any USB device to the bag to power up. If you've ever had your phone run low as you are trying to find your uber, you know this is an important feature!
Can this roller fit in the overhead?
Ok, I know I said this already, but it's important. This carry-on bag has been sizer bin tested to accommodate overhead bin space on most major US airlines. When it is fully expanded (there's a zipper on the bag that allows you to expand the bag with ease), you may need to check the bag. Shop smart! 
Will this Travelpro suitcase last?
Yes, it will. My last bag made it a decade. I expect this one will do the same. And Travelpro offers a lifetime warranty against defects in materials and workmanship.
Pick up your Travelpro Spinner on the Travelpro website.
Pin it! For when you are ready to shop
This Best Overhead Roller for Women Travelers feature is not a sponsored post, we were given a sample for review purposes.