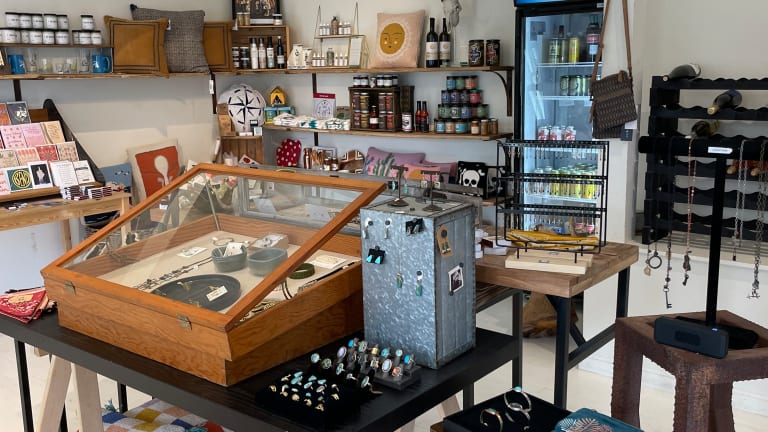 Best Discoveries When Exploring Bend Oregon
Here are four fun boutiques that are uniquely Bend and worth a visit for fans of fashion and fun.
I was completely charmed by my trip to Bend, Oregon. It's a blend of desert and mountain and incredibly cool. The vibe is small town and hip, but it's certainly on the move (they seem to be adding 10,000 new people every year). I made a few new discoveries when exploring Bend and I hope they come in handy when you make your first (or next) visit. 
Related: Spring Skiing at Mount Bachelor
Getting to Bend
Getting to Bend is not exactly easy from the East Coast. I flew into Redmond (not direct, I came via Seattle). From the Redmond airport, it's about a 30-minute drive to Bend. Here's something to note: Expect a LOT of traffic circles, I felt like I was back in Southern Germany! The city is sprawling with very few tall buildings, Bend meanders around the Deschutes River with housing tucked into tidy neighborhoods. The house are pretty low profile. You'll see a lot of Bungalow style architecture and the houses cozy up to one another with small yards. 
It's a place to celebrate the outdoors, there's hiking, biking and so many ways to play in the snow. Getting up into the mountains is easy. The downtown area is about 30 minutes from Mt. Bachelor. Just a few minutes after you head out of Bend, you'll set eyes on the Cascade Range. I focused on the snow fun in a different post, but here I want to share some of the cultural finds from Bend. And when I say culture, I mean shopping and playing outside. I was delighted to stumble on some great spots and lucky to have friends that led me to a few others. Here are my Bend discoveries to share.
General Store 1326
Through a bit of serendipity, I met up with a high school friend in Bend. Though we hadn't seen each other in decades, Sheareen and I quickly caught up and bonded over our love of the mountains. She landed in Bend back in the 90's and scooped up this building. Her partner renovated the space while she filled it with her fashion finds. She was a visionary when she spruced up this neighborhood spot. She found a terrific location and hung on while Bend changed around her.
It's had a few different incarnations, but in the hands of the original owner it's vibrant and inviting for locals or tourists like me. The store is filled with playful accessories, delightful homegoods and perfect pieces to add to your wardrobe (plus beer & wine too). It all feels light and warm and wonderful. I purchased a piece of handmade jewelry from a local artist and loved the paper products too.

General Store 1326, 1326 NW Galveston Ave, Bend, OR 97701, (541) 389-1271, follow on Instagram @generalstore1326
Bronwen Jewelry 
A ski mom friend recommended I pop into Bronwen jewelry. The handsome store takes painstakingly care to present each beautiful piece in the best light. You'll want to tour the small space slowly so you can discover the treasures within. 
I picked up a pair of earrings for my daughter and couldn't resist a little something for myself too. The pieces are "wear everyday" designs that are simple and lovely. Everything is handmade in the USA.
Bronwen Jewelry, 124 NW Minnesota Ave, Bend, OR 97701
Dutch + Bow
For denim, you'll want to head over to this fun spot. It's close to Bronwen in the downtown area of Bend. The boutique focuses on sustainable fashion. The owner, Ariane Harris, is a 3rd generation Oregonian, and she was on hand for my visit making outfit suggestions and helping with sizing. I loved all the attention I got when shopping and trying on denim. It wasn't pushy, just helpful.  Find out more here.
Dutch + Bow, 217 NW Oregon Ave, Bend, OR 97703
Vanilla Threads
Vanilla Threads is located in the Old Mill District. It's a new shopping area in Bend made up of historic mill buildings turned into an outdoor retail mall. The district is nestled alongside the Deschutes River and is a pretty place to shop and eat. There are lots of chain stores in the area (Lululemon, Athleta, Gap, etc), but I'm always drawn to boutiques.
Vanilla Threads has a large floorplan and was PACKED with merchandise (maybe a little too much on the racks all at once). There's styles for both men and women with a variety of price points. We found a dress marked down to $88 and another full price at $170. It's loaded with shoes, accessories and lots of jewelry too. The staff is young, stylish, enthusiastic and ready to help.
Vanilla Threads, 3023, 661 SW Powerhouse Dr #1302, Bend, OR 97702
Rive Walk 
In addition to shopping and dining, the Old Mill area also has a scenic pedestrian path. My daughter and I did a 5k run here and loved the flat, safe surface and all the artworks along the path. Bend locals put a premium on outdoor spaces and I loved all the public parks and areas to explore on foot or on bike.
Phil's Trailhead
For trail runners and mountain bikers, this is the place to get started. Rent a bike in town or lace up your trail shoes and explore the HUGE trail system. I did a big loop on Ben's to get in a 12-mile training run. The area is well laid out, well marked and not too challenging. 
Where we stayed in Bend, Oregon
I scoured airbnb and vrbo for homes in Bend. I wanted something residential, but also close to shopping and access to the mountains. This one was perfect. It's about 30 minutes from the airport and in wonderful condition.
It's in a quiet residential neighborhood that's close to shopping and restaurants. I loved the convenient access to Mt. Bachelor (just 30 mins away).
I loved all the mid-century modern decor--right down to the bar cart. There were so many pretty touches that made this home inviting. While we did eat out often, there were also plenty of meals cooked in the kitchen --it is very well equipped. The beds were awesome.--so inviting and cozy. Speaking of cozy, the blanket nook was one of our favorite things. And we also loved the hot tub, we did a lot of BIG workouts so the tub came in handy to sooth sore muscles. I'm bookmarking this home to stay there again next year.
MORE SKI FEATURES FROM MOMTRENDS
PIN IT!
Use Pinterest to save your favorite family travel features. Be sure to follow our Ski Moms Pinterest Board.