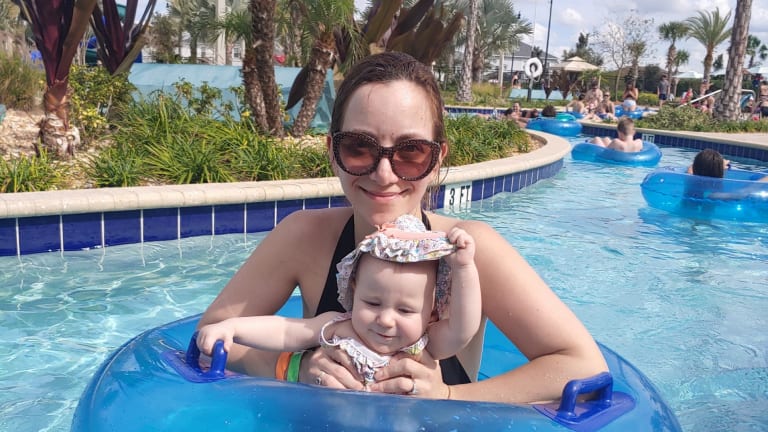 6 Tips for Vacationing With a Mobile Baby
When my youngest baby girl was just four months old, we went on our first beach vacation as a family of five. She spent her revitalizing vacay days napping on the beach in a tent and her relaxing evenings snoozing at restaurants and ice-cream shops. It was so easy, and I got a little cocky; I assumed it was because we were chill and go-with-the-flow and so was our babe.
Of course, the reality is: traveling with a young newborn is, at last generally speaking, easier. They don't eat solids, they nap a lot,  and they can't really move around or go anywhere. Sure, you may not sleep, but you're not doing that at home, either. Yes, you may need a lot of "stuff," but if that's the biggest challenge, so be it!
After our easy experience, I had no hesitation booking a Disney trip for our gang. We could do this! The one thing I neglected to realize: Baby would be 10 months old, somewhat mobile, and, well, opinionated. Suffice to say, it proved to be a more challenging travel experienc. But, don't throw away any vacation plans just yet, let me reassure you that it was still incredibly fun and worth it. Traveling with a mobile baby might not be a piece of cake, but you can take some steps to make your trip simpler, more streamlined, and infinitely more rewarding. 
Here are my top tips for traveling with a mobile infant.
Consider a road trip
Hear me out. The fact is: all means of travel are challenging with a baby. But at least, in the privacy of your own car, you can set the quiet scene for naps, let a fussy Babe cry it out--within reason, stop for leg stretches (that car seat can be confining!), and go at your own pace. A flight might get you do your destination faster, but a road trip is on your own terms. Plus, you can pack all the things for Baby!
Bring lots of snacks
Don't be above a good bribe. Whether you're in public and trying to squash a meltdown or not-so-patiently waiting in line for a tourist attraction, baby snacks are your tool. Be prepared with lots of options. Some of our favorites on the go: dehydrated yogurt bites, puffs, blueberries, grapes cut into small pieces, cheese-filled crackers, and baby fruit bars. Don't forget to fill up a sippy-cup with water.
Embrace flexibility
I live by the routine at home. As a work-from-home mom, I depend on nap times and schedules. But on vacation, you have to be willing to go with the flow. If you want to be out and about and enjoying yourself, accept that your little one might not take a two-hour crib nap. She might take three twenty-minute snoozes on the go, instead. If you're worried about a cranky baby, remember that a change in pace and scenery will often quell the big moods that come with exhaustion--so get that Baby outside, if possible, and enjoy a scenic situation. 
Loosen up
At home, I try to give my baby healthy, nutritious and well-rounded meals. On the road, however, I had to be a bit more lenient. That meant, that one morning, instead of her usual fare, she feasted on a McDonald's breakfast: hot cakes, eggs, and sausage, served with one of her favorite fruit-and-veggie pouches. She loved it, and, even though, everything wasn't "organic," I knew that giving her a hearty meal would help her sustain throughout a long day of vacation high jinx. 
Remember You Are on Vacation, Too
Don't forget that this is your vacation, too. Find a local sitter and book a date night, schedule a spa appointment, and eat all the ice cream. There's that cliche that vacationing is just parenting in a different location--but that doesn't have to be entirely accurate. Carve out quality time for yourself, and enjoy!
Find a Way to Contain Baby
If your baby is mobile or starting to move, find a way to contain her. Set up a safe space in your hotel room or vacation home to let her freely move and play. This will also allow you to be able to walk away momentarily. Portable play yards and pack and plays are your friend.  
Want more from Momtrends?
1. 5 Tips for Sane Flying With Kids
2. 7 Family Fun Activities in Bermuda
This is not a sponsored post.