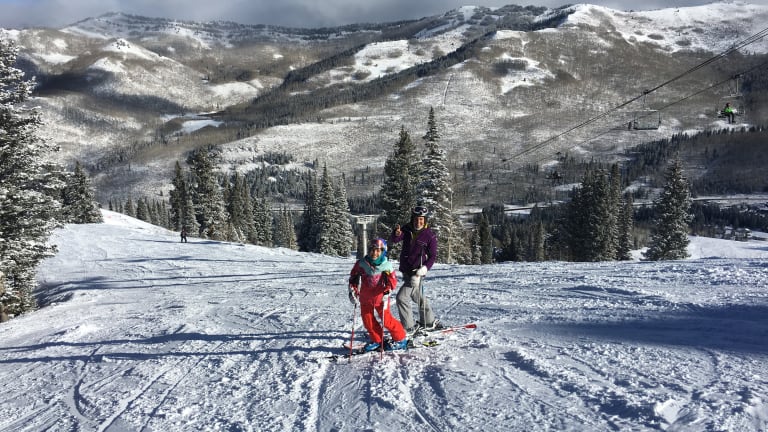 5 Ways to Save Money On Your Next Ski Trip
Skiing can be expensive, get our pro tips for cutting down on costs for your winter adventures.
We love the snow! From Camelback Mountain to Keystone, Mammoth to Solitude to Jackson Hole, we are big fans of getting your family to the slopes. From skiing to snowboarding, snowshoeing to tubing, taking your family to the snow provides fun family bonding time, physical activity and challenges, and time in the great outdoors. Buuuuut...ski trips can be expensive. Today we're sharing five ways to shave some dough off your trip to the snow.
Related: Save money at a ski swap
Get a pass - or buy tickets ahead of time.
Have a favorite ski resort? If you have a mountain close by and are motivated to get days on the snow, getting a season pass is one of the most affordable ways to get lots of time on the slopes. Check out deals at your favorite mountain or multi-mountain passes in your area like the Mountain Collective that is good on 40+ mountains throughout North America and Canada, the Cali4nia Pass, or one of Colorado's various multi-mountain passes. Many resorts also offer a discount if you buy tickets ahead of time at a local retailer or with through a provider like AAA or Costco. Save time and money by checking out the resort website for information on where you can pick up tickets ahead of time.
Pack your own food.
Granted lift tickets and gear can be expensive, but one of the biggest wallet-grabbers on a ski trip is the on-mountain food! It's expensive - and yet so tempting when you have kids who are tired and hungry and cold. If you're staying in a ski-in/ski-out or on-mountain condo, you can keep run "home" for lunch. Otherwise, skip the pricey ski cafeteria and instead plan ahead by pre-making sandwiches, wraps or salads that you keep in your car or in a locker. My kids love a stick of salami and block of cheese that we pair with a whole baguette and some fruit. 
Another favorite snow family packs Top Ramen and an instant JetBoil that plugs into their car for a fast and warm lunch break. Be sure to stash a granola bar, nuts or kid-friendly snack in each kid's jacket pocket too. And when it's been a good day for everyone (or if someone's having a really bad day), go ahead and splurge on that $6 hot chocolate.
Buy gear at the end of the season or off-season.
With a little bit of planning (and maybe a reminder on your calendar app!), you can score some amazing deals on ski and snowboarding gear and clothes off-season or at the end of the season. This is especially key when kids are growing out of gear nearly every season! It also doesn't hurt to find fellow snow families who you can swap and get hand-me-down gear from too.
And don't forget about gear swaps. Head here for a list of all the 2021 Ski and Snowboard Swaps.
Go midweek.
It can be tricky to swing with work and school, but if you're able, heading to the slopes midweek will save you money on lift tickets - often close to 20-25%! Plus, you'll have the lifts and slopes to yourself.
Find a place where kids ski free.
There are lots of ski resorts around the US that allow kids to ski to free or nearly free. Check out our post here on states that have discounted ski/snowboard programs for kids - most you need to apply for before you head to the slopes. Many resorts also offer "Kids Ski Free" programs for kids under a certain age or with the purchase of a separate adult lift ticket.
MORE SKI FEATURES FROM MOMTRENDS
PIN IT!
Use Pinterest to save your favorite family travel features. Be sure to follow our Ski Moms Pinterest Board.
Momtrends was not paid for this post.