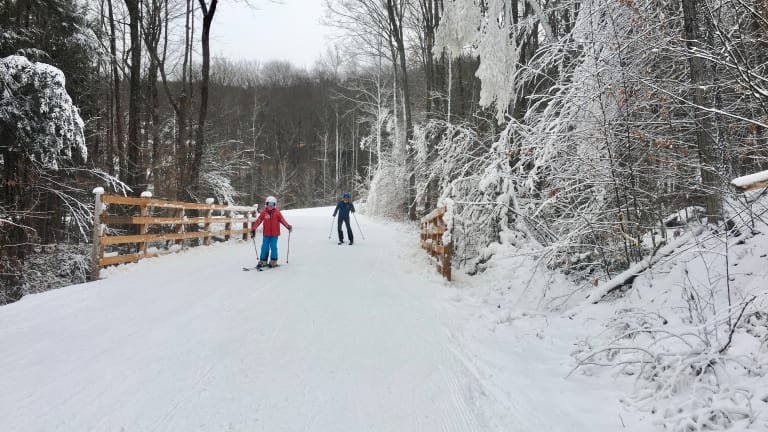 10 Things to Do on Your Okemo Ski Vacation
Mother Nature dumped nearly 20 inches of fresh snow on Okemo this week. That means it's time to plan a perfect Okemo Ski Vacation.
This popular East Coast ski resort has been helping families create snowy fun with families for decades. A few years ago Vail Resorts bought the property and has continues to invest in the family-friendly fun. They focus on getting kids and outdoors - because ski moms know the best bonding happens in the snow! As you plan your trip, keep in mind, there's more than just skiing. Here are 10 things to do on your Okemo ski vacation, that DON'T involve skiing.
Related: Where to eat near Okemo
Take a Lesson
Before I jump into the bonus features of Okemo, let's start with the basics. Okemo has some of the friendliest instructors around. For moms, check out the Women's Adventure programs. There are camps as well as weekly clinics. The little ones can start at age 3 at Okemo with private lessons! There truly is something for everyone when it comes to learning and getting better. Get all the details on the Okemo Ski + Ride school page.
Need a break from skiing (it happens!)? Okemo is so much more than a ski resort. They know families bond in many ways, so they offer a variety of options to make your stay special.
Okemo Knows Snow
The resort has incredible snow making capabilities. When Mother Nature gets stingy, they snow cannons are blasting! First they are blessed with 200 inches annually. That's a lot of snow! When the good stuff stops coming down from the sky, Okemo's team can cover 98% of trails with snowmaking.
There's plenty of room to spread out and find some on-mountain bliss. They have 667 acres of terrain and 46 miles of trails. FUN FACT: Okemo's vertical drop is 2,200 feet the biggest vertical in southern Vermont. 
While skiing is a BIG deal here, it's not the only activity. Let's learn more.
Ten Things to Do at Okemo Resort
You won't run out of things to do with the kids. Okemo has a ton of offerings to help parents when the weather isn't ski perfect. 
Cross Country Ski. Ski the Nordic Center take a break from downhill and try cross-country skiing. Explore the 22 km of tracked and skate-groomed cross-country skiing trails. Okemo's Nordic Center trails are groomed daily. Demos, equipment rentals, repairs and waxing are available on-site. Head to www.foxrunnordic.org for details
Go snow tubing. Located in Jackson Gore, the tubing area has chutes that keep snow-sliding tubes. Snow tubes are available for rent and a magic-carpet style. Friday, Sunday, and Monday: 11am - 5pm, Saturday: 11am - 6pm, Tuesday - Thursday: CLOSED

Ride the Okemo snowcat. Hop in a specially-designed cabin attached to an all-terrain Okemo snowcat! Each ride departs from the Jackson Gore base area for an hour-long sojourn that includes time to get out at the summit, take pictures and learn a bit about the mountain and the area along the way. 
Après Afternoons. Sit back, relax, and enjoy Après Afternoons at the Jackson Gore Courtyard. Hang out by the fire, grab a small bite, listen to some music and enjoy the ambiance! Thru March 19th. 2-5pm.
Nibble a Waffle. There are two Waffle Cabins located at Okemo. Just follow the delicious smell and treat everyone in the family to this iconic mountain treat.
Ride the Mountain Coaster: Okemo's Timber Ripper Mountain Coaster is all about thrills. Glide on the tubular rails as you zip down the mountain. Passengers control their speed, go as fast as you dare! 
Go Ice Skating: The Ice House features a covered skating rink that is maintained by an ice resurfacing machine. Skate rentals are available and skaters can enjoy a hot chocolate by the fireplace inside the attached warming room. 
Go on a snowshoe hike. There are 13 km of trails dedicated to snowshoers. Check in at the Nordic Center.
Eat S'mores by the fireplace. Coleman Brooke Tavern sets up families with do-'em-yourself on your own tabletop campfire. Take the treats to the fireplace indoors or out.
Splash and Spa Time. Let the kids play in the Springhouse pool while you enjoy a massage. Put dad on duty, you deserve it!
And of you don't mind heading a bit further, snowmobiling can be a great fun. For snowmobile tours, check out www.snowmobilevermont.com/killington-okemo/
MORE SKIING RESOURCES FROM MOMTRENDS
PIN IT!
Use Pinterest to save your favorite family travel features. Be sure to follow our Ski Moms Pinterest Board.
This Plan a Perfect Okemo Ski Vacation feature is not a sponsored post. Lodging was provided to facilitate this review.