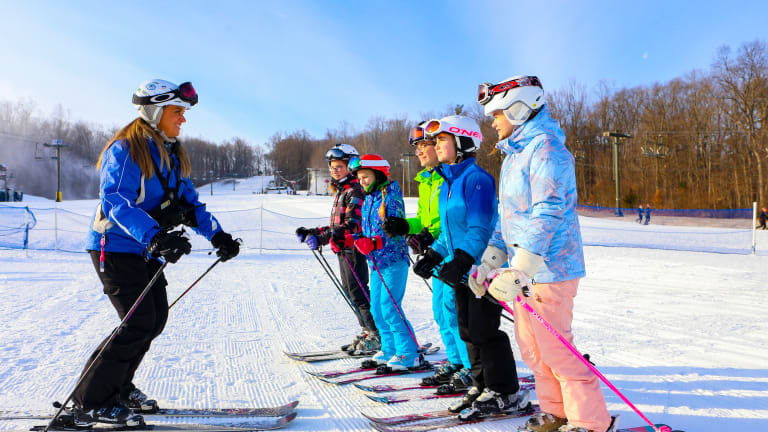 10 States Where Kids Ski Free
As you start planning your winter holidays, we're sharing where you can let your kids ski free (or practically free)!
Whether your kids are experienced skiers or snowboarders or they are hitting the slopes for the first time this winter, everybody loves free, amiright? Today we're sharing where you can let your kids ski free (or practically free)! Read on for how to save some dough and get your kids on the snow in more than 10 states across the U.S.
Free Kid Skiing in Vermont: The Fifth Grade Passport in Vermont offers participating students up to 88 days of nearly free skiing and riding at Vermont's alpine and Nordic resorts. Passport holders receive a booklet containing coupons for three free lift tickets at each alpine resort and 1-3 coupons for cross-country trail passes at each Nordic center. Note: Passport holders need to be accompanied by a ticket or pass-holding adult and each adult may bring up to two Passport holders. Some blackout dates apply.
Free Kid Skiing In New York: For 3rd or 4th graders, the state of New York offers two ski free programs. The Kids Learn to Ski or Ride Passport is the perfect program for those who do not ski or are true beginners. With the passport, a child will receive a lift ticket, lesson and equipment rental free* at all participating ski areas. If your child already knows how to ski, choose the Kids Ski or Ride FreePassport instead. With this program, a child receives up to 3 free* lift tickets at all participating ski areas when accompanied by a paying adult. There are over 20 ski areas throughout New York State participating. Do note: There is a one-time $26 processing fee for either passport and reservations at ski areas may be required.
Free Kid Skiing in New Hampshire: The SnowSport Passport provides 4th and 5th graders with one free lift ticket plus an additional offer ranging from free rentals to discounts on adult lift tickets to BOGO deals at over two dozen New Hampshire downhill and cross-country ski areas. Apply for the passport online or by mail. A $30 fee is required.
Free Kid Skiing in Minnesota: The 4th Grade Passport offers every 4th grade student in Minnesota the opportunity to ski and snowboard for free. The goal is to help introduce families to the how much fun they can have together outside in the winter. The Passports go on sale each year in late summer and remain available until early February. There are more than a dozen mountains participating. Each Passport costs $34.95.
Free Kid Skiing in Pennsylvania: The SnowPass program for students in 4th or 5th to ski free in Pennsylvania has been suspended. But, there is good news, Shawnee is still participating! Visit SkiPa.com for more details on the current offers and for great coupons for adults as well. Get all the details here.
Free Kid Skiing in Maine: Kids in Maine can apply for the WinterKids Passport that helps 5th, 6th and 7th graders get outside and get active more often in the winter, with free and discounted tickets, lessons, and rentals at 50 areas all over Maine. Younger kids in preschool through 4th grade can apply for the WinterKids FunPass instead that lets kids try cross-country skiing and snowshoeing on groomed trails throughout the state for free.
Free Kid Skiing in Michigan: In Michigan, the "Cold is Cool" Ski & Ride Passport provides 4th and 5th graders with three free lift tickets or trail passes at 30 participating ski areas, plus additional discounts on the slopes and in Michigan ski shops. There is a $20 fee for printing and shipping. Kids must ski with a paying adult and some blackout dates apply.
Free Kid Skiing in Colorado: Colorado offers a passport that gives 4th, 5th & 6th Graders four days of skiing at each of 21 Colorado ski areas. Weekends are included with some limited holiday restrictions: Thanksgiving: 11/26/21-11/27/21 (Friday-Saturday), Christmas: 12/25/21-1/1/22 (Saturday-Saturday), MLK: 1/15/22-1/16/22 (Saturday-Sunday), President's: 2/19/22-2/20/22 (Saturday-Sunday). The passport is $59. Register here.
Free Kid Skiing in Utah: Ski Utah Passport gives middle schoolers a chance to ski or board for just $45. The fifth grade passport lets students ski or ride 3 times at each of Utah's 14 resorts while the sixth grade passport gives kids one free time at each of the resorts. Passports also include a variety of additional deals and discounts from resorts and partners, from discounted buddy passes and gear rentals to summer activities at select Utah resorts.
Free Kid Skiing in Idaho and Washington: Kids living in or visiting the Northwestern Rockies can take advantage of the 5th Grade Ski & Ride Passport allowing 5th graders to ski or snowboard for free at each Ski NW Rockies' participating resorts including Lookout Pass, Mt. Spokane, Silver Mountain, and 49 Degrees North. If you'll only be in Idaho, the state also offers a Ski-Free Passport program for 5th and 6th graders providing 2-3 free days at each of 18 different resorts for a $18 fee.
Free Kid Skiing in California: While there isn't a statewide program in California, June Mountain in the Eastern Sierras lets Kids Ski Free if they are 12 and under, every day. Head to June Mountain ticket office to pick up the free lift ticket.
Free Kid Skiing in Oregon: It's a mountain-by-mountain situation in Oregon. Mt.Bachelor offers a ticket that quickly sells out. Head to Mt. Bachelor to see other deals. Over at Anthonylakes.com they offer 5th & 6th graders a FREE lift ticket, rental & mandatory lesson. And an accompanying adult discount gets a $25 lift ticket if they want to ski. No need to pre-purchase/reserve (even if tickets are sold out online). Just come to the ticket booth to purchase upon arrival. Attendance pays! If your child attends 7 out of 8 Sundays, they may then purchase a season pass for the remaining season and following winter for only $150! Get more Oregon ski free deals here.
MORE SKI FEATURES FROM MOMTRENDS
PIN IT!
Use Pinterest to save your favorite family travel features. Be sure to follow our Ski Moms Pinterest Board.
Momtrends was not paid for this post.