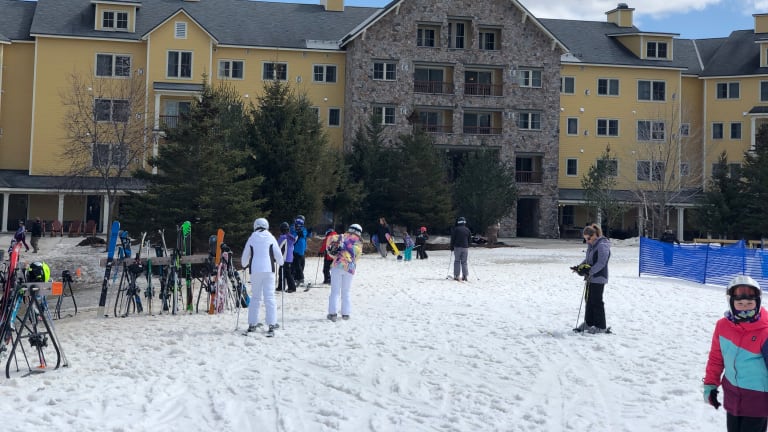 Okemo Mountain Resort Is for Families
10 Reasons to Make a Trip to This VT Mountain
If you had told me a year ago, that I would go on three ski trips this year, I wouldn't have believed you. If you had told me that my five year old son would be begging to make "ski school" a regular part of his winter routine, I would have laughed and rolled my eyes. If you had said, "Lauren, you are going to learn to ski this winter. And you know what? You're going to LOVE it." I would have shrugged my shoulders in disbelief. 
Alas, here we are in April, and I've gone to three mountain resorts. My son is already talking about graduating to the chair lift next winter. And what's more? I LOVE the fresh powder, the thrilling downhill ride, and the scenic ambiance. (Oh, and the aprés lifestyle... I heart that most of all!).
#MTOkemoEvent spring ski weekend trip
We were so excited to head to Okemo in Ludlow Vermont for the #MTOkemoEvent spring ski weekend trip, organized by Momtrends, last weekend with lots of our East Coast blogger friends! It's about four and a half hours (give or take) from NYC--so it's a convenient option for quick weekends and return visits. We were fortunate to stay at the Jackson Gore Inn inside Jackson Gore Village, and our suite was spacious with an ample kitchen (we cooked many of our meals in room!), a cozy fireplace, a murphy bed, two bathrooms--one with a jacuzzi tub--and two delicious queen-size beds.
We had plenty of free time to explore, play, and hit the slopes! It was a blast and  the ultimate spring ski weekend (glorious conditions, plenty of powder, and lots to do.) 
Here are 10 highlights we suggest for your next trip to Okemo--because, you are going to want to book!
1. Get Your Ski On
With 667 acres, 121 trails, and 20 lifts--Okemo offers every skier, boarder and adventure seeker plenty of terrain to explore.
Get Geared Up: We visited the Jackson Gore rental shop to get our equipment, and it couldn't have been easier, quicker, or more efficient. The experts knew exactly what we needed and were patient and kind with my, um, not so patient and kind children.
Sign Up for Lessons: I suggest starting your trip with a refresher lesson--especially if you're a sporadic beginner. It'll help you gain confidence and get your groove back. There are group lessons, private session, and children's programs. I signed myself for a group yellow-level beginner class, and our guide took us up on the chair lift for a few guided runs. 
I was elated watching my five year old in two day's worth of ski lessons. I secretly stalked his group and loved seeing him progress from the mini magic carpet to the bigger, longer one. By the end of his sessions (ski school runs from 9 AM to 3 PM), he had graduated two color levels!
Ski Time Alone--or Together: My husband and I got to go on a chair lift together, and it was fabulous! It was like a mini date, until an instructor from Little Dippers (the program for three year old skiers) called to let us know that our daughter wasn't having it! Fortunately, there are options when your budding outdoor athletes don't want to cooperate. The Penguin Playground offers nurturing childcare and ski-free fun for kids ages six months through four years.
2. Dine Out, Dine In, or Aprés All Day
While the majority of our meals, were cooked and eaten in our hotel room (a tip I like to suggest when little ones are involved), we did have some delicious sips and bites on the go in Jackson Gore Village. The Roundhouse cafeteria has a little something for everyone--from pizza to sandwiches to salads and soups to cookies, cocoa, coffee, and brownies, and ice cream. For a more refined, but still casual sit-down meal, we enjoyed the ambiance at Coleman Brook Tavern, right in the lobby of our hotel. 
3. Go Ice Skating
Full disclosure: Our family didn't make it to the regulation-sized hockey rink and recreational ice skating pavilion, but many of our blogger friend did--and we heard nothing but rave reviews. The connected building features skate rentals and a warming area with a gas-fueled fireplace; antique ice harvesting tools decorate the walls to celebrate Vermont's history. 
4. Have Even S'more Fun 
You can't go to Okemo and stay in Jackon Gore Village without getting yourself (and your kiddos) the s'mores! A miniature personalized fire pit, graham crackers, and chocolate bars--everything you need for a delicious dessert or aprés family treat. 
5. Go Tubing
This mulit-lane slopeside tubing park, located just off the magic carpet in the courtyard at Jackson Gore, makes for an exhilaratingly fun family activity. All the thrill, minus the skill! We weren't able to go tubing (so much to do--so little time!), but Nicole's family did--and those smiles are telling.
6. Fly on the Mountain Coaster
The Timber Ripper Mountain Coaster offers an awesomely scenic (and fun!) ride through alpine forests, along the contours of the mountains of Okemo. As the driver, you control the speed--my son and I went relatively slow (but still fast enough!) to make the experience a wind-whipping pleasure.   
7. Enjoy the Calendar Activities
Our Okemo trip coincided with Easter weekend, so there was plenty of extra fun to be had. We loved the on-mountain egg hunt, enjoyed a special pop-up brewfest beer tasting event, and a big tent sale chock full of good deals to be had. There's always something big and exciting and new happening at Okemo--so be sure to check the calendar and take advantage of all the unique opportunities available.
8. Have a Soak
The Spring House, adjacent to Jackson Gore Inn, is the place to get your zen on. Take a yoga class and play a game of racquetball; but be sure to make time for a dip and a soak and a splash. The aquatic center boasts slides, waterfalls, and plenty of room to practice your strokes.
9. Score a Waffle
Whatever you do, don't leave Okemo without treating yourself to a stop at the Waffle Cabin. My little guy and I shared one, drizzled with chocolate, and it was divine. Sweet and warm with just the right amount of crunch. I may have had to buy a second one--sharing wasn't an option.
10. Take a Moment for Yourself
This is a super special destination for families, for couples, and for time alone, too. Take a moment to enjoy it for yourself. While the kids are in ski school (or day care), enjoy a nap, have a cocktail, or take a walk--it's your vacation. Make the most of it.
MORE SKI FEATURES FROM MOMTRENDS
PIN IT!
Use pinterest to save your favorite family travel features. Be sure to follow our Ski Moms Pinterest Board.
This is a sponsored post. Lodging and activities were facilitated by Okemo. All opinions are our own.