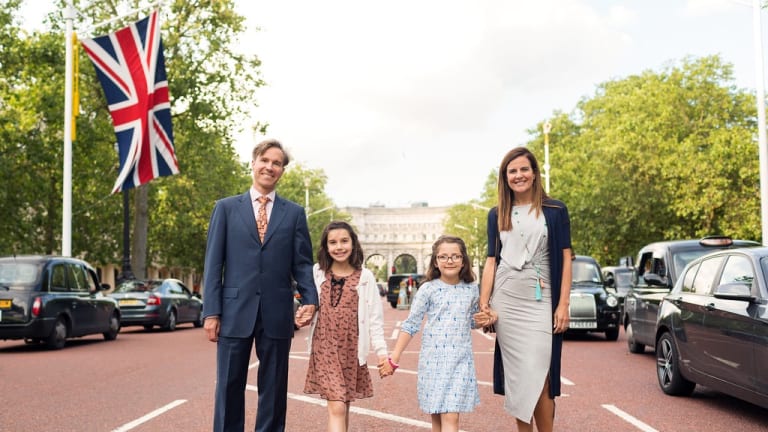 48 Hours in London With Kids
When you only have 48 hours in London with kids, you need two things: plenty of sleep and a good plan!
Mr. Momtrends and I have taken the girls outside of the US every year. Our family has always made travel a priority. It's our chance to show the girls the world and have them dream big. Since we both travel for work, we hoard our miles throughout the year to fund our summer family travel. This year we hatched a plan to see London on a (very) short trip. I'm sharing our 48 hours in London itinerary with you to help with trip planning.
As the girls have gotten older, we've let them weigh in on the summer travels. This summer they voted England. Long story short, we got to tag along on a work trip with Mr. Momtrends before we headed to Paris for our family vacation. This means I had the girls alone in London for 48 hours. They wanted to see EVERYTYHING and I needed to be at my best.
Long Haul Flight Tips:
Adjusting to a time change can be difficult, and you, of course, want to make the most of every moment. I packed my ZzzQuil, for when I just can't get to sleep but know I need to wake up refreshed ZzzQuil is a non-habit forming sleep aid that is perfect for trips like this one.
Try to eat BEFORE you get on the plane. We try to arrive at the airport with an extra cushion of 45 minutes so we can grab dinner before the flight. Yes, they do serve food, but on the way over to London the flying time is less than 6 hours. Not ideal. Try to grab the most sleep time that you can.
Pack some "lovies" for the kids. The most favorite stuffed animals stay home, but we do have the girls each bring along a stuffed animal for the flight. It makes going to bed much easier when there's a bit of home beside you.
Bring your own headphones. If you can fit the noise-cancelling ones, do it. Yes, they are bulky, but they make a huge difference. I download a bunch of classical music on a small nano to bring along to sooth the girls to sleep.
Pack a refillable water bottle. The airlines are thinly staffed these days. They simply never bring you enough water. We pack our own water bottles and fill up before we get on the flight.
Bring along the thick socks. Slip your shoes off and stow them and put your thick socks on to keep feet warm and cozy. A good flight starts with cozy feet.
Here's how we spent the perfect 48 hours in London.
Day 1: Arrive at London
9:00am Taxi to hotel. We stayed at the Royal Automobile Club in Pall Mall.
10:00am Grab a quick breakfast at hotel (try not to nap, it'll just ruin the flow of the day!).
11:00am Get some exercise! For us this meant the pool. We splashed around with the kids for a bit until our early check in room was ready (always get the early check-in, even if you have to pay more, it's worth the convenience)
Noon Unpack, shower and change for the day
1pm Stroll along St. James Park to tea. If you're lucky (and we were) you'll spot the Queen's guards on horse.


1:30pm Tea Time. We tried the Charlie and the Chocolate Factory Tea at One Aldwych. Remember sugar is an important food group when on vacation. Let the rules go for a bit and enjoy the good sweet fun of a classic British tradition.
3:00pm Head to the London Eye. Cross the River and head to the park for the best views of London. Head to London.eye.com to pre-book your tickets. From up here you can see Big Ben, Westminster Abbey and all the sights.
4:00pm Hop on the Tube (be sure to "mind the gap") to Tower Station. The guided tours end at 3:30pm, but you can self-guide in less than two hours. Highlights include the Crown Jewels, the torture chamber and visiting the ravens.
5:30pm Tube back to the hotel
6:00pm Shower and change for dinner
6:30pm Before dinner though stroll along "The Mall" and take in the views of Buckingham Palace. See if your kids can spot the guards in the funny bear hats.
7:30pm Dinner—let the kids have some chocolate milk to wake them up a bit. Dozing off at the table isn't considered rude if you've just flown in and had a big day!
9pm You did it! Story time and lights out.
Day 2 in London
8am Wake up and breakfast. Congrats on a BIG night of sleep! You've made up for a bit of what you lost on that flight over.
9am Hop on the train to the Warner Brothers Studio to tour the sets of the eight Harry Potter movies. The trip there can take up to two hours depending on where you are in London and how you head to the studios.
11:am Harry Potter tour. Immerse yourself in J.K. Rowling's world. It's more than ok to jump in and join the kids in wand instruction, quidditch lessons and butter beer.
2pm head to the gift shop and score some quills, robes and snitches to bring home.
3:30pm Arrive back in London. Get in a swim to relax.
4:30pm Jump on a double-decker bus for a swing through London. The kids are probably tired from the day at the studios so it's ok to sit back and relax and take in the view from the top deck.
6pm Back at the hotel. Most of them have fancy lobbies. This is a great spot to write out postcards to family and friends with those quills you bought. I find writing post card teaches kids to remember details and be thoughtful. I sip a glass of wine and write my own.
7pm Dinner
9pm Lights out. Well done!
Jet Lag Recovery Tips
I don't know about you, but the time difference can really mess with your system. Jet lag is for real. It can often take days or even weeks for people to adjust to the time change.
TravelTips:
1. Book as much in advance as possible. With just 48 hours to spend in London we didn't have time to wait in lines. Pre-paying for fast-passes and timed entrances was essential to do everything we wanted.
2. Make time for exercise. Each day we built in time to get the kids to the pool and the adults to the gym or off on a run. Even 20 minutes will help regulate your system and help you adjust.
3. Get enough sleep. I always pack ZzzQuil in my suitcase to be prepared for those times while I'm traveling for business or just for fun and need to be my best.
4. Go to bed hydrated. Most rooms come with a tea kettle. Brew some soothing sugar and caffeine-free chamomile tea to keep you hydrated and soothe yourself to sleep. We're even getting the girls in the habit of sipping tea before bed.
5. Screens off, books open. We bring along a book to read to the girls each night. We take turns reading chapters. In London, try to pack Paddington or Winnie the Pooh for little ones and something from Roald Dahl for the bigger kids.
WHAT ELSE IN LONDON?
Cheers! Let me know if you go and be sure to give me your favorite spots in London.
PIN IT AND PLAN IT!
Are you ready to head to the theater in London? Pin this post to your Pinterest travel page for inspiration. Be sure to follow our Travel with Kids board here.