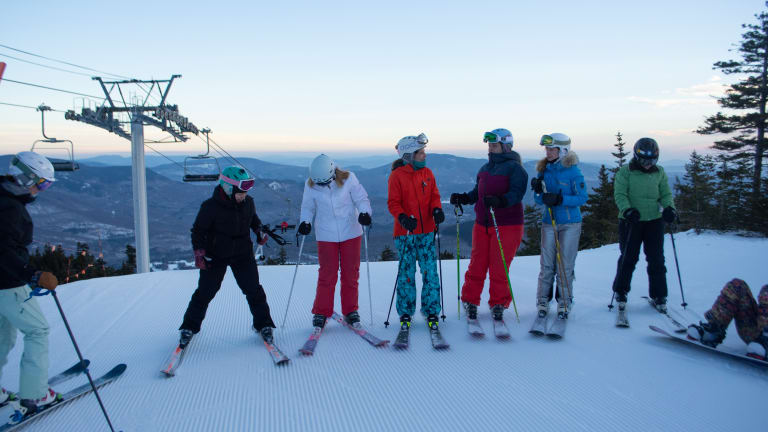 Women's Ski Weekend Sunday River
Kicking off the year on the slopes
I've been a little peeved over the years about how mountains market themselves. Looking at most snow sports advertising you'd think only white millennial men ski and board. I know for a fact, that many moms are in charge of the family spending and drive the decisions on ski holidays. We are an underserved population. Part of it is our fault too. For many of us, skiing is only a family activity. It's high time to think out of the box and to start getting more women on snow for the pure love of it. I was so excited to be a part of a women's ski weekend at Sunday River. The savvy marketing team up in Bethel, Maine put together a two-day celebration of women and snow.
About 50 women signed on for the "holiday hangover" event (I know, I know bad name, but they are going to change that). It was a weekend loaded with time on the slopes and female bonding and it was AWESOME. Sponsored by Sunday River, Lululemon and Coalition Snow, the weekend aimed to get women playing in snow.
Things kicked off with an afternoon yoga session sponsored by Lululemon. Our instructor guided us through an hourlong session that was perfect for warming up and settling in. Then we all headed to the welcome reception.
Women came in groups, they came as mother/daughter duos, and they came solo. Bonding was instant thanks to a common interest in snow. I quickly met some new ski pals from Maine, Massachusetts, New Jersey and New York. There was no awkwardness; it was like being in a really inclusive sorority.
The real fun kicked off the next day. We gathered outside of the Jordan Hotel as the sun was rising to get fresh tracks. Sunday River let the ladies loose on the hill before anyone else. We hopped on the Jordan Bowl Express lift at 7:30am (lifts open to the public at 8) to get in two runs of sweet untouched corduroy. 
As we lapped the chair, the boys and men looked on and wondered what the heck was happening. I wanted to say, "get used to it, we ladies aren't going anywhere!" but I kept that thought to myself.
I was so impressed by the level of skiing and riding. The ladies who signed on included some gorgeous skiers and riders. I loved my chats with Lorraine and Stacy -- new friends made in Maine. We skied all over the mountain with breaks to fuel up and hit the bathrooms. Many of us were moms and delighted in the fact that the only person we had to tend to on this weekend was ourself!
For women less confident on the slopes, lessons were available and there seemed to be a solid group for just about every skill level. As the weekend progressed, there was more yoga, skis and boards to demo from Coalition Snow and many more conversations to be had over dinners and drinks. On Sunday, the activities included a sunrise hike up Jordan with a mimosa breakfast. Sadly I missed that portion of the weekend (mom duty called).
Join the Fun Next Year: The 2 Annual Holiday Hangover will most likely fall on the same weekend, January 3-5, 2020. I hope you'll join me, I know I'll be back! Pricing: $369 per person, based on double occupancy. The package is only $219 if you have a season pass. The 2019 package included:
Lodging at the Jordan Hotel in either a studio or standard room for Friday and Saturday evening
Lift tickets for Friday, Saturday and Sunday
Breakfast Saturday & Sunday
Guided mountain tour on Saturday
Complimentary Welcome Reception on Friday at the Jordan
Guided sunrise hike with a complimentary beverage at the Peak Lodge
All yoga classes from lululemon.
Demo skis on Saturday
Exclusive pop-up shop access
Where to Stay at Sunday River
The Jordan Hotel is a ski-in ski-out property at Sunday River. The hotel is fairly modern, but not fancy. My slope-side room had views of the forest and was spacious and clean with plenty of room to stash all my gear.
The Jordan has a ski room where you can store your skis at night. In the morning, pop into the ski room and grab your equipment. Then head out to the Grand Avenue trail that will scoot you right down to the Jordan Lift. 
As far as aprés ski, the hotel has a nice spa. I had an excellent deep tissue massage and highly recommend booking an appointment in advance. There's also a heated outdoor pool with a huge hot tub area. This is the perfect place to watch the sunset and soak those well-worked muscles.
For dinner, head to Slider's. The on site restaurant features hearty soups, crisp salads and delicious American fare.
Skiing Sunday River
Sunday River has seven peaks and 135 trails. It can be a bit intimating at first, but now that I've skied here three times I'm getting the lay of the land. It's quite easy to ski East to West over the nearly 900 acres and back again in a day. Momtrends Tip: Be sure to download the Sunday River App before you arrive. The app is extremely useful with trail maps, dining ideas and weather reports.
Starting at Jordan Bowl is a good option. Since the hotel is about 7 miles from the main South Ridge base area, the trails over here stay pretty quiet until later in the morning. My laps on Excalibur and Rogue Angel were some of my favorites. Momtrends Tip: Be warned, though Lollapalooza is a green, the top portion of the train snakes around and gets VERY icy.
When you're warmed up, Vortex and Airglow off of the Aurora Peak are speedy black groomers. Most of the racers are on Barker Mountain, so I don't spend too much time there, but I do like Sunday Punch run.
Lift lines never get too fierce if you steer away from the main base area. As always, I recommend carrying snacks so you can push lunch later in the day. 
Where to Eat at Sunday River
In addition to Sliders, I can highly recommend the Peak Lodge at the top of the Chondola (it's a high speed quad AND a gondola). The foodie pub called "The Mountain Room" is tucked into this mid-mountain restaurant. Started by a Portland chef, Harding Lee Smith, the sharable plates are the perfect fuel for skiing. Don't miss out on the ricotta toast or the duck egg and arugula.
Plan Your Trip
Sunday River is on the Ikon Pass and on the Peak Pass (for those who mostly ski in Maine). You can compare season passes here.
For more on trip planning read our 2017 review.
2019 Snow Guide
Use our Family Ski and Snowboard Guide to plan your time on snow!
Pin it!
Use pinterest to save your favorite travel ideas.
This Women's Ski Weekend Sunday River feature is not sponsored. I was hosted by Sunday River during my stay.