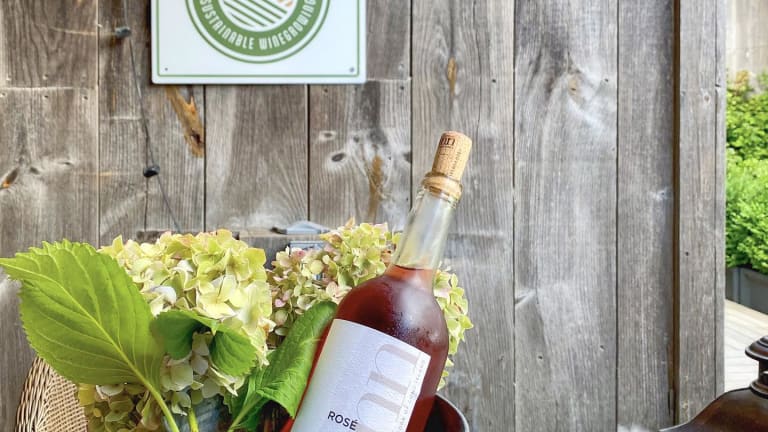 Wine Tasting Trips in New York State
Plan your trip to a boutique vineyard for some summer wine tasting that's close to home for New Yorkers.

Summer is almost here, which can mean only one thing: it's time to get out of the city and into a bottle! A wine tasting trip in New York can be a great weekend getaway or a day trip (as long as you have a designated driver). Here's how to plan for your fun summer outing. 

Related: Seven wine pairing tips for grilled summer foods
Wine Tasting Trips in New York
The American wine market is dominated by tasty selections from the Pacific Northwest, but many people don't realize that New York State ranks third in grape production by volume after California and Washington. And while much of that is due to the large quantities of Concord grapes produced in the state, New York boasts some very high quality wines -- red, white and sparkling.
Some of the wines made in New York are popular around the world: Riesling, Chardonnay, Pinot Noir, Cabernet Sauvignon, but New York also produces some tasty French and American hybrid wines like Seyval Blanc, Baco Noir, Catawba and Delaware.
Whether you're looking for a day trip, a weekend getaway, or a unique and memorable wedding location, the wine regions of New York have plenty to offer.
Long Island Wine Tasting Spots
For quick day trips from the city, Long Island offers some great boutiquey getaways:

Roanoke Vineyards Owned by Richard and Soraya Pisacano. Richard has over 30 years of grape growing experience in the region, and helped to plant some of the first vines on the island. Roanoke produces high-quality, small batches of wines available only at the winery and online. Wines: Cabernet Franc, Merlot, Cabernet Sauvignon, Red Blend, Rosé, Chardonnay.
Shinn Estate Vineyards While the tasting room is open daily, the time to visit Shinn is the weekends. Every Saturday and Sunday at 1:30 PM owners David Page and Barbara Shinn host a 20-30 minute walking tour of the vineyards followed by a tasting of their wines. They also have a lovely inn on the property (hello kid-free weekend!). Small production and limited quantity wines, including a Red Blend, Merlot, Cabernet Sauvignon, Pinot Noir, Sauvignon Blanc/Semillon, Chardonnay, Rosé, a Brut Sparkling and more.
Paumanok Vineyards The perfect midday stop for your Long Island winery tour. Paumanok welcomes guests to enjoy their wine with a picnic lunch on their outdoor deck that overlooks the vineyards. Complementary for groups of less than 8. And if tasting isn't enough, there are several learning opportunities including a self-guided tour, a guided tour through the winemaking facilities and an in-depth proprietor tour through the vineyards and winemaking facilities with one of the owners. Wines include Chardonnay, Sauvignon Blanc, Riesling (dry and off-dry), Cabernet Franc, Cabernet Sauvignon, Petit Verdot, Merlot and more.
Finger Lakes Wine Tasting Tours
If a weekend getaway is more your style, then the 6 hour drive from Manhattan to the Finger Lakes AVA is a must. This cooler climate and gorgeous lake setting is famous for its classic dry Rieslings, but some great reds like Pinot Noir and Cabernet Franc are making a splash as well. While there are many great wineries to explore, here are a couple not to miss:
Heart & Hands Wine Company On the eastern shore of Cayuga Lake, this winery focuses on quality with very limited production; fewer than 800 cases are produced. The tasting room is open to drop in on weekends, and they also offer a premium tasting that includes a tour of the barrel room and exploration of upcoming releases. Wines include Riesling, Late Harvest Riesling, Pinot Noir and Rosé.
Hermann J. Wiemer Hermann J. Wiemer is one of the pioneers of winemaking in the Finger Lakes region. Having been born and trained in winemaking in Germany, not to mention over 300 years of family experience in the business. Hermann Wiemer has been making award-winning wines in New York since the 1970s. His Rieslings have definitely helped maintain the Finger Lakes' reputation as one of the premier Riesling producing regions in the world. Wines include Riesling, Gewurztraminer, Chardonnay, Sparkling, Pinot Noir and Cabernet Franc.
For more information on New York wineries and to help plan your trip, check out these great sites: New York Cork Report, Finger Lakes Wine Country, Uncork New York. Thanks to Len from thecorkreport.us for his great winery suggestions.
MORE WINE IDEAS FROM MOMTRENDS
PIN IT!
Looking for more food ideas? Check out the Momtrends' Wine Time on Pinterest!
Momtrends was not paid for this post.