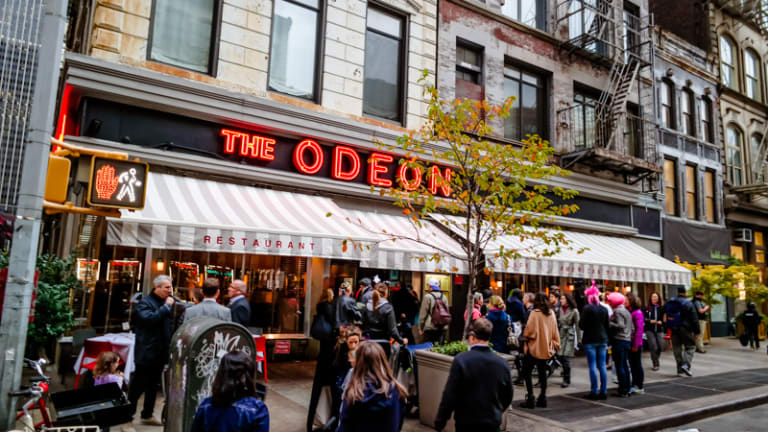 Why You Should Visit NYC This Halloween Season
There's just something spooktacularly special about having a family-friendly Halloween in New York City.
My town is Halloween obsessed. Like, we go big around these parts of the 'burbs. I love it. And while I wouldn't want to miss the neighborhood feel and fun, the local kids in costume, and the party ambiance near our school center, I have to admit that I'm kinda sorta tempted to abandon my door-frame candy-wielding station to spend Oct. 31 in New York City. 
Related: Three easy Halloween ideas
There's just something spooktacularly special about having a family-friendly Halloween in the City of (scary?) Dreams, in "Gotham," in the Big (caramel-dipped) Apple. There are special activities, amazing opportunities, and, from what I've gathered from Manhattanite mamas  and Brooklyn-native friends, a collective community vibe that can't be beat. And since that's what makes me love Halloween so much in my own little suburban city, I think it would be cool to experience this on larger scale.
But, until the day comes when I book my family a city-hotel Halloween staycation (how fun does that sound?!), I'll have to take the local set's word for how awesome NYC is on the last day of October. In fact, I asked around the office for the top five reasons to visit NYC on Halloween, and my co-workers delivered. 
Here's Why a NYC Halloween Is "Just Better"
1. Avoid the Cold, Skip the Streets, and Collect Candy Quickly: With all the high-rises and big apartment buildings, you can hit hundreds of people without feeling the cold, the wind, and other unpleasant natural elements. You don't have to layer your costumed kids in sweaters and jackets. They can be genies and super heroes without scarves and hats. Plus, since you're mainly indoors, you're also avoiding busy streets and traffic.
If you're trick or treating with young children, you can go around the floors of your own building and be done pretty quickly. (Most littles don't last that long anyway!) If you have older tweens and teens, you can generally feel comfortable letting them loose in a building with their friends. Since it's less spread out, it feels a whole lot safer.
2. Explore Local Businesses and Shops: You can easily hit all the stores on a block or in your hood without having to get in or out of a car! Yes, stores participate in the trick-or-treating festivities--any and all stops from the barber to the laundromat are fair game for candy-stop hopping.
3. Check Out the Boo-tastic Blocks: There are certain areas, like Garden Place in Brooklyn Heights, where you can hit a city block that's insanely decorated for Halloween. A love and excitement for Halloween is practically an unspoken prerequisite of moving to one of these neighborhoods. Participation isn't encouraged, it's pretty much required. 
5. Extend the Festivities: There are special events, leading up to Halloween, in every neighborhood of NYC. At Brookfield Place on Oct. 27, parent can bring their kids for crafts, candies, giveaways, goodies, magician and stunt performances, free seasonal movies, and more. In Central Park, you can send your homemade jack-o'-lantern afloat into the Harlem Meer. Kids in creative costumes dance to a "Monster Mash" band, make creepy-cool crafts, and listen to scary stories. And then, of course, there's Boo at the Zoo in the Bronx. In addition to the normal attractions, guests can go on a hayride, explore a haunted forest, and even visit the extinct animal graveyard through Oct. 28.
5. Fall in NYC Is Underrated: Everyone talks about celebrating the December holidays in Manhattan; and while it is a beautiful season with twinkling lights and magical moments, autumn is equally convincing with its brisk, but not frigid temperatures and stunning colors (Central Park is a wonder). Meanwhile, it's generally a quieter time for tourists and kids are buy in school, so attractions aren't as crowded and there's a relative calm in the air... well, as calm as you get in the city that never sleeps.
Happy Halloween, wherever you're celebrating!
WANT MORE FROM MOMTRENDS?
PIN IT!
Be sure to follow Momtrends on Pinterest and for more spooky inspiration follow our Halloween and Thanksgiving Boards here. 
This is not a sponsored post.