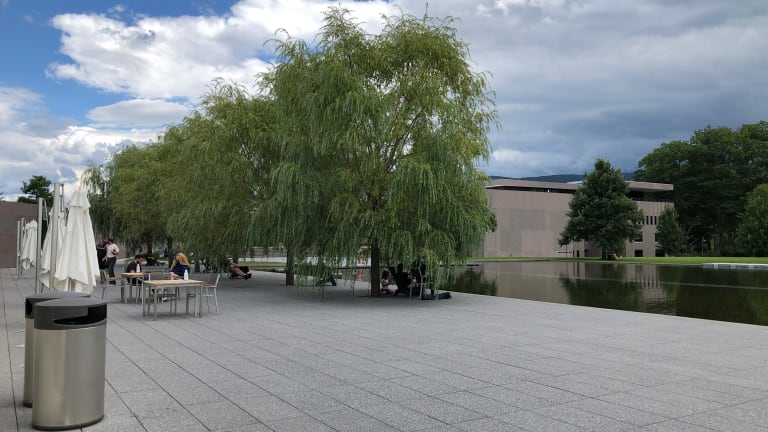 Why You Should Make a Visit to The Clark Art Institute in Massachusetts
Plan a cultural experience in Williamstown, Massachusetts that will delight everyone in the family.
The Clark Art is tucked into the valley between the Green Mountains and the Berkshires. There are four main buildings, plus a huge outdoor expanse. If you are wondering why you should make a family visit to the Clark Art Institute in Massachusetts, rest assured, you'll be able to get a cultural experience that will delight everyone in the family (maybe even the family dog). 
Related: Plan a family visit to MASS MoCA
Visit to The Clark Art Institute in Massachusetts
The experience combines art museums with nature in a way that is true to the surroundings. The art on display is a combination of a solid collection of classics, plus modern guest exhibits. The bulk of the paintings came from the collection of Sterling and Francine Clark. Sterling was heir to the Singer sewing machine fortune and used his wealth to purchase art around the world. The museum has close ties to nearby Williams College and the school works with the museum on academic programing. 
The permanent collection is made up of 10,000 objects and is notable for its Impressionist pieces. The gallery includes a ton of Renoir paintings, which my girls enjoyed. I was also thrilled to see them gazing at the American artists like Remington. The small scale of the museum makes all the difference. The girls dread being dragged through the MET in NYC. It's simply too much for them to take in. These small jewel-box museums offer just the right dose of culture.
If more modern art is your thing, the Clark Art has a wonderful history of gathering special exhibits. These special exhibits are now displayed at the Lunder Center at Stone Hill. This new building is about 1/3 of a mile away fro the main entrance. 
On our recent visit, German artist Lin May Saeed had a terrific three room show called "Arrival of the Animals." She works with found materials like styrofoam and metal and creates what I would call sculptural murals. 
The artist seems to have a lot to say about our mistreatment of the environment and animals. Her clever and sometimes colorful compositions are inviting playful, making them a real treat for families. Our favorite piece was the Mureen/Lion School.
Explore the CLARK ART Grounds
The Clark art is more than a museum, it's also a center for research and a space for visitors and locals to enjoy the outdoors. There are 140 acres to explore and there's even a bee hive on the campus with 40,000 bees (you can get the honey at the museum store).
In between the two buildings, is a one-acre reflecting pool and terrace which is a fun place for kids to burn of energy and use "outside voices." Beyond that are wide open pastures plus ample wooded acres with a few outdoor sculpture pieces like the Tree Logic bio sculpture. 
Start your walk from the parking lot or from the museum buildings. There are five paths inside the Clark Art grounds ranging in distance from 0.3 to 0.7 miles. In addition, a number of trails extend beyond the Clark into Williamstown. Dogs can go on leash on the trails when accessed from the parking lot.
Momtrends Tip: When you visit Clark Art, wear walking shoes that are sturdy enough for trails. 
PLAN YOUR VISIT TO CLARK ART 
The galleries are open 6 days a week 10am to 5pm and closed Mondays. No umbrellas or large bags allowed. Reservations are required with COVID. Same-day availability happens, but plan ahead. We had to move our visit time and it wasn't a problem. Face coverings must be worn at all times when indoors and visitors must practice social distancing. Children under 18 and students with ID are admitted free.
The museum has a café (bring you goodies outside to a picnic table after your order) and a nice museum shop. The courtyard beyond the museum has a bit of outdoor seating and a huge lawn for picnics. 
While in North Adams, be sure to check out the Northern Berkshires Outdoor Art Tour which includes some 30 works of art stretching across 10 miles of country roads. Find out more here.
We stayed at The Porches Inn. The 47-room boutique hotel is about 15 minutes away and kid-friendly. 
The Clark Art Institute is located at 225 South Street Williamstown, MA 01247. For more information visit www.clarkart.edu or call (413) 458 2303.
MORE TRAVEL IDEAS FROM MOMTRENDS
PIN IT!
Use Pinterest to save your favorite family travel destinations to help inspire your next trip. Be sure to follow our Travel with Kids board here.
Momtrends was not paid for this post.