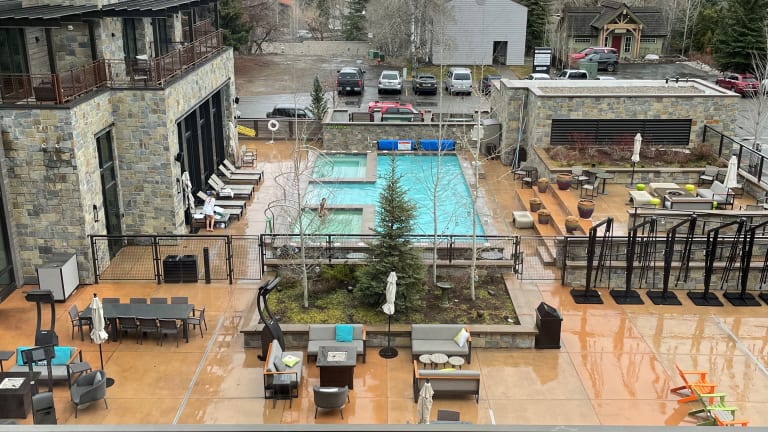 Why We Picked the Limelight Hotel at Sun Valley
Upgrade your family vacation to Ketchum, Idaho with a stay at the Limelight.
Our family spring breaks are the stuff of legends. When you ask our teen girls what defines us as a family, they will always say TRAVEL. School breaks mean a chance for us to get out and explore. On our second family trip to Sun Valley, Idaho, we decided to try a new place. Here's why we picked the Limelight Hotel in Sun Valley: the location is spectacular, the staff is friendly and the amenities are perfect for out outdoorsy family.
Book your stay at Limelight on Expedia here
Related: Where to Eat in Sun Valley
Why We Picked the Limelight Hotel at Sun Valley
When it comes to visiting the mountains, the location really matters to us. Limelight is right in the center of all the action. It's a short 20 minute drive from the Hailey Airport to the hotel. In fact, it's so convenient, we skipped renting a car. We called ahead and arranged for the FREE airport shuttle to meet us at baggage claim. Dave, our driver, helped us load up and then took us back the Limelight.
The Limelight is located right in the heart of Ketchum. It has a sunlit lobby that is the hub of the action. In the morning, this is where you'll get your free breakfast at the buffet. In the afternoon, it's a quiet spot to stretch out by the fire with a book or your laptop. Then at 3pm, it turns into a lively community happy hour. Locals and visitors gather to share a cocktail and connect over a yummy bar menu. Dogs are welcome at the Limelight, oh, and so are kids. It's a fun and social scene that's laid-back and lively.
After outdoor adventures at Sun Valley, guests can still make the most of the mountain setting. Heat lamps warm the outdoor seating areas that overlook the mountains. The outdoor area also has a big heated pool and two hot tubs, there are plenty of chairs for sunning too. 
Location Matters
The Limelight is in a prime spot in Ketchum. It's minutes away from the River Run base area and steps away from amazing restaurants and shopping.  We were able to walk to a half dozen tasty restaurants right from our hotel. The Argyros Art Center is right across the street from the Limelight. It is a high-tech performance and event facility--Ketchum is so much more than a place to ski!
Speaking of being fit, in addition to the pool, there's a spacious fitness center. We did some workouts there and also used it for pre-ski stretching. 
Check out our Video Room Tour
Ski Sun Valley
The Limelight makes an excellent base for skiing Sun Valley. The free resort shuttle will take you right to the River Run base area. The Limelight is 5 minutes from the base area, making it a perfect homebase for ski families. Dollar Mountain, the best place at Sun Valley for beginners to learn, is about 10 minutes away. 
There is a Sturtevants of Sun Valley located right next to the resort, you can get your family set up here. We used the Ski Butlers, they will meet you right at the Limelight and deliver your family's ski set up. Since our trip was right around the change of the season, we used Sturtevants for bike rentals. The Wood River Trail (WRT) is a 20+ mile paved, multi-use, year-round path that provides a non-motorized connection between the Wood River Valley communities of Bellevue, Hailey, Ketchum and Sun Valley. The bike path minutes away from the Limelight.
Book Ski Butlers here and get 10% off your rentals.
Picking the Right Room
The 99-room property is made up of traditional hotel rooms and 14 residences. We tried both. The hotel rooms are designed to efficiency. They are tidy, well-lit and offer wonderful views of Ketchum and the three mountain ranges around the city (The Sawtooth, The Smokey and The Boulder ranges). Rooms come with a work area that doubles as a small dining area, a microwave, small fridge and dinnerware for a meal for four. Our room had two double beds and decent storage. But it was too small for our family. We really needed two rooms to make the stay work with all our ski gear. 
While there is a spacious and secure ski storage area on the first floor of the building, we still had boots, helmets and all the layers for a five-day trip. The good news, there's a lot of great communal spaces to explore at the Limelight, so you can escape your room frequently. Our room would've been fine for a family of three on a shorter stay.
What did work for us is the Residence. We stayed in room 512 and it is AWESOME. We had two bedrooms and two and a half bathrooms. There's a huge living space with a fireplace, dining area and chef's kitchen. In addition, the Residence features a huge deck with seating and a gas grill. Oh, and we also had a washer and dryer...a complete delight on a ski trip where gear often ends up soggy.
Drive an Audi 
The Limelight has a partnership with Audi that allows guests to test drive the Audi e-tron. Reserve the car for up to two hours and you can explore Ketchum without having to rent a car. We loved this service and the quiet and zippy Audi. 
We drove to dinner at the Sun Valley Resort's Ram restaurant and loved the freedom of having a car at our disposal without the rental hassle. 
Book Your Stay
The Limelight Hotels are located in Aspen, Snowmass and Ketchum. The Ketchum address is 151 S Main St, Ketchum, ID 83340, (208) 726-0888. Book your stay at www.limelighthotels.com
Book your stay at Limelight on Expedia here
More Photos from the Limelight Hotel at Sun Valley 
MORE SKI FEATURES FROM MOMTRENDS
PIN IT!
Use Pinterest to save your favorite family travel features. Be sure to follow our Ski Moms Pinterest Board.
Momtrends was not paid for this post.