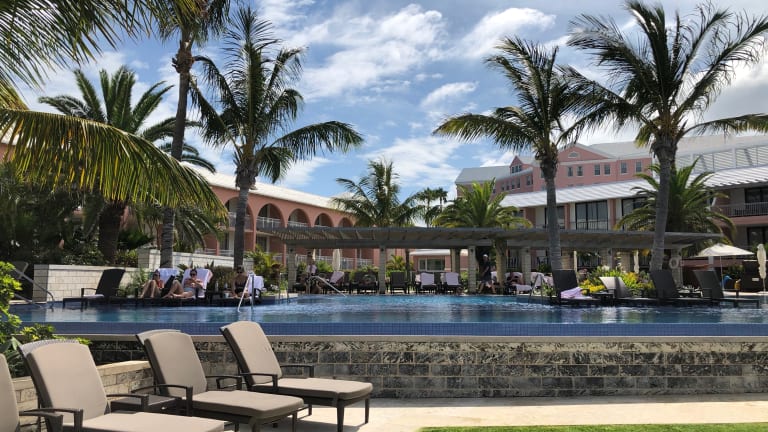 Why the Hamilton Princess Bermuda is the ideal family luxury resort
Planning the perfect beach getaway for tweens and teens in Bermuda
They call it the "Pink Palace," I call it the perfect place for a memorable family vacation. We are smitten with Bermuda, this is our fourth time here as a family and we've found a new resort home. Find out why the Hamilton Princess in Bermuda is the ideal family luxury resort.
Momtrends 10 Second Review of the Hamilton Princess 
Type of Resort: High-end beach resort
Best Age Range for Kids: 6-21
Food: Excellent, partnership with Marcus Samuelson
Activities: Loads, from on-site watersports, pools and a an enormous private beach, plus walking distance to Hamilton.
Childcare: There is a kids' club on property, and there's plenty to do for older active children. 
Spa: Exhale spa on property. Full service spa with huge gym and classes.
Clientele: A mix of business folks in to work in Hamilton and wealthy families from the US and UK.
Charm factor: For a large hotel, surprisingly high. Loaded with pink and a friendly staff, it's a can't miss resort.
Hamilton Princess Video Review
Hamilton Princess, Bermuda Rooms
Now that you know the basics, let's dig into the specifics of what makes this place special. The hotel has 400 guest rooms (that's where we stayed) that range from 325 sq ft to 1,200 sq ft. In addition, there are 58 suites and junior suites. You can also dock your yacht in the private marina.
More than 100 of the rooms have been recently renovated and it shows. They were well-appointed with lovely modern art. I loved our welcome treat too. Overall, the staff was on point. There was a bit of a wait at check-in and check-out, but otherwise we were thrilled with the staffing, especially the charming servers at breakfast and the doorman who were extremely helpful with directions and transportation.
Luxury has a price. I looked at the current rates for the "signature harbor" room where we stayed (two queen beds, balcony and roomy bathroom) expect to pay $800/night in high season.  
Hamilton Princess, Bermuda Pools and Property
As a contemporary art lover, I was in heaven here. The resort has invested a mint in the art on the walls and on the grounds. Many of the pieces are museum worthy and you never know where something will pop up; there are Shepard Fairey prints in the gym!
The hotel says, "the art collection is active." And I'm sure I only was able to take in a small percentage of the collection on this first visit.
And the kids love the playful art too. We were especially appreciative of the LEGO replica of the resort. Speaking of kids, if the parents need a break, there's a kids' club on property.
The Prince & Princess Kids' Club is for kids 5-12 years old, and is based in the "Kid's Cottage." All the activities are fully-supervised with professional camp staff. Activities focus on teamwork and everything has a nod to Bermudian culture. My girls, 11 and 14, did not participate as they are at an age where they are self-sufficient. But I remember traveling with tots and a kids' club can be worth its weight in gold.
What really makes the kids happy is the huge infinity pool and the open plan of the resort. Unlike other properties, the Princess has left some grassy spaces where kids can turn a cartwheel or play with trucks. But mostly what they want to do is jump in the pool.
The pool is big enough for lap swimming and has stunning views of the Hamilton harbor. There's never a scrum for pool chairs and the resort provides plenty of fresh, fluffy pool towels. 
In addition to the active family pool, there's and adults' only pool adjacent to the spa. If you want a quiet spot, it's easy to find at this well-thought out resort.
Water sports at Princess
Playing in the Atlantic is a top priority while in Bermuda. The Princess Marina is Bermuda's first and only full-service hotel marina with world-class amenities for vessels of all sizes. We loved walking the piers to see all the different boats. From fishing boats to super yachts, there's a wide variety. There are 60 berths in all and they enjoy the amenities and services of the hotel.  
If you have a day trip on the water in mind, head to K.S. WaterSports, located at the Hamilton Princess Hotel & Beach Club Princess Marina. Plan your jet ski tour or parasailing here. It's also the spot to check into sailing adventures. We found the staff knowledgeable and ready to help. 
If you want to venture off property for activities, check out this post with 7 Family Fun Activities in Bermuda. 
Private Beach Hamilton Princess, Bermuda
Sure, the rest of the resort is pretty swank with lovely appointments, but families come to Bermuda for the pink sand and the warm water. The Hamilton offers one of the best beaches on the island (I'd argue the Coral Beach Club has the other prime spot). Located off property, the club is a members and guests only location. This means there's never a crowd and the scene is chill. 
The Beach Club is only a 20 minutes drive away on a complimentary PINK Jitney. Once you arrive you'll find a wide-open beach with plenty of shade and beach chairs. When it's time to shower off, there are bathrooms and lockers. 
The girls loved the stand-up paddle boards and the water hammocks. We did some snorkeling and made our way out to the floating pier.
As I read my book, I loved knowing I could easily check on the girls without worrying about losing them in a crowd. This exclusive beach really won us over.
Spa & Fitness at Hamilton Princess, Bermuda
The girls and I love a good spa day. Exhale is a brand name we know and trust and the spa and health center is capably run. There's 5,400 square feet devoted to health and wellness - you can tell it's a priority for the property. 
There are nine treatment rooms, four manicure stations and two pedicure thrones. My daughter and I signed up for 30-minute hydrafacials and loved these efficient skincare treatments. Treatments were expensive, but I always splurge on skincare when traveling. Our aesthetician was patient and excellent at her work. I was so impressed with the treatment, I will seek it out in NYC.
As far as fitness, there's an enormous gym in the main building. Depending on the staff, you'll hear that kids need to be 11, 12, 13, or 16 to use the facilities with parental supervision. We kept asking until we were able to get the girls into the health club for a workout in the A/C. While we didn't have time to take any classes, next time I will definitely check out the yoga and fitness offerings. 
Tennis is big on Bermuda, if you want to play, hop on a shuttle to the private beach to get to the Hamilton's courts. 
Food Hamilton Princess, Bermuda
How do you feel about island fare? Many times on holiday I feel like I overpay for meh food. The Hamilton Princess has invested in making the food memorable on property. They enlisted the help of Marcus Samuelsson, an Ethiopian/Swedish chef, dad and restaurateur. Currently he's based in Harlem, but he's really an international chef and he's thrown his personal flair into each menu.
We've been lucky enough to cook with Marcus and appreciate his careful approach to creating menus. He has kids and knows how to create a menu that is both sophisticated and one that will appeal to a wide audience. The food is fresh and inspired by the islands. 
Hamilton Princess, Bermuda Dining Options
CROWN & ANCHOR – BAR RESTAURANT & TERRACE: this is where you'll want to start your day. There's a glorious breakfast buffet with loads of fresh fruit and made-to-order options too. I ordered a la carte and was smitten with my spinach + poached eggs. With plenty of outdoor seating, this is the spot to savor that second cup of coffee. If the kids get antsy, they can run around the grassy area and play as you get a chance to catch up with your partner. It's also the spot to enjoy proper British afternoon tea. And dinner and lunch are served here as well. 
MARCUS' BY MARCUS SAMUELSSON: We had a lovely dinner at this vibrant dining spot. Samuelsson's menu features plenty of fresh fish and has both indoor and outdoor seating.  
1609 BAR & RESTAURANT: We didn't get the chance to eat here, but this spot features international cuisine and cocktails with uninterrupted views of Hamilton Harbour. It's open daily for lunch and dinner. 
MARCUS' ON THE BEACH: This might be the secret gem of the resort. No one expects much from ocean-side meals, but the Marcus Samelsson delivers! Lunched and snacks are served at the private beach club. Order to your beach chair or dine up at the beach hut. The seared tuna salad was divine and the girls gobbled up the avocado toasts. It's open daily for lunch and Thursday, Friday and Saturday for dinner.
Why the Hamilton Princess Bermuda is the ideal family luxury resort
If you are looking for pristine pink sand beaches away from the crowds, this spot is a great pick. Yes, you can get a cruise to Bermuda and save some money, but you'll have to jostle for space each day at the breakfast buffet and in the sand. 
Plan your visit 76 Pitts Bay Road Hamilton HM, 08, Bermuda, +1 441-295-3000 www.thehamiltonprincess.com/
More Trip Planning to Bermuda
Pin it!
Use pinterest to save your favorite family travel articles, and be sure to follow our Travel with Kids board.
This Why the Hamilton Princess Bermuda is the ideal family luxury resort feature is not sponsored. Portions of our stay in Bermuda and some of the experiences were hosted.