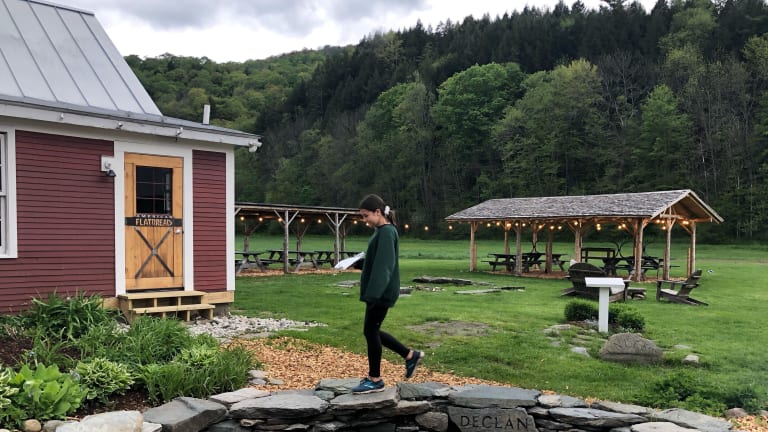 Where to Eat in the Mad River Valley of Vermont
Family-friendly options from pizza to fancier food in the Mad River Valley of Vermont.
Kids seem to be welcome just about everywhere in Vermont, especially in the Mad River Valley. With world-class skiing available at Sugarbush and Mad River Glen, kids can work up quite an appetite. In the Mad River Valley, family time begins on the mountain and carries on to some great meals.
Related: Why you need to go to a woman's ski camp
Here are the top 5 Family Friendly Dining Spots in the Mad River Valley
1. American Flatbread. Don't call it pizza (even though it's pizza). Located on the property of Lareau Farm, in 1985 this is where American Flatbread began. 
Momtrends Tip: Go early or mid-week, it's tough table to get on weekends.We love the classic Medicine Wheel (a classic cheese and red sauce pizza loaded with herbs). The wood-fired oven stays incredibly busy all winter long, kids can enjoy the fire pit outside while they wait. They do not take reservations. They do take names, in person starting at 4pm for dinner that night. In the summer, there's plenty of space to roam while you wait for your table.
46 Lareau Rd, Waitsfield, VT 05673
2. Mad River Barns: The Mad River Barn serves dinner in the upstairs Pub & Game Room and the downstairs Dining Room. Both locations offer the same menu. The upstairs pub area has air hockey and open seating.
Route 17, 2849 Mill Brook Road, Waitsfield, Vermont 05673
3. Pitcher Inn: The Relais & Chateau property might be a little pricey for most families, but tucked downstairs is the more casual Tracks restaurant that's perfect for an early family dinner. The pub has a huge fireplace warming up the room and the atmosphere is lodge chic. Kids can get upscale mac and cheese or a hearty burger and the parents can get a gorgeous glass of wine and Local Cheese and Charcuterie Plate. After dinner, we played a few rounds of shuffle board game...it's kind of like curling.
Pitcher Inn 275 Main St, Warren, VT 05674
4. Lawson's: Oh the irony, a tap room that's incredibly family friendly. This new Vermont experience is as much about the vibe as it is about the brew. Kids love the pretzels and the Full Monty (it's a plate of local cheese + local charcuterie) and parents love the award-winning beers. Lawsons has stocked the tap room with games for the kiddos as well as the classic corn hole game outside. If it's sunny, grab a table near a fire pit as you sip. I love the option for a 6 oz pour. We're all for drinking responsibly.
155 Carroll Rd, Waitsfield, VT 05673
https://www.lawsonsfinest.com/
5. Sweet Spot: If you want a great coffee and something sweet, this colorful spot is a must. Note: We're heard them say "We make it how we make it," this isn't Burger King. No special orders. We love the BLT's and the macaroons. Sit outside and enjoy a Mad River view in the summer. Right now Sweet Spot is only open from 11-3 for takeout M-F.
40 Bridge St, Waitsfield, VT 05673
https://www.thesweetspotvermont.com/
And a few more ideas..
Mad Taco: The food is tasty (and spicy, but the interior is grim). They smoke the meats right out front and they do have a trusted local scene at the bar. Order this to go! 5101 Main St, Waitsfield, VT 05673 https://www.themadtaco.com/
Bluestone Pizza: Pizza and salads with a kids menu too. It's a casual dining experience with a nice staff. 5351 Main St, Waitsfield, VT 05673 https://www.bluestonevermont.com/
Worthy Burger: We're not much of a burger family, so this is one spot I have never eaten at, but they say they focus on local suppliers.  114 Mad River Green, Waitsfield, VT 05673  https://www.worthyvermont.com/
Apres Ski
Head to Alpino Vino (it's super close to American Flatbread). It's a grown-up wine bar with heavy snacks. I regularly meet girlfriends here for a bit of kid-free time. I love the sparse wooden interior and the friendly staff. Get a glass of wine and the fondue or cheese plate as you catch up with your friends.
6163 Main St, Waitsfield, VT 05673
Breakfast picks in the Mad River Valley
Try Toast & Eggs (4752 Main St, Waitsfield, VT 05673) has yummy breakfast sandwiches. My pick is the daybreaker burrito to fuel up for a big ski day. 
Three Mountain Cafe ( 107 Mad River Green, Waitsfield, VT 05673_ has awesome scones and the girls also love the BLT's there. Get the menu and more information here.
The nearby Trapp Bierhall at the Trapp Family Lodge in Stowe has awesome schnitzel and is quite family friendly. 
MORE SKI FEATURES FROM MOMTRENDS
PIN IT!
Use Pinterest to save your favorite family travel features. Be sure to follow our Ski Moms Pinterest Board.