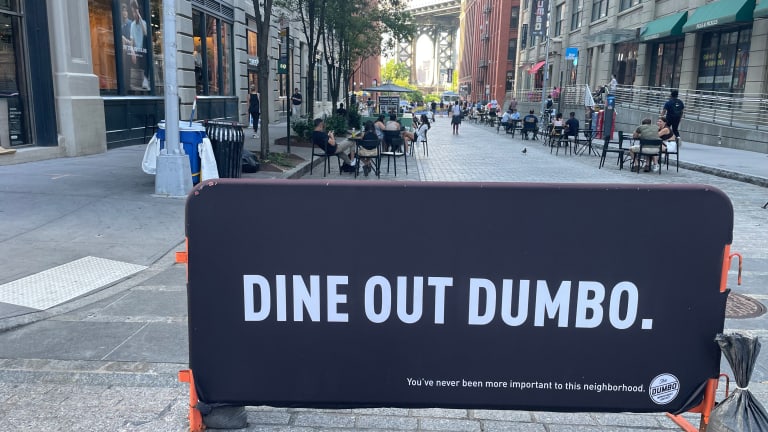 Where to Eat in DUMBO, Brooklyn
Insider tips to finding a great meal in Brooklyn's trendy waterfront neighborhood.
I'm lucky to have called DUMBO, Brooklyn home for more than 16 years. This waterfront neighborhood has changed immensely in the time I've lived here. We're lucky to have had an influx of great restaurants in the neighborhood. Use this Where to Eat in DUMBO, Brooklyn post on your next visit or to share with friends when they come in town.
Related: What to Do in DUMBO Brooklyn
Breakfast
Almondine remains the standard barer in DUMBO. The pâtisserie was here long before all the hipsters arrived. For a traditional croissant, you can't beat this spot. They also make delish sandwiches to take for a waterfront picnic and don't forget a macaron...I know I never do! 85 Water St, Brooklyn, NY 11201
For a great coffee and treat, head to Butler. I usually swing by the to-go window after a run to nab a cappuccino and a protein bar. They also have new modern classics like avocado toast. It's a terrific spot to meet up with friends or plan out your day. 40 Water St, Brooklyn, NY 11201
Lunch
I'm trying NOT to give you too many chain options, but it's noteworthy that there's a Shake Shack and a Sweetgreen in DUMBO. But I encourage you to think out of the box. As for where to eat your lunch, head to Brooklyn Bridge Park or try to grab one of the bistro tables on Washington Street. Most days the road is blocked to car traffic so visitors can eat outside.
Al Mar is my pick for a lunch. I love the paninis here. My order is 1/2 panini (the classico) with a side salad and iced tea.  The soups are also tasty. 111 Front St, Brooklyn, NY 11201
Westville is another spot that has multiple NYC locations. I like this one because they have a delightful little outdoor seating area and the nicest staff. We swear by the veggie burger and sweet potato fries. This spot is great for vegetarians. 81 Washington St, Brooklyn, NY 11201
Lassig & Hennings has everything you need to make a great picnic. Lassen & Hennigs was established in 1949 and has proudly served Brooklyn Heights for over six decades, I was thrilled when they opened down the street from me. 177 Water Street.
Miso is the choice if you need a sushi fix. Take it to go or grab a table in the modest dining room. 40 Main St, Brooklyn, NY 11201
Dinner
Ready for date night? Or perhaps a fun meal with friends? Here are my picks.
Vinegar Hill House is our regular spot in DUMBO. The creative bistro fare is infused with Brooklyn insouciance. The chefs clearly know how to combine flavors and textures to appeal to foodies. I like the quirky decor and the hipster cocktails. We always get the chicken liver mousse; it's a flavor bomb for sure. We also love the cast iron chicken. 72 Hudson Ave, Brooklyn, NY 11201. Book reservations www.vinegarhillhouse.com
Superfine is a terrific spot that really embraces the essence of DUMBO. They often have a local artist featured inside and cool music. There's a lively bar scene and a sizable menu with loads of traditional bistro food. They have a terrific brunch (it's kid-friendly) and I always love the colorful staff. You can't go wrong with the burger here. 126 Front St, Brooklyn, NY 11201. More details and menu here www.superfine.nyc
River Cafe is VERY fancy. It's our special occasion restaurant. After we were married at City Hall, we went here for a wedding lunch, and we've returned for many anniversaries. Located right on the water, you've got to realize you are paying for the view. If you time it right, you might be lucky enough to get a sherbet-colored sunset as you sip a perfectly prepared cocktail. The food is classic, if not a tad dated. The service is lovely and make sure to arrive early to take a spin through the small garden out front. 1 Water St, Brooklyn, NY 11201, reservations required. Book on OpenTable or on rivercafe.com
Celestine is the newest date night dinner spot in DUMBO. It's tucked into the bottom of the 1 John Street condos with a nice little terrace that overlooks the East River and the park. We've met friends for drinks here a few times and the setting is lovely. The food has been hit or miss and it's pricey. It's a great pick if you want to go for a glass of wine and an appetizer. The dips and mezze are quite nice at this Mediterranean-inspired spot. 1 John St, Brooklyn, NY 11201
Gran Electrica is our go-to on date night. The spicy Margaritas there are the perfect way to smooth out the rough spots of parenting. The back deck is a coveted table on warm nights, so go early. Definitely get the guacamole. I've never had a bad meal here, but mostly I go for the guac and tequila. 5 Front St, Brooklyn, NY 11201. They DO take reservations on Resy.
Note: The other Mexican restaurant is Pedro's (73 Jay St, Brooklyn, NY 11201). It's not my pick. 
Drinks
Head over the the VERY fancy 1 Brooklyn Bridge Hotel for drinks. Harriet's Lounge is up on the 10th floor, against a backdrop of panoramic views of the Manhattan skyline. Order a classic cocktail and you'll feel very grown up here. In nice weather, enjoy Harriet's Rooftop. It gets a little rowdy in the summer, and I love it. Great people watching.
The hotel also has a very competent restaurant called The Osprey. Chef Denevin Miranda serves a farm-to-table, contemporary American menu that celebrates the cultural diversity of NYC. He offers brunch and dinner and there's a spacious outdoor seating area that overlooks part of Brooklyn Bridge Park (it's mostly garden views). I find it a tad overpriced, but the service is nice and I love the setting. It's surprisingly quiet for being in a bustling park.
The hotel is located at 60 Furman Street, Brooklyn, NY 11201 get more details 1hotels.com/brooklyn-bridge
Pizza
Don't shoot the messenger. I'm going to tell you what's available and let you all duke it out on the particulars.
Our pick for pizza is Grimaldi's. It's a super thin crust with the perfect sauce and hunks of premium mozzarella. You can't book a table ahead of time, so be prepared to wait. 1 Front St, Brooklyn, NY 11201
Right next to Grimaldi's is Juiliana's. There's some "beef" happening between the owners. Rumor has it the families are somehow related. Again, I'm not getting involved. The indoor setting at Juiliana's is 10x nicer than Grimaldi's, but we don't like the pizza quite as much. But if you dine in, the service and salads are better. 19 Old Fulton St, Brooklyn, NY 11201
To further complicate things, you've also got Ignazio's. This is where folks go when the lines at the other two places are too long. The pizza is fine and everything else is passable. When you are hungry and tired of walking, this will be a totally acceptable experience. 4 Water St, Brooklyn, NY 11201
Sweets
I'm a fan of the little treats at One Girl Cookie. Right now they are closed for renovation, but they'll be back in action soon. My pick is always a Whoopie Pie. 33 Main St, Brooklyn, NY 11201. Find out more onegirlcookies.com
Jacques Torres is another stalwart. He was savvy enough to see the potential of DUMBO and picked it for his first location. The chocolatier has been a DUMBO staple for nearly 20 years. He was here for me during my pregnancies supplying me with my chocolate fix, and I'm eternally grateful. This is the spot for sumptuous sweets and treats. My faves include the chocolate chip cookies and the hot chocolate. 66 Water St, Brooklyn, NY 11201
Ice Cream
Like the pizza wars I mentioned, there are also ice cream shenanigans going on. 
Brooklyn Ice Cream USED to be on the actual pier. They've moved to a splashy new building. It's small-batch ice cream made in-house. 14 Old Fulton St, Brooklyn, NY 11201
Ample Hills moved in where Brooklyn Ice cream was (the location used to be a former fireboat station. It's good ice cream. 1 Water St, Brooklyn, NY 11201
Oddfellows is the newer player on the scene. I wasn't wowed by the ice cream, but it's a solid choice to keep the kids happy. They are known for weird flavors, like Vegan Coconut Caramel Chip. 44 Water StreetBrooklyn, NY 11201
Time Out New York 
Time Out Market New York picked a huge warehouse facility for its big American launch. The idea is to gather a bunch of trendy eateries under one roof to inspire cross pollination. The restaurants are spread across 24,000-square-feet. There are three bars, a fifth-floor rooftop and art installations too. For early risers, start with breakfast at Ess-A-Bagel for a classic meaty, chewy bagel. Lunch-goers can pick from the other 23 options all with flair and a signature dish. It's fun to mix, and match so bring friends so you can sample and share. Empire Stores, 55 Water Street, Brooklyn, NY. More info www.timeoutmarket.com/newyork/eat-and-drink/
What do you think? Have I missed anything?
MORE NYC IDEAS FROM MOMTRENDS
PIN IT AND PLAN IT!
Use Pinterest to save your favorite travel ideas. Be sure to follow our New York City Mama board here. Let me know if you come to Brooklyn and try these ideas. 
Momtrends was not paid for this post.