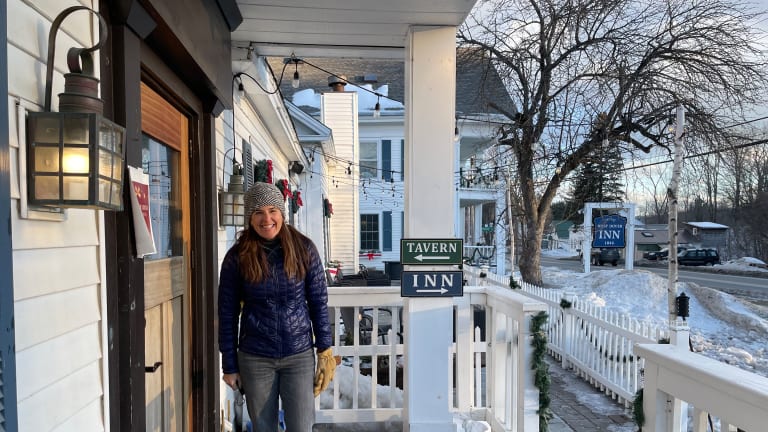 Where to Eat at Mount Snow, Vermont
Resources for ski moms to feed the family and have a great grown up experience while visiting Mount Snow.
Mount Snow is located in Dover, Vermont. And while it is Vermont's southernmost big mountain, and therefore, closest to many Northeast metropolitan areas, it is also in a VERY small town. Lucky for ski moms, this little hamlet is packed with tasty options for you and your family. Here's our guide on where to eat at Mount Snow, Vermont.
Breakfast Ideas
Locals and visitors love the java at the Coffee Barn. The staff is friendly and efficient. Get a perfect cappuccino and a breakfast sandwich to start your ski day. There are a few spots to sit inside and an area for boardgames and a coloring station for kids. I had a delicious bagel with everything and my pal had a great egg sandwich. 
Coffee Barn Cafe, 319 Vermont Rte 100, West Dover, VT 05356, (802) 464-2848. Online ordering is available online here www.coffeebarncafe.com
Other moms swear by the Sticky Fingers cinnamon buns to start the day. They make everything by hand from scratch every daily. Sticky Fingers, 210 Vermont Rte 100, Dover, VT 05356, (802) 464-9463.
Dinner Ideas Near Mount Snow
Trail 87: This restaurant is a tidy little spot. The entrance is a coffee shop (open to fuel skiers in the morning), then you enter the main dining room. It's got a Vermont farm feel. In the back, there's more seating with a full bar and a small area for live music. 
Executive Chef Tyler Haydon has developed a menu of hearty comfort food. Start with the shishito peppers. They are perfect paired with a crisp white wine. From there we ordered an awesome winter salad and a divine Short Rib Dip. It's made of braised short rib, horseradish goat cheese, apple fennel slaw, crispy shallot, on baguette with jus. It's as good as it sounds.
Trail 87, 271 Vermont Rte 100, West Dover, VT 05356, (802) 464-2422. Reservations are available at Resy.com. www.trail87.com
The Tavern 1846 is the spot to know. They are open every day of the week, but note--they don't take reservations. All seating is first come, first served. 
Start with something from the raw bar, like oysters, then move to the pretty cheese board presented on a slab of wood. 
We didn't have much room left, so we split the Salmon BLT, you'll get a huge 6oz. portion of grilled salmon topped with lemon herb mayo on a toasted sourdough bread, bacon, lettuce, and tomato. 
The Tavern 1846, 108 Vermont Rte 100, West Dover, VT 05356, (802) 464-5207, www.mountsnowrestaurant.com
The Last Chair is a popular spot for families and larger groups. Yet again, you'll get the barn feel, but this one feels more lived in. If there's a wait, and there likely will be, head to the arcade. There are classic games like ski ball an all the newest options too. We're told the baby back ribs are the best, the menu is sizable, and there's a kids menu too. Online orders are welcome.
The Last Chair, 267 Vermont Rte 100, Dover, VT 05356, (802) 464-1133. Get details www.lastchairvt.com
More Places to Try
While I haven't been to these spots, they come mom-recommended from my ski group.
Snow Republic moms say that they love the great beer but "their sandwiches were something we'll be dreaming about for a long time. 33 Vermont Rte 100, West Dover, VT 05356, (802) 222-0932, www.snowrepublicbrewery.com
Sawmill farm-to-table fare from executive Chef Christopher Lauinger. 7 Crosstown Road, West Dover, VT 05356, (802) 464-8131. www.sawmillbarandtable.com
On Mountain Food at Mount Snow
With over a dozen spots to eat on and off the mountain, Mount Snow gives families a ton of variety. I had a lovely dinner at Harriman's Farm to table. Located in the Grand Summit Hotel, the focus is on local brews and farm fresh food. 
Momtrends tip: always say yes to cheese when you are in Vermont. Please check ahead on days and times, the mountain is short staffed
Take a break during your ski day and head over to Carinthia Base to explore the foodie options. A few years ago, I had an awesome salad at the Iron Loft. Service was a little slow on my visit, but the steak salad was worth the wait. If you are ready for aprés, try out the High Timber Lounge with tons of tasty brews on tap. This year, I made a reservation for the lower area, For speedier food, downstairs there's the High Timber counter-service area downstairs. Book your table using the Epic Mix app. You'll need to show proof of vaccine to enter.
Momtrends Tip: In September 2019, Mount Snow joined Vail Resorts' portfolio of 37 resorts and its Epic Pass, show your pass at checkout on the mountain to get 20% off your order.
Markets Near Mount Snow
The Snow Mountain Market is about a 5 minute drive from the base. This local market is packed with the essentials, but also has goodies that would help you prepare a gourmet meal back at your ski condo. There's a full meat section, loads of cheese, a huge wine selection and an excellent deli counter too. Open 7 days a week.
The Snow Mountain Market, 323 Vermont Rte 100, West Dover, VT 05356
The Grand Summit has a deli right on the ground floor. They make nice breakfast sandwiches and have cereal and coffee. There are a few other prepared food items. 
Beer Momtrends Recommends
If you are bringing beer for aprés ski, I recommend this Lil Heaven beer from Two Roads Brewery in Connecticut. It's a session IPA made with three exotic hops – Azacca, Mosaic and Equinox. A session IPA combines the hoppiness of an IPA with the lower alcohol content of a session beer. It's a little fruity, but not sweet or heavy. Enjoy it by the fire pit on the backside of The Grand Summit and toast to a great ski holiday.
Momtrends Tip: "When picking beers it helps to know the lingo: A "Session" is an adjective used to describe a beer that is: lower in alcohol (generally under 4 or 5% ABV) and high in refreshment.
MORE SKI FEATURES FROM MOMTRENDS
PIN IT!
Use Pinterest to save your favorite family travel features. Be sure to follow our Ski Moms Pinterest Board.
Momtrends was not paid for this post