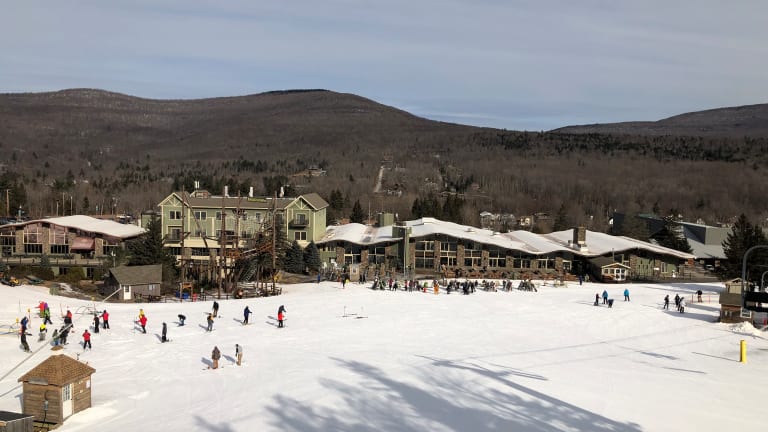 What's New at Hunter Mountain New York
Hunter North $9 Million Dollar Expansion
Hunter Mountain is a terrific resource for New York and New Jersey families that want to get their kids skiing and riding. Set outside the NYC business area, Hunter offers a little bit of everything for ski families. This month I popped in for a day to see what's new at Hunter Mountain New York.
Who Hunter Serves
Hunter is meant to be a city retreat. Set in the Great Northern Catskills, the mountain makes the most of the surroundings and the weather. They are one of the closest ski resorts to NYC and can cover 100% of their trails with manmade snow. From its inception in the late 1950s, the management of Hunter Mountain has employed extensive snowmaking facilities knowing that weather can be fickle in this area. 
Who skis Hunter? A lot of kids 13-25. About 30 years ago I was a member of my high school ski club. Being from Maryland, there were limited options for our trips. One of my earliest ski adventures was a bus trip to Hunter Mountain in New York. I don't remember much about the trip, but I'm pretty sure I was wearing Guess jeans to ski (with my CB jacket) and that there was Bon Jovi playing on the chair lifts. I had a blast, but really, really needed some lessons and better gear. Our bus was one of many that pulled into the Hunter lot. And the buses are still coming.
Now all these years later, Hunter is still serving teens, tweens and college kids up and down the East Coast. It's an exciting mountain that features a 1,600-foot vertical drop. Making it appealing to anyone that loves speed and steep pitches.
To expand the reach Peak Resorts, the folks who run Hunter and a bunch of other mountains have thrown a ton of money (Hunter North took eight months and $9 million as a project) into expanding the offerings.
For more outdoor fun in New York State, check out the 24 Great National Parks in New York here.
Hello Hunter North
This year Hunter North opened. As a ski mom, I'm excited to note that this is the largest ski resort expansion on the East Coast in more than 15 years. The expansion added 5 new trails, 4 glades and a new high-speed passenger chairlift that seats six. 
I spent the day skiing the mountain and loved all the new runs Hunter has added to the mix. I also think the new Northern Express lift will ease lines and help more skiers get in more runs on busy weekends. 
On my press visit, I zipped down the Overlook and Twilight--two of the new black diamond runs included in the expansion. They are steep, fairly wide and a ton of fun to ski. The new runs feed down to the Northern Express lift. This high speed lift services a new parking area and is a welcome addition to the fun.
Back over at Hunter North, I loved Jimmie Heuga Express; it's a scenic black diamond where you can pick up some great speed off of the top (elevation 4,040') and head all the way down to the base. In general, there's a ton to ski at Hunter and it's a great place to get older kids out in the snow during winter.
Older kids and bolder young ones will love the freestyle terrain at Park Avenue. Kids can spend all day there jumping and experimenting. 
And when you want to take off those ski boots, but you still want to be outdoors, Hunter also offers a snow tubing park on the weekends.  It's the largest snow tubing park in New York State.
The main lodge has a large dining area with plenty of seating. There's also a full bar in the lodge with a lively apres ski scene, often with live music. If you don't want to day trip, the Kaatskill Mountain Club Lodge offers liftside condos.
Start planning your ski holiday at https://www.huntermtn.com
Getting There
According to Google Maps, Hunter Mountain is about 130 miles from me in NYC. Which means 3+ hours on a good day. And that's IF you own a car.
But there's an attractive alternative to driving. Since Peak Resorts are targeting urban families, they've created some cool partnerships like the one with LINE. 
I tested out the LINE bus. LINE is a subsidiary of Trailways. The coach bus leaves out of the New York City Port Authority. LINE touts itself as a premier bus service. They offer digital boarding passes, comfortable seats, Wi-Fi, and on board attendants serving hot and cold beverages, snacks and more.  Find out more at https://ridewithline.com/
If you are driving and have a season pass, park over at Hunter North. It'll be a short walk to the lifts and I bet the lines will be shorter.
The downside of Hunter
Here's the thing, Peak Resorts focuses on serving cities. The majority of the resorts are located within 100 miles of major metropolitan markets, including New York City, Boston, Philadelphia, Cleveland and St. Louis, enabling day and overnight drive accessibility. 
This is amazing.
And it isn't amazing.
The nature of the beast is cities are crowded, and that can translate to a crowded mountain. But this can be managed. Our press visit was mid-week and the skiing was splendid. On any given Thursday the trails will be wide open and there will be nary a lift line. 
This is NOT the mountain I would pick for a holiday weekend. I've heard tales from my ski mom friends of hour-long waits for lifts (though the new Northern Express should ease that a bit).
And it is a party scene on weekends. As evidence by the empties under the lift. But again, this can be mitigated by careful family planning (the ski kind, not the baby kind).
Here are the dos and don't of skiing Hunter Mountain
Do: Start your day early
Do: Buy lift tickets in advance and pre-book lessons.
Do: Break for lunch before 11 or after 2 to make sure you have a less crowded dining experience.
Do: Stick to Hunter East with beginners
Don't ski until the last lift. Start early, end early.
Don't show up on a holiday weekend at 11am.
Bottom Line: With a plan and the expanded terrain, Hunter is a good bet for families who want to experience the charm of the Catskills and some great turns out in the snow.
Peak Discovery Program
Hunter can be a great place to learn. I'm very impressed with the affordable Peak Discovery Program. Here's what you get: three lessons, equipment rentals. And better yet, the program is valid at 10 northeast resorts.
Here's how it works
Day 1: Intro lesson package
Day 2: Practice lesson package
Day 3: Explore lesson package
The Discovery Package rate is $139 when you buy the package online for the 2019 season . That's a steal and a real help to families that want to make skiing more affordable.
I was very impressed with the Hunter Mountain Learning Center. The space is open and airy with a helpful staff. The rental process is very well laid out. I brought my boots but rented skis and poles. The team in the Learning Center had it down to a science. 
The Learning Center is situated adjacent to the Hunter East Terrain. Everything over there is "green" terrain perfect for beginners. 
Getting started. Head here to find out more https://www.mountsnow.com/ski-ride/discovery-program/
2019 Snow Guide
Want more snow ideas? Check out our 2019 Family Ski and Snowboard Guide.
Pin it!
Use pinterest to save your favorite family ski trip ideas.
This What's New at Hunter Mountain New York feature is not sponsored.