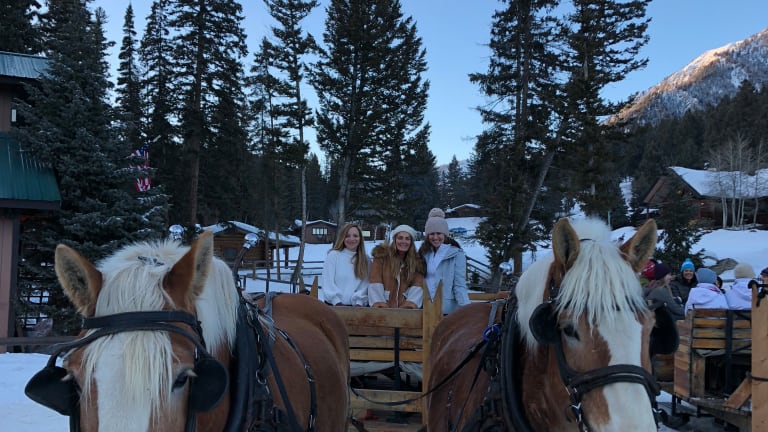 What to Do in the Greater Big Sky Area
Earlier this week, I told you about my amazing adventure in Big Sky, Montana. You can read all about the phenomenal ski resort and its epic mountains, here; but, suffice to say, the #MTBigSky influencer trip, organized by Momtrends, was phenomenal from start to finish. Our time on property was magical and memorable, and I legit fell in love with skiing at this super special place--from wannabe ski mama to full-out powder-chasing covert.
Of course, as much as we enjoyed exploring all the mountain resort had to offer, we also loved seeing the surrounding town at large and taking in all that this destination has to offer.
So, if I've succeeded in convincing you that you need to book a Big Sky trip (and you really, really do), then be sure to make time for these four amazing off-property experiences.
Enjoy a Montana Moment at Gallatin riverhouse grill 
Live music, punchy cocktails, and tasty BBQ--Gallatin Riverhouse Grill is equal parts restaurant and saloon; local hangout and tourist hotspot. On any given night, it's loud and busy and bustling, and full of energy. An expansive outdoor patio with glorious mountain and creek views make it an authentic Montana gem. While the impressive beer list has enough (local) options to satisfy thirsty customers; the Montana Mule is not to be missed. Order it with huckleberry vodka (instead of whisky) and I promise you won't be disappointed. The barbecue platters are impressive and affordable, but the 7 dollar friend chicken plate is famous in Big Sky. It's the probably the best deal in town. (Incidentally, my ski instructor told me he knows a first date is going well if his plus-one orders the chicken.)
Visit Lone Mountain Ranch
Welcome to the wild, wild west--except, you know, with a super elegant flair. Lone Mountain Ranch is a luxurious all-inclusive dude-ranch resort that provides guests an authentically Montana experience. At its peak in the summer, families can take advantage of incredible activities like horse-back riding, fishing, and mountain biking. And in the winter? Well, there's still plenty to do for day-tripping and lodging guests--and I can attest to that! Our group opted to take a scenic snow shoe tour around the soothing sights, sounds, and sweeping views; and wow--what a workout! The ranch is also known for its cross-country skiing trails. The upscale ambiance and 27 private log cabins lend to a more serene experience for those who want to ski but also seek some solitude. 
Sleigh Ride Dinner
Make a return visit to Lone Mountain ranch for the magical sleigh ride dinner. Guests load up in a horse drawn sleigh and are taken on a beautiful ride to an oil-lantern-lit cabin for a family-style prime rib dinner. It's an intimate affair with live crooning cowboy music (there was a Johnny Cash sing along), soul satisfying food, and newfound friendships. Our group sat at a table with a family vacationing from Florida and it was so lovely to talk and laugh and break bread together. On the sleigh ride back down to the main lodge, we enjoyed the breathtaking beauty of black sky and twinkling stars. This was probably the top non-skiing highlight of our trip. The $125 per person price might seem startling at first, but this is a one-of-a-kind meal for a one-of-kind trip. A few tips: 1. Buy wine beforehand at the Lone Mountain Horn and Castle saloon--you can't get booze up in that remote cabin. 2. Get the cowboy coffee if you need to catch up on work late at night.
Dog Sledding
When I found out we'd be dog sledding, I kind of assumed the three of us would be on a big sturdy sleigh together, getting pulled by a pack of canines. I figured the ride would be tame and the scenery would be lovely. Well, I was half right. Unlike, many other dog-sledding companies, Yellowstone Dog Sled Adventures puts you in charge and let's you actually drive the sled. We each took turns "mushing," turning and twisting, and speeding down hills and around corners. "Hold on for dear life" is the name of the game, and it's terrifying and exhilarating and absolutely amazing all at once. (Don't worry--Stephanie of City Moms Blog fell off twice with Brianne from Stroller in the City in the sled, and they both were just fine! The dogs wanted to run free, but our expert guide reigned them in and got the situation under control.) The three-hour learn-to-mush session doesn't come cheap at $235 per adult, but it's a rare opportunity that's worth every cent.
This is a sponsored post. Activities and meals were facilitated by Big Sky resort and Visit Big Sky. All opinions are our own.