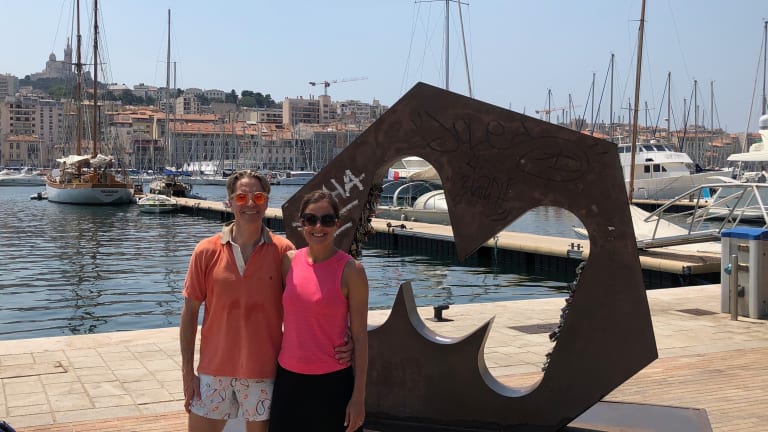 Visiting Marseille France Old Port
Where to stay and what to do on your trip to Marseille France
With more than 15 visits to France on my passport, Mr. Momtrends and I make a habit of tacking on trips to new-to-us cities when we make our annual sojourn to Paris. I don't ask for diamonds, I ask for a yearly business class ticket to Paris. This year, Marseille was our pick and I definitely recommend visiting Marseille France and the Old Port on your trip to the south of France.
Use Expedia to plan your next trip to France.
Planning your Marseille Visit
Having grown up in Maryland, it's hard to resist comparing Marseille to Baltimore. The French port city is a bit gritty and definitely has a working class air about it. You won't see many designer labels or Hermes outposts here. What it does have is charm (just like Baltimore) and history.
According to my internet resources, the Old Port has been around since 600BC. The port is large and loaded with boats of all shapes and sizes (though thankfully cruise ships DON'T dock here. The streets that line the docks are touristy and safe (shout out to Oscar's Bagels, 8 Quai de Rive Neuve, for providing a great tomato and arugula salad when we were hankering for greens!). 
There is a daily fish market and often there are other market stalls to buy touristy trinkets. It's also where you can hop on a boat to explore the coastline of the Mediterranean Sea. 
Muceum Marseille
The Muceum is a new treasure in the Old Port. It opened in 2013 and is a spectacular structure that cleverly combines an old fort with a modern museum. A stunning bridge connects the two buildings (good photo ops!)
Based at a 17th century fort, the Muceum has a ambitious goal of covering all things cultural. In our experience, the exhibits were hit and miss. The Tunsian uprising was given a short shrift. But Art Brut painter and sculptor Jean Dubuffet would be proud of the expertly curated display of his work.
Visiting Details: Espl. J4, 13002 http://www.mucem.org/en/the-mucem  
Calanques National Park
Our hotel wasn't tremendously helpful booking a trip to see the Calanques. The Calalques are national parks that were founded in 2012 (but have been around a lot longer). We struck gold by strolling the port and booking directly with our boat company.
The coast of Marseille leads up to a glorious national park. Huge rock cliffs made of limestone jut up and down the coast. In a few spots, beaches have been carved out. The largest beaches are Calanque de Sormiou and Calanque de Morgiou. These can be reached by car (expensive and twisty) or you can hire a boat. 
We used Compagnies Maritimes and our boat tour took us to see both of the rocky beaches.. They are based in the Old Port and have a number of options on how to view the Calanques. There's a sunset cruise and boat excursions that leave every few hours. We wanted the swimming option so we waited for the 2x a day "bathing tour." We were expecting to be able to do some snorkeling or free swimming, alas, the "swim" portion consisted of anchoring the boat and telling the 50 or so passengers to jump in. We clustered near the boat and treaded water. Not exactly what I had in mind, but it was refreshing.
Though 50% of the passengers spoke English, the tour was held entirely in French. I got some basics, but most of the history the captain shared was lost on me. Note to self: work on your French! 
Book your trip: calanques-if.com. The tour takes about three hours and costs 30€. The boat doesn't provide water, snacks or towels. Bring your own. There is a bathroom on board.
Marseille Gardens
Views from the Jardin du Pharo gardens can help get you oriented to the layout of Marseille. Bring a picnic and spread out on the huge lawn. This is a terrific spot to watch the sunset. Admission is free. Location: 58 Boulevard Charles Livon
La Corniche in Marseille
Mr. Momtrends and I would have a daily jog along the winding path that overlooked the sea. It's called La Corniche. It's a winding path that gets narrow in spots and can get quite a bit of pedestrian traffic, but early in the morning, it's a haven for fishermen and runners.
La Corniche gives you great views of the public beaches that dot the coastline of Marseille. We'd end out run at a small beach full of dedicated swimmers. 
Dining Spot Near Old Port
Aside from our glorious and fancy meals at Le Petit Nice, we had a lovely dinner at Peron restaurant.
Just a 15 minute walk from the port (or our hotel), the Peron is perched on a rocky cliff with great views of the Med. I started with a delicious Chablis and a chilled tomato salad. Mr. Momtrends loved his longline fish wrapped in grape leaves and I devoured my "poulet" with artichokes. We savored this relatively light meal (we needed a break from the fancy and long dinners at Le Petit Nice) as the sun set on the sea. A picture perfect dinner. The service was warm and efficient.
Dining Details: call for reservations +33 4 91 52 15 22 address 56 Corniche Président John Fitzgerald Kennedy
Where to Stay in Marseille
Since we were on the hunt for romance, we picked the Le Petit Nice-Passedat hotel. It's a Relais & Chateau property located 30 minutes from the Marseille airport by car, and about a 30 minute walk from the Old Port .
The hotel harkens back to 1917 and is full of charm though lacking in some features we love.
First the charm. The seafront setting is swoon-worthy.
There's a resident hotel dog, a sweet French Bulldog (naturally) to meet and greet all the guests, The main draw is the three-star restaurant run by the eponymous Gérald Passedat. The seafood-heavy menu is a work of culinary art. Book your table when you make your reservation. Momtrends tip: if you want the same luxury dining experience with a bit of a discount book lunch.
Dinner is meant to be savored and can take up to four hours if you opt for all the courses. Pace yourself! The chef was constantly buzzing around the property and the kitchen. He personally checked in at each table after the dinner service.
Le Petit Nice-Passedat Review 
The hotel is small with amazing views of a nearby rocky beach. We loved having breakfast on the terrace and people watching. There was a lot to take in, observing the bathing habits of the deeply tanned octogenarians below made me quite happy.
I preferred the cushy poolside chairs the Petit Nice provided over trying to get comfy on the rocky beaches. The hotel pool was soup temperature thanks to the heat wave. I was happy to make the rather circuitous trip to the stairs for my cooling plunges into the Med.
The rooms lean towards the austere, but the views made up for it. I'm not a fan of the open-closet format, and I missed having a tub (I like a good soak on vacation). We were in the middle class of offerings --the Executive. We did love the turntable in our room and the accompanying records.
The staff is efficient though not completely helpful. We tried to book a boat trip through the front desk a few times and were never successful. We ended up walking to the port and booking on the spot.
Be advised the parking lot is TINY and the lane to the hotel is extremely narrow (even by French standards). Our taxi driver is a professional avoider of concrete and HE even scraped the side of his car getting into the lot.
Location: 17 Rue des Braves, 13007 Marseille, France Book your stay: https://www.passedat.fr/?anchor=!home#!home
More France
For more on France check out these posts:
Pin it!
Use pinterest to save your favorite travel articles.
This Visiting Marseille France Old Port feature is not sponsored.