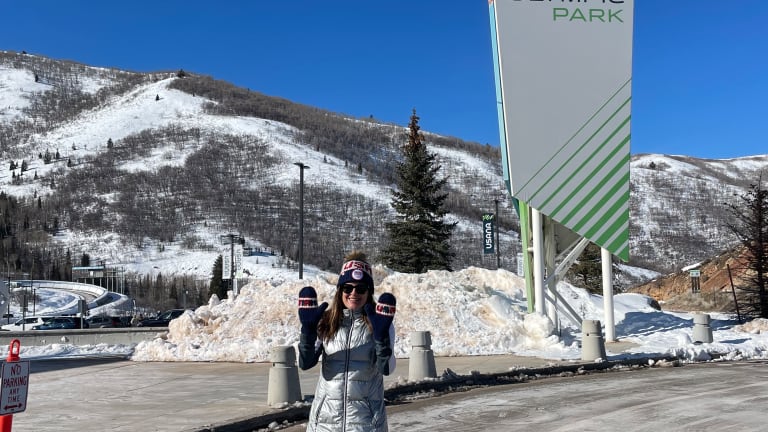 Visit the Salt Lake City Winter Olympic Venues with Your Family
See what it takes to train like an Olympian at Utah's kid-friendly venues.
When I think of Utah, it's impossible NOT to think about the Olympics. Home to the 2002 Olympic Games, the Salt Lake City, Utah is still maintaining the spirit and heritage of this special event twenty years later. I've been skiing here a dozen times and am continually impressed with how the city embraces the past and looks to the future. When you visit Salt Lake City, be sure to set aside time to head to the Olympic venues with your family to tap into the past and look to the future.
Utah Olympic Park
Built for the Salt Lake 2002 Olympic Winter Games, Utah Olympic Park offers venues for racing, sliding, jumping and learning. The 400 acre facility houses one of only four sliding tracks in North America, six Nordic ski jumps, a 2002 Winter Games museum, and a multitude of adventure activities.  
Start with the museum.  On the first floor, you'll find interactive exhibits that help demystify snowsports. I love all the vintage ski fashions…we've come a long way!
From there, head upstairs. The second floor is loaded with memorabilia from the 2002 games. Head to the second floor to see the relics from the opening ceremony, speed suits from the ski racers and tons of images and videos from the games. 
To bring the history alive, I highly recommend the guided tour. Our guide, Maddie, was a hoot. She brought us to the outside portions of the facility. She started out at the training pools where the athletes practice their aerial tricks into water (a safer landing than snow). From there, we headed up to the sliding track. We learned that the athletes can reach top speeds of 92mph and that "turn 6" is a doozy.
This is the track where they hosted the luge, skeleton, and bobsled Olympic events. The track is still fully operational. On our trip, professional teams were practicing skeleton.  
This is one of two sliding tracks in operation in the US (the other is Lake Placid). Without this track, our current athletes wouldn't' get to practice. It's vital that we maintain these facilities to keep the caliber of competition high in the US. 
If you want to experience the speeds, you can sign up for a bobsled experience. A professional "pilot" will take you along as a passenger on a thrilling ride down the track. Riders must be 16+ years of age and 100+ lbs. to ride. ($195 per person) book here https://checkout.utaholympiclegacy.org/activities
From there, we headed to the Nordic jumping platform. No one was practicing so we got to move to the edge of the jump. My stomach turned just THINKING about sliding down this track and launching into the air. It's all about progression though. The athletes start small and work their way up to the big leagues of jumping. Still, I say, "no, thank you."
Training at Olympic Park
While it's fun to look at the past, I'm also excited about the future. After the tour, we watched young athletes training on the alpine hill. One group of kids was running slalom gates, and another was on a giant slalom course. The kids practicing were 14 and 15. It's imperative that they get the space to train, and this center offers opportunity for a range of abilities.
On yet another part of the hill, athletes were practicing on the mogul course. It's wonderful how the local athletes can use these spaces, but it's not just Utah kids, the facility has an athlete hotel on site. Olympic Park is an official USOC Training Site. Athletes can come and stay and train. The facilities are highly subsidized. Winter sports aren't cheap and having help offsetting the expenses truly helps keeps Olympic dreams alive. 
The park is located at 3419 Olympic Pkwy, Park City, UT 84098. Get more details utaholympiclegacy.org. This is also where to get tickets for all the venues.
For more on the summer fun at Olympic Park visit our post here.
Soldier Hollow
The Soldier Hollow Nordic training center is just 30 minutes away from Park City. This is another facility that is supporting current high caliber athletes as well as being a learning resource for the community. Located in Midway, Utah, this center is serving Heber Valley residents in a multitude of ways. There are 34km of cross-country trails available for public use at very reasonable fees. Beginners can take a learn to ski class here--it's quite a way to learn with world class snow, Olympians as teachers, and excellent Rossignol rental gear. They even offer free classes once a month. This is also where local kids learn to race, once again, a key part of the Olympic pipeline.
Another cool experience is the Biathlon experience sponsored by Delta airlines (a longtime Olympic partner). This private experience puts you on the firing line. After a safety briefing, instructional range orientation, and time for practice, participants have the option to engage in a mini fun competition with the challenge of hitting all five targets.
Find all the programs (from free to paid) here https://utaholympiclegacy.org/location/soldier-hollow/
Families can play in the snow in SO many ways here in Utah. In addition to skiing, Soldier Hollow also has an awesome tubing hill. The steep hill is served by a moving walkway to help get the tubes to the top. Kids of all ages will love this winter activity.
Soldier Hollow, 2002 Soldier Hollow Ln, Midway, UT 84049.
Snowbasin
Let's not forget about the alpine ski racing that happens at the Olympics. Utah has 15 alpine ski areas and some of the best powder in the world. For the high-speed events, downhill and super-G, the venue was Snowbasin. This resort is blessed with incredible snow each year and very fancy lodges. It's a terrific place to ski for fun, and an even better place to race.
Skiers can check out the Olympic runs from the Allen Peak Tram. The steep runs offer amazing views of valley below. Snowbasin maintains the mountain with exceptional care. They keep adding new lifts and perfecting the grooming process. 
Find out more here. Snowbasin is located at 3925 Snowbasin Rd, Huntsville, UT 84317
Deer Valley
Though many skiers connect Deer Valley with perfect corduroy conditions, bumps, or moguls, are a big part of Deer Valley too. Deer Valley was the host of the 2002 Winter Olympics men's and women's competition in both aerials and moguls. In moguls, the athletes ski down a bumpy slope, attempting to get down in as fast a time as possible while also attempting to get points for technique and their two aerial jumps during the course. The Champion run is still maintained for World Cup races. 
Deer Valley knows how to put on a splashy event. Skiers come from around the world to play and stay here. The food is the best you'll find on mountain anywhere in the United States. It's also one of the best places in the world to get kids or adults started on snow.
Find out more here. Deer Valley is located at 2250 Deer Valley Dr S, Park City, UT 84060
Woodward Park City
A new addition to the racing and competition scene is Woodward Park City. This facility is a new partner for Team USA ski and snowboard team. It's where athletes like Nick Goepper can practice tricks indoors on the trampolines and ramps SAFELY before they take them out to the snow. The new partnership assures that athletes get additional support for their Olympic dreams.
Due to its unique set up, Woodward can provide consistent, year-round access to athletes. Woodward offers high-performance indoor spaces. They have more than 30,000 square-feet of space--trampolines, foam pits and proprietary training tools. Once the work is done indoors, it's time to head to the outdoor Mountain Park, which includes a superpipe and big air jump. 
It's not just for the pros. Beginners are welcome too. This is a tremendous place for community members and visitors to come and play. Kids as young as 2 can safely tumble inside or learn a snowsport outside. Woodward is an awesome space to learn to ski and ride. There are also tons of camps for kids who want to jump, flip and slide.
Find out more here. Woodward Park City is located at 3863 Kilby Rd, Park City, UT 84098
Get Olympic Fever in Salt Lake City
Utah leaders and the Utah Olympic Legacy Foundation have been working to secure a bid for the 2030 Olympic Games. The venues are ready!
They have a plan for the future that exemplifies the best parts of winter sports. The Salt Lake City Council put together a resolution that sets big goals for this potential host city. "Salt Lake City desires to ensure that the next Games hosted in our city prioritizes diversity, equity and inclusion, is climate-positive, and net-zero waste and acts as a catalyst for achieving major community initiatives," the resolution states. "Salt Lake City believes such a vision will be accomplished in a multitude of ways."
With facilities old and new, Salt Lake City is the ultimate spot to get Olympic fever. I hope the Olympics come back to this amazing place, they are ready and so am I!
MORE SKI FEATURES FROM MOMTRENDS
PIN IT!
Use Pinterest to save your favorite family travel features. Be sure to follow our Ski Moms Pinterest Board.