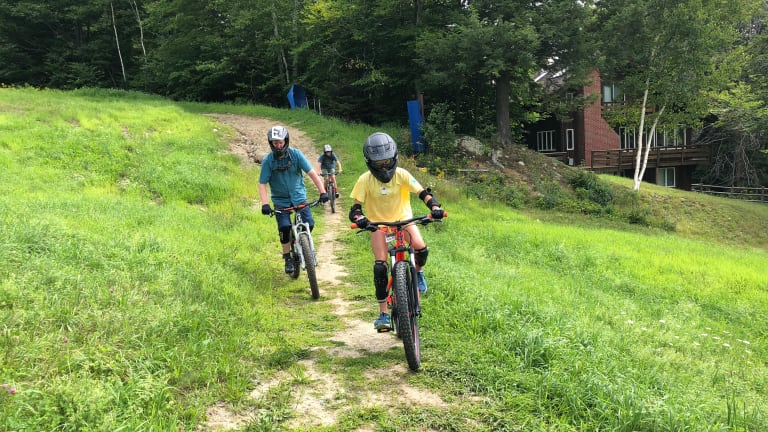 Visit to Okemo Evolution Mountain Bike Park
Summer Adventures in Manchester, Vermont
Vermont's Okemo Mountain is great in the winter. This year I discovered it's great fun in the summer too. This August I took a trip to southern Vermont to visit the Manchester Designer Outlets. During my visit, I made a swing over to nearby Ludlow to try out the mountain biking at Okemo Mountain.
Related: Best bike gear whole family
I've tried downhill biking once.  A couple years ago I took an intro lesson at Whistler Mountain on Mountain Biking 101. This summer I was looking for activities to do with my 13 year old daughter, a mountain bike adventure seemed perfect.
Okemo mountain bike park is perfect for beginners. The lower portion of the park has a couple green trails (the easiest), that are nice gradual declines without large obstacles. I highly suggest getting a lesson or demo. It's not intuitive to mountain bike. I would have never guessed I needed to "stand" the entire time and keep my feet balanced evenly o the pedals. Thanks to the lesson, we both quickly picked up the  basics and were ready to ride.
Check out our this first timer's experience at the Evo Bike Park. 
Okemo Evolution Mountain Bike Park
The park is four seasons old. The mountain has plans to continue developing the trail system. For now, the top is not for beginners. There's a winding trail that runs from top to bottom. The three-mile trail is ok for advanced and intermediate riders - we might try it next year. For now, we had loads to work with on the blue and green trails on the lower portion.
The gear was in great shape. Our bikes looked new and all the safety equipment was fully operational. I felt very confident that the gear wasn't going to hold me back.
While I loved the thrill of the downhill rides, I also savored the slow lifts back to the top. That's where my teen and I got to swap bike tips and catch up on life. There's nothing like a good ski lift to provide unplugged time to bond with your kids.
Planning the Perfect day at Okemo Evo Bike Park
Gripping the brakes can be a little exhausting. I think a two-hour pass for beginners is more than a enough to get in a great day of cycling. For more seasoned riders, a day pass is a good value.
2018 Evo Bike Park Rates
Lift, trail and demo package is $139 and $104 for juniors (ages 7-12). This includes a full-day lift ticket with full-trail access. Gear includes a demo bike, helmet, body armor and a rental damage waiver.
If you have your own bike, you can get a pass for the lifts and trails for $45 for two hours and $55 for a full day. Juniors ages 7-12 get the same pass for $30 and $40 for all day. If your kids are 6 or under it's free! 
Or you can get a full season pass for $179. That's a great deal for locals. Get more detail on planning your visit to Okemo's mountain bike park here.
More Travel from Momtrends
Pin it and Plan it
Use pinterest to plan your travel adventures and map out your mountain biking adventures. Be sure to follow our Family Travel Board too. 
This Visit to Okemo Evolution Mountain Bike Park feature is not sponsored.