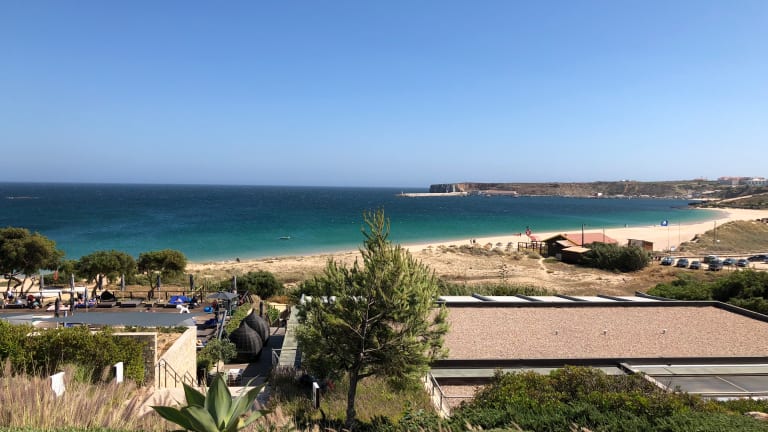 Uncrowded Algarve at Martinhal Sagres Luxury Family Resort
Discover Southern Europe with Your Family
My travels always leave me feeling more connected to a place and more alive. The Martinhal properties are for my kind of people. For our European break this summer, we headed to the uncrowded Algarve at Martinhal Sagres Luxury Family Resort as part of our family trip to Portugal. Our family time in southern Europe was just what our family needed after a busy school year. It gave us the chance to reconnect with each other and explore a culture that was new to us. 
We want our girls to be good global citizens. Through travel, our goal is to have the girls experience life outside their daily norm and become more compassionate people who are deeply connected to the world. We want them to see, taste, touch, and hear a place that is nothing like New York City. The world is a complicated place. It's far too easy to make assumptions about THEM over THERE. When you travel, make friends, and dive a little deeper, you will see the world as a fabulously complicated place. Martinhal resorts give family travelers the means to experience Portugal in a way that is meaningful, memorable and also completely luxurious. 
While I haven't met the owner, I bet we'd be good friends. Roman and Chitra Stern, didn't just go for the development bucks, they went for the experiential business. The Martinhal resorts embrace the best parts of Portugal while giving families plenty of activities, great food and family-friendly services.
Tour the Martinhal Beach Resort Sagres
We started our trip in Lisbon at the Martinhal Lisbon Chiado Family Suites and then drove south to Sagres. 
In a stunning position overlooking Martinhal Beach, set within a protected park, Martinhal Sagres Beach Family Resort is the Algarve of yesteryear. And, frankly, this is the only Algarve I care to know. Friends from the UK regale me of tales of a traffic-ridden noisy Algarve. This experience couldn't be further from that. The Martinhal Sagres is located on a pristine piece of land at the southeast tip of the country.
The resort is located near the small town of Sagres, on the undeveloped tip of Portugal. The Western Algarve is NOTHING like the Algarve you know and I feel a bit of trepidation sharing this unspoiled haven with the world.
The Martinhal Sagres Beach Family Resort has access to sublime beaches, tons of pools, a kids club, the Finisterra Spa, three restaurants and much more. Having just arrived from the sister property in Lisbon (the Chiado Family Resort, read about it here), we knew we'd be in good hands, but we had no idea of the beauty of Portugal's southern coast.
Where to Stay at Martinhal Sagres Luxury Family Resort
When you book your stay, pick from a five-star hotel or from one of the special family homes available for rent. There are 37 hotel rooms and more than 100 villas to pick from. But many of the houses are owner occupied, so be sure to book in advance.
Our hotel room had glorious views of the beach and a large terrace. It's steps away from the Beach Club pool and two of the restaurants, and a short walk to the beach area. The room was spacious and well-appointed with a large bathroom. We secured adjoining rooms, we felt safe having our girls (12 and 10) in a room next door with an interior passageway that could be left open at night.
If your brood needs more space, rent a villa or a condo. From studios to five bedrooms there will surely be something to suit. These all come with kitchens (and laundry) while the hotel rooms do not. From village houses to ocean houses, there's surely a space to suit your family's needs.
Here's a look at our room:
All Martinhal properties make use of a baby concierge. Momtrends Tip: Before your stay, book your complimentary stroller, basinet, and/or crib (all rooms come with high chairs).
Martinhal Sagres Beach Family Resort
Let's talk about where they come from: the breakdown is about 60% from the UK and 30% from Germany. The last 10% is a mix of US and Europe. There were very few Americans, BUT EVERYONE SPEAKS ENGLISH. There is not a reason in the world why you shouldn't vacation here. The staff is excellent, the food is yummy, the views are divine, and you'll become the best version of your family on vacation.
Who visits? Our kids, on average, were 10 years older than the kids here. The teens and tweens tend to arrive in July and August. Our NYC private school gets our early. Most of the families on out trip were from the UK and had preschoolers or younger.
This was the most respectful group of children and parents I've ever seen. If you are a yeller, this is not the place for you. It's not to say the kids were perfect, they weren't. They cried, they tossed some food off of high chairs, but the parents were so in tune and attentive, that nothing escalated. The families were all well-dressed, well-behaved and kind. It was a glorious place to observe the finest in parenting.
Most of the harmony of this resort comes from the design. The resort is 100% set up for families. There are stroller ramps everywhere. Each restaurant has hair chairs, special kids' menus and the most attentive staff ever. Healthy children's food is woven into every menu. It's nirvana for the toddler set.
In a post next week, we'll go over more activities, but I want to you through the most important offerings.
Kids' Club at Martinhal Beach Resort Sagres
The kids' club is designed to enhance you vacation with your children. This is not the place of parents who want to deposit kids from 9 am to 9 pm and go about adult activities. Most families are here to invest in family time. They use the kids' club to create a small space of solitude to perhaps get a massage or get in a workout. I've never seen a more serene set of families in my life.
When you book your kids in for a few hours at the resort, they will be among friends. Children are grouped by age in clean, fun play spaces. I saw tots dancing, taking part in art projects and generally having a grand time.
Older kids also have opportunities to bond. Since we were there during a time when most children were still in school, there were relatively few teens on the property. Later in the summer, teens are busy surfing, mocktail mixing and more. We did visit the teen lounge with the girls. They played pool with us and some air hockey.
All of the clubs are in one central area. It's safe, secure and not a compromise for anyone.
Here's a sampling of what the Kids' Club had to offer on just ONE day:
Dance Party
Crafting
Sand Sculptures
Footvolleyball
Facepainting
LEGO super bricks challenfe
Capture the flag
Family futbol (what we call soccer)
Mini Disco Party
This is just a sample of a typical day. Families can pick and choose what works for them. Most of the kids activities are included in the stay.
Village Square is where all the action takes place. It's a spacious area that is sheltered from all traffic and loaded with things to do. There's a snack bar for thirsty parents (and also a great spot to catch up on World Cup Soccer) and plenty of seating in the shade.
The open plan area had trampolines, a bouncy house, playground equipment and lots of space to RUN! The mascots, two foxes named Rafi and Rosita, make a daily appearance just before 6pm each day. Kids love these furry friends.
Getting To Martinhal Sagres Beach Family Resort
Fly into Lisbon (about a 3 hour drive if you go directly and 3.5 is you opt for the scenic route along the coast) or fly into Faro. The roads between Lisbon and Sagres are in great condition. I felt 100% comfortable in my rental car. Momtrends Tip: If you can't drive a manual transmission car (stick shift) be sure to book your automatic car rental WELL IN ADVANCE. Automatics are rare in Portugal and wil cost more.
Plan your trip here: https://www.martinhal.com/sagres/en/
Momtrends Tip: Don't forget to save the mobile website to your phone to keep up to date on the activities.
The Perfect Portugal Itinerary
In an ideal world, we would have had ten days in Portugal. You'd need a night for the overnight flight. Then we would have spent four days in the Lisbon area. Two in Lisbon (for ideas on what to do in Lisbon, head to this feature), one in Sintra and one in Cascais (which are both drivable day trips from Lisbon) Then we would have spent five in the Algarve at the Martinhal Sagres Luxury Family Resort. 
Day 1: Flight to Portugal
Day 2: Lisbon: Head here for ideas don't miss the aquarium
Day 3: Sintra: home of UNESCO world heritage title for its 19th century Romantic architectural monuments. A must-see is the Pena National Palace.
Day 4: Cascais: Kids will love this charming village full of historical buildings and castles. 
Day 5: Lisbon
Day 6-10: Algarve soaking in the sun and enjoying beach life.
Pin it and Plan it
Use Pinterest to plan your next family adventure.
This Uncrowded Algarve at Martinhal Sagres Luxury Family Resort is not sponsored. A portion of our trip was complimentary. We funded the rest of our stay.