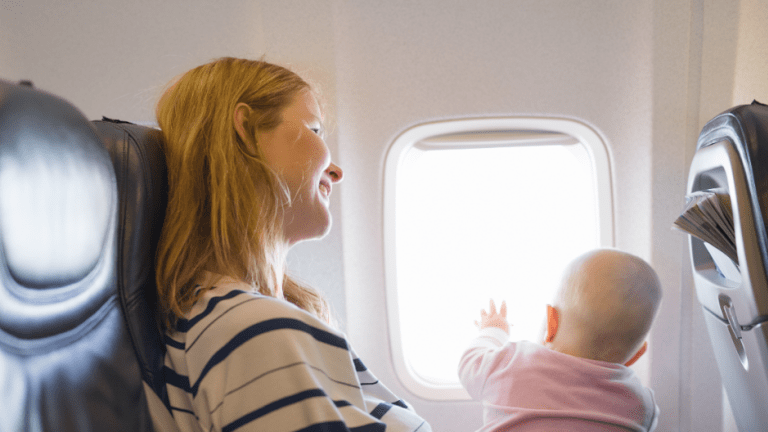 Traveling tips with your Baby in Tow
Use our mom-friendly traveling tips to help you navigate your first trip with baby in tow.
As American parents prepare for summer that means getting ready to travel. Planning ahead can help you make memories not miseries. When traveling with baby it's important to weigh a few decisions: How to travel, when to travel and what to bring. Use our traveling tips to help you navigate your first trip with baby in tow.
Related: 6 tips for vacationing with a mobile baby
Travel Fact for Families:
The average summer long-distance trip is 284 miles one-way.
97% of summer trips are to domestic destinations (only 3% are to international destinations).
We are traveling by car: Automobile trips up 5.8% from the same period last year.
How to travel with Baby
Many new parents find car travel the easiest. You can bring along all of baby's gear and stop multiple times in route for breastfeeding, diaper changes or to take in the scenery. 
Plane travel is well suited to long distances, but you'll have to pack wisely.
Tip: Consider train travel. You'll have the freedom to move around a bit without the hassles of security lines or traffic jams.
When to Travel with baby
Take advantage of your maternity leave and plan a fun vacation this summer. We love travel with baby from 3 month to 9 months. Baby is alert and has a strong immune system, yet still sleeping a lot--allowing mom and dad to steer the agenda. Travel early in June and you'll beat the crowds vacationing with school-age kids.
Car travel is best planned around baby's feeding and nap schedule. Build in extra time into the planning. Babies love to surprise us.
When flying try to work around nap schedules. The best time to fly is midday on Tuesdays, Wednesdays, and Saturdays. Monday mornings and Friday afternoons should be avoided because of the stampede of business travelers.  Opt for direct flights even if they cost more. A travel delay can make baby mighty grumpy.
What to Bring when Traveling with baby
Portable crib for night
A lightweight stroller and a baby carrier. Hand's free carriers are ideal for any place with steps--plus you'll give baby a better view of the sights.
Approved car seat if baby has a dedicated seat. Make sure it is installed correctly before you start the car.
Plastic bags for soiled clothes, diapers, etc.
Clothing and sun hats.
Bottle and formula if you are not breastfeeding.
A soft toy that can be washed. 
ID for you and baby. Get a passport and save yourself the hassle of bringing along a birth certificate every time you fly.
Diapers and wipes x2: Double what you think you'll need in case of delays.
If you're traveling domestically, don't sweat it. You'll likely be able to pick up necessities that you've forgotten. That being said, if baby's got a favorite pacifier or toy, bring along a spare.
MORE TRAVEL FROM MOMTRENDS
PIN IT!
Use Pinterest to save your favorite family travel articles, and be sure to follow our Travel with Kids board.
They do not control editorial content and all the views and advice are those of the editor.