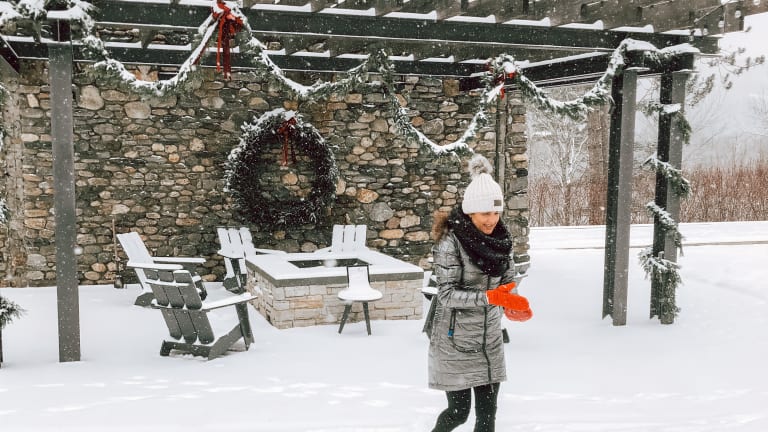 Topnotch spa vacation is a perfect Vermont winter getaway
For relaxation and soaking in the best of winter in Stowe, Vermont, you can't beat the Topnotch Resort.
I have a big birthday coming up soon. As I leap into a new decade, I'm celebrating with some safe travel options here in my new state. I had lofty plans lined up, but like the rest of us, I'm adjusting my mindset to focus on what I CAN do rather than what I can't. Lucky for me, the AAA Four-Diamond Topnotch Resort, is just an hour up the road from me. I planned a luxurious kid-free Topnotch spa vacation for myself and it was the perfect winter getaway. 
Book your Topnotch stay on Expedia here
Related: How to safely visit Vermont this winter
This was my third stay at the resort and each time I arrive, I'm always charmed. Though they are getting far fewer visitors, they spared no expense on holiday decorating. The outside of the buildings were wrapped in lights and festive greens. Inside the resort, there are trees, wreaths and holiday touches to delight even the most Grinch-like guest. It was just what I needed to tap into the holiday spirit. 
You Can't Beat Topnotch's Location
Set on 120 acres of woodland at the foot of Mount Mansfield, the resort is located between Stowe Village and Stowe Mountain Resort. At the base of the resort, you can hop on the Stowe bike path for a walk, snowshoe or run. There's a pretty horse farm set in the valley that does carriage and sleigh rides too. In the winter, most families come to ski Stowe, and that's exactly what I did in the morning before check in. 
I zipped up to Stowe and did laps off the gondola to get in some excellent midweek skiing. Remember, the rules have changed. This year Epic Pass requires online reservations. Securing a spot is not much of an issue midweek. With my pass and reservation, I headed right to the gondola to start my ski day. With great top-to-bottom coverage, I got in my exercise for the day and had a blast.
Ski Notes: If you want to use your Ikon Pass, Topnotch is about an hour from Sugarbush and if you want to ski some of the smaller local gems you can head to Smuggler's Notch, Mad River Glen or Bolton Valley (all about 40-60 minutes away). For Nordic skiers, head over to the Trapp Lodge to ski.
When I was done skiing, I hopped back in my car and was at the resort check-in in minutes. 
Checking in to Topnotch
The efficient and knowledgable Carole was there to great us at the front desk, she walked me through the COVID forms and explained that the room was cleaned and sealed before our arrival. Once I was in the room, no one else would go in. Masks are required everywhere on the property, except when you are eating or in your room. 
The resort includes 68 guest rooms and 17 resort homes featuring two or three bedrooms that allow for a private and very socially distant experience. I stayed in a guest room in the main building on the 3rd floor, I had views of the property and Stowe Mountain. 
My room was clean and tidy with a comfortable bed, fully stocked bathroom and plenty of space to spread out my ski gear. After I arrived, I unpacked a bit and slipped my robe on to head to the spa. 
Dog Lover Alert: Dogs are welcome at Topnotch. The resort will provide dog beds, CBD treats and special canine-friendly turndown service and spa treatments. There's a $75 extra pet cleaning deposit for your visit. 
Want to see the resort in summer? Head here for our summer visit. 
Topnotch Spa
My main goal for my visit was twofold. First, I wanted some pampering at the spa and second, I wanted to have someone else cook for me. I made two appointments at the 35,000 square foot award-winning Topnotch Spa and planned all my meals in the restaurant. 
The spa features three indoor and outdoor heated pools, indoor and outdoor Jacuzzis, a relaxation lounge, wonderful spa shop and tons of treatment rooms. 
My first treatment was a delightful 80-minute massage and felt like a new woman afterwards. For my signature massage, I could pick from eight custom scents. I selected woodspice as my aromatherapy oil, it smelled like the essence of Vermont! My therapist, Jan, really dug into the knots in my neck and she made some excellent recommendations of stretches I can do in-between treatments to keep my body in tip-top shape.
I also had a lovely facial during my stay. The signature facial included a hydrating mask that really plumped my skin up. I needed it after all the exposure to the wind and snow. I was delighted that this treatment also included a hand and head massage. 
Deal Alert: Be sure to ask about deals at the spa. During my stay there was an offer for 50% off a same-day second treatment. 
Locals can also take advantage of Club Topnotch, which provides access to the spa, fitness facilities, group programs, personal instructors, pools and tennis center. 
Dining at Topnotch
Both overnight guests and locals can enjoy Vermont fresh farm-to-table dining in two restaurants (The Roost and Flannel). On my visit, The Roost was the only option. With a varied menu that focuses on local farms, there was ample opportunity to enjoy a number of meals without ever getting bored. 
Standouts from the menu included the charcuterie loaded with Vermont-made goodies. I also loved the creamy corn chowder I ordered at lunch. It was hearty and delicious with a hint of smokiness: the perfect thing to refuel after an outdoor adventure. For dinner, I suggest the risotto, it was rich and packed with flavor. 
The serving staff at Topnotch is there to please. They are working hard to make the guests feel pampered and I truly appreciate how hard it is to be in the service industry right now. The crew at Topnotch is going above and beyond to let those who can travel safely feel welcome. 
Activities at Topnotch
In addition to the skiing, outdoor adventures and spa, tennis lovers come to the resort for the Topnotch Tennis Academy (ranked one of the top 10 tennis resorts in the country).
It should be noted that Topnotch is 100% family-friendly. My getaway was focused on grown-up stuff, but we've taken our girls here and they LOVE it. There's a ton to do, plenty to eat and the staff is ready to help make the visit easier on mom and dad. 
You will run out of time before you run out of activities at Topnotch, but my advice is to slow down and enjoy the views on your visit. I definitely am not taking travel for granted any more, COVID has taught me to savor each experience I'm given.
One of my favorite parts of the trip was toasting s'mores at the outdoor fire pit as snow gently fell around me. For a moment, I forgot I was in the middle of a pandemic and felt like a traveler does when she finds something special and settles in to enjoy the moment. Here's wishing for more of that in 2021.
Book your Topnotch stay on Expedia here. Topnotch is located at 4000 Mountain Road Stowe, VT 05672 800.451.8686
MORE TRAVEL FEATURES FROM MOMTRENDS
PIN IT!
Use Pinterest to save your favorite family travel features. Be sure to follow our Ski Moms Pinterest Board.
Momtrends was not paid for this post. A portion of the stay was complimentary to accommodate this review.