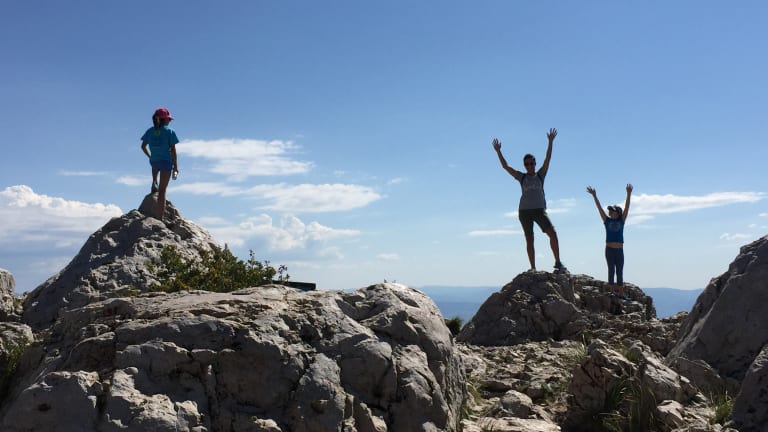 Top Five Ski Resorts to Visit in Summer
The Mountains Are Calling
Savvy ski mountains know that snow isn't the only time families need a break (though you know I love my winter ski trips). The summer months bring weeks of freedom from school and I have lots of summer vacation ideas. Sure, beach trips are nice, but I think summer is the perfect time to head to the mountains for a family vacation. Over the years, I've explored a lot of terrain in North America. Here are the top five ski resorts to visit in the summer. Curated by me for all the ski moms out there.
My picks are resorts that have extended the season long after the snow melts. These five ski resorts long ago realize that families crave adventure and wide open spaces, so they've developed unique mountain activities that make the most of natural splendor. All these resorts are set up for family tourism. If your family liked to DO not watch, this will be your kind of trip.
Park City, Utah
There might be champagne powder in the winter, but in the summer, it's equally enticing to visit Utah. You might have heard that the weather is sublime, the old saying, "come for the winter, stay for the summer." Yep, Utah sure hooked us that way. During the day, it's in the 70s with big puffy clouds and temps drop to 40s-50s at night with not a hint of humidity. And it's bug free. No one in our NYC crew missed the mosquitos. 
Weather aside, Utah offers a ton to do. In addition to the Utah Olympic Park, there are miles of bike trails to ride or hike. When it comes to culture, don't miss the concerts at Deer Valley. Pack a picnic and a blanket and listen to the free tunes provided. Kids are welcome and if you don't feel like cooking, Deer Valley has some gorgeous prepared baskets of food. Speaking of food, Park City has some terrific restaurants. Our new favorite was the casual spot called Harvest located right by Town Lift.
Where to stay: The Chateaux Deer Valley 
What to do: SUP Park City
Manchester, Vermont
East Coast families can escape to the mountains without having to hop on a plane. Manchester Vermont is home to some great skiing and in the summer southern Vermont is a little slice of heaven. Manchester is full of high-end outlets like Brooks Brothers, Ralph Lauren, Armani and more, so if shopping is your game, you'll have a great time. Shopping may be a type of cardio, but don't forget your hiking boots. 
You can't go to Vermont without soaking in some time out in the woods.  Manchester is about 15 minutes from Bromely mountain and about 25 minutes from Stratton - two great places to climb and hike. If fishing is more your speed, Orvis has a huge nearby operation, this area of Vermont is known to be a haven for fishermen and women. I've only been fly-fishing a few times, but I want to keep learning, this is the place to reignite my interest. If you catch a rainy day, for $5 you can take a walk through the exquisitely curated American Fly Fishing Museum. A dinner pick is the pub at The Perfect Wife, which serves gourmet food in a relaxed atmosphere.
Where to stay: Equinox Hotel
What to do: Fly Fishing
Mont Tremblant, Quebec
The Laurentians absolutely come alive in the summer. When the summer thaw arrives in this part of Canada, everyone celebrates. With a huge lake nestled into the valley, there are tons of water sports to try. To appreciate your surroundings, start your trip with a trip up the gondola (many ski resorts, like Tremblant operate their gondolas all summer long to get hikers and bikers up the hill) the ride takes about 11 minutes and gives you great scenery. Once you're at the top, take a minute to walk around and enjoy being up on the highest peak in the Park National du Mont-Tremblant. I've been to Tremblant in the winter, and it sure is charming, but the summer opens up a whole new set of options for families. The base of Tremblant transforms into an adventure park. There are enough activities to keep your kiddos busy for at least three days. Definitely get an activity pass to enjoy all the family friendly offerings the village has on tap. Our favorites included the birds of prey experience and the Ziptrek Ecotour.
Where to stay: Fairmont Tremblant
What to do: Blues Festival
Stowe, Vermont
As I shared, hiking is a big attraction in Vermont. And that's a big draw for Stowe up in the northern part of the state. Stowe is one of the savvy ski resorts that optimized operations to tap into the summer travel market. They added a ropes course, zip-lining, indoor rock climbing and kids camps to lure families into the area after the snow melts. 
You don't have to stay at the resort to find adventure. Stowe is a great town to explore. We've done some lovely kid-friendly hikes on our visits; if you want a little challenge, try the Pinnacle Hike. Head to the C.C. Putman State Forest and get ready to CLIMB -the 1.65 miles trek was worth it. Up to the top of Pinnacle we were afforded spectacular views of the valley below. Stowe is also a great spot for road cycling, horseback riding and tennis. Since you'll play so hard there should be a reward, there seem to be microbreweries everywhere. If you manage a kid-free weekend, make sure you build in some beer breaks and be sure to visit the Idletyme Brewing Company.
Where to stay: Topnotch Resort
What to do: Stowe Tree Top Experience and the Ghost Tour
Whistler, Canada
Voted the #1 Ski Destination in North America, Whistler is also a haven for summer tourists. About two hours from Vancouver, Whistler is a popular weekend destination for the locals. For those of us who fly in, I recommend a combo of a bit of city time and then three or four days at the ski resort. The bike park at Whistler is the big attraction for thrill seekers in the summer, and I find it a clever use of the slopes. The same lifts that take up skiers are rigged up to haul bikes and bikers up the mountain. There are tons of classes, from beginner to expert. Sign up for one or two and get some new skills. 
I worked up a big appetite after all that biking. Fortunately, Whistler has world-class restaurants that don't require a drive. Eat at Bar Oso while you are in the village (order the Fresh Charcuterie Board). Chef Jorge Muñoz Santos started as the Sous Chef at the well-renowned Araxi around the corner. Born in Madrid, Jorge brings his native foods alive with a western twist.
If culture is more of your thing, don't miss the Audain Museum where you can experience the art of British Columbia from the traditional art of the province's First Peoples. And one last note about Whistler, you are 99% likely to see a bear in the summer. Get your bear safety 101 tips from your hotel or online and remember it is their home, you are just visiting.
Where to stay: Four Seasons Whistler
What to do: Peak 2 Peak Express Gondola
Pin it and Plan it!
Use pinterest to save your favorite vacation ideas. Let us know if you try out any of our top five ski resorts to visit in summer. 
This Top Five Ski Resorts to Visit in Summer feature is not sponsored.