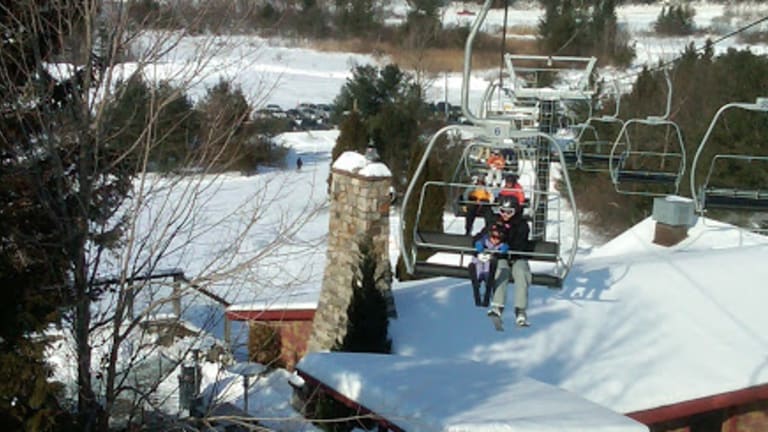 Publish date:
Tips for Buying Ski Boots
Shop Smart: Ski Boots Are Your Most Important Piece of Equipment
Shop Smart: Ski Boots Are Your Most Important Piece of Equipment
A huge thanks to Kristen Lummis (aka https://braveskimom.com/) for contributing to this piece and to our 2019 Family Ski and Snowboard Guide.
As you start to fall in love with the sport of skiing, you might want to consider moving from rental equipment to owning your own gear. Kristen says, "Ski boots are your most important piece of ski equipment because ski boots connect you physically to your skis." 
Boot Fitting 101
Because good fitting ski boots are essential, knowing how to check ski boot fit is a useful skill. While I know that saving a bit on gear can seem like a good idea, when it comes to ski boots, buying new is the way to go. 
One reason folks move from boot rentals to owning is for comfort. A boot fit to you is bound to be more enjoyable to ski in. Fitting Tip: Remember, ski boots should be pleasantly snug, but never painful. This is true for kids and adults.
For my new adult boots, I went to the experts at Pedigree Ski. Tom set me up with a pair of Nordica boots that are awesome. As part of my custom fit he used a custom FootBalance insole. 
When it comes to boot insoles, you can get them custom molded at your favorite store or you can buy a SureFoot or similar pre-molded footbed. I opted for the upgraded Footbalance insole for support. To start the process, set aside some extra time. At your favorite ski shop you'll first you step on the "podoscope," to get a reading of your foot.  Then there's a computer analysis, then the bed is molded and fit into the boot. It took about 30 minutes.
Boot Fitting Tips
Check out our boot fitting video here:

Five Tips To For a Girl's First Leg Shave
Do you remember your first time shaving? Mine wasn't pretty. I snuck my dad's razor and shaved my legs dry. It wasn't pretty. Get your daughter ready for this rite of passage with the right tools and a quick education. We've got five tips to help you navigate your daughter's ...read more
Why You Should Add Wild Blueberries to Your Diet
Do your New Year's goals involve healthier eating? Adding more fruits and vegetables to your diet? Or even adding tasty new recipes to your repertoire? We've got five reasons for you to add wild blueberries to your diet. Our friends from the Wild Blueberry Association have ...read more
Why Moms are Loving This Blueberry Couscous Salad
It's blueberry picking time. And while most blueberry recipes revolve around baked goods, we've got something different to share. First, a few sentences singing the praises of this lovely fruit. Blueberries are high in antioxidants, improve memory function and reduce the effects ...read more
Thanks to Pedigree ski shop for these great fitting tips, you can visit them at https://www.pedigreeskishop.com/ or in person White Plains, 355 Mamaroneck Ave, White Plains, NY 10605 Phone: (914) 506-4865.
Here's how to assess children's ski boots
Kids ski boots are a little tricker, because you are trusting them for feedback. When you start, make sure they are well rested and have a snack...this is going to take a bit of patience. But get them excited, owning ski boots is awesome.
1. Check the boot sole length. Center your child's bare foot against the exterior sole of the boot. You want approximately 1" of boot sole extending on each end.
2. Check the shell size. Remove the boot liners. Wearing ski socks, place your child's feet into the empty boot shells. Direct her to move her feet forward and get into a skiing "ready position" (knees bent, ankles flexed). Using a flashlight, look for space behind her heels at the back of the boots. Ideally, each boot should have 5/8" to 1" of room.
3. Check the entire boot. Replace the liners, put the boots back on and ask your child to walk around. Next, have him use the "ready position" to flex the boots forward at the ankle. Your child should be able to wiggle his toes while in this position.
TIP: If you child complains that the boots are tight, but the shells measured to fit, take the boots to a ski shop and get the liners stretched. If in doubt, always check with a ski shop boot fitter.
For older children and adults, simply try on the boots with ski socks. Over time, ski boot liners become "packed out," meaning the boots become progressively looser. 
TIP: Custom footbeds are another option that will improve the comfort and performance of ski boots. We recommend getting them when buying new boots. Ask your boot fitter.
Use Mabels Labels on all your ski gear to make sure it comes home with you!
This Tips for Buying Ski Boots feature is not sponsored.