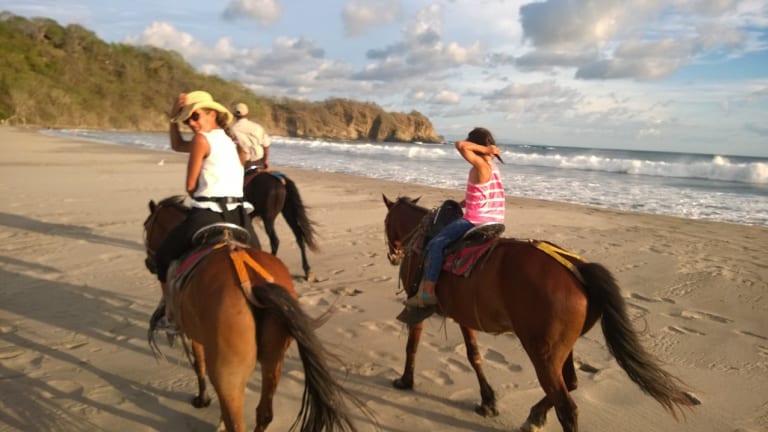 Three Adventurous Family Summer Destinations
Get out of your travel comfort zone
One of the big things Mr. Momtrends and I care deeply about is raising kids who have an adventurous spirit. To raise them with an explorer's spirit, we try to get out of our travel comfort zone. Last week I shared my picks for destinations that get you out into the mountains, this week I'm sharing three adventurous family summer destinations.
These spots are definitely off the radar for most families. Yes, I know 150 million people visited the Disney parks in 2017. My three adventurous vacation ideas won't have millions of families jostling for pool chairs. These are resorts that will get you bonding in the great outdoors.
Ranching at Paws Up Montana
Back in 2011, on one of my first press trips, I brought my then six-year-old daughter to Paws Up Ranch in Montana. Almost seven years later she STILL remembers this trip, and so do I.
Montana is remote. With just around a million people in the entire state, families come here for wide open spaces. Paws Up makes the most the the location. They have 37,000 acres of premiere Montana real estate. Paws Up might also be the resort responsible for the "glamping" trend.
Paws Up combines luxury travel with adventure. Spending the night in a tent is nothing like it was when I was a kid in the Poconos. These tents have claw-footed tubs and four-poster beds and a staff that will whip up a campfire breakfast.
While the lodging is cushy, the adventures are for real. The staff at Paws Up will customize your trip with activities that include chuck-wagon dinners, hikes, horseback riding, fly fishing and so much more. Oh, and there's also a great tented spa for the grown-ups. If you love riding and fishing, this is your spot.
Surfing in Nicaragua 
In 2014, we headed to Central America to explore Nicaragua. We picked Morgan's Rock an eco-resort with 4000 acres for our home base on the Western Coast.
Nicaragua is a great place to experience water sports with your family. This resort has just about everything a water-loving family will need. There's 1/2 mile of private beach that is perfect for body surfing but never too rough for the kids. 
Boogie boards can be rented from the reception and there were beach huts with padded chairs, hammocks and plenty of shade. Hermit crabs were plentiful and kept our youngest busy trying to train them.
Fishing is Nicaragua is a real treat and decidedly low-tech. Our family headed out in a small boat and had a great day on the ocean. Fishing is easy. All you need is a hunk of wood, fishing line and a lure. We tossed the line off the back of the boat and trawled for fish. Success! One mackerel, one tuna, one bonito. This very rudimentary system did the trick. The mackerel was immediately diced up for ceviche on the boat.
It's also a perfect spot to learn to surf. Both our girls quickly got up on their boards and had a great first-timers surfing experience. If you love the water, seafood and sports, this is for you. Read the full review here.
Eco Tourism in Malaysia
If you can get two weeks of summer vacation, Malaysia is a mecca for eco tourism. Our time at the Bunga Raya eco-resort will never be forgotten. 
In Malaysian, Bunga Raya means hibiscus. This beautiful resort is a great place to expose your kids to the animals and culture of  Asia. Set in Borneo, this resort is only accessed by boat. 
In Borneo you'll want to get into the jungle. We went on nature hikes, zip-lining trips and spent a lot of time in the water. Highlights of our adventures included snorkeling off the beach and spending endless hours at the enormous infinity pool.
We soaked in the rich culture of the Malaysian people and loved sampling the food and learning about the eco-system.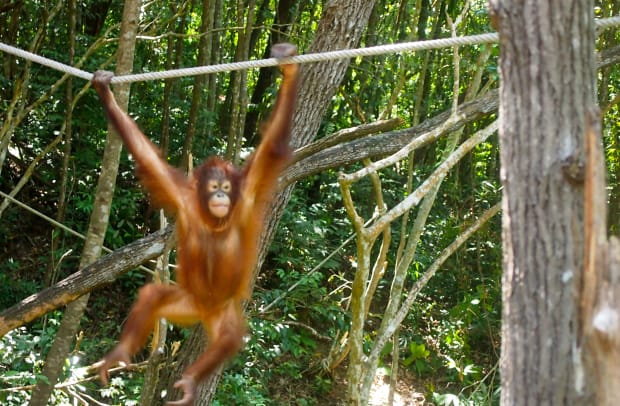 Monkeys are everywhere in Malaysia. While it's exciting, be warned some are friendlier than others. While the girls loved the monkey visits at our resorts, we will be forever connected to our new favorite, the Orangutan. Our trip to the Orangutan Orphanage is a top 10 highlight of all my travel around the world. Arrange your trip with the Bunga Raya concierge.
Check out our video from our visit with the Orangutans:
Find out more about our trip to Malaysia in this post.
Pin it and Plan it!
Are you ready for a summer adventure? Pin it and plan it!
This Three Adventurous Family Summer Destinations feature is not sponsored.