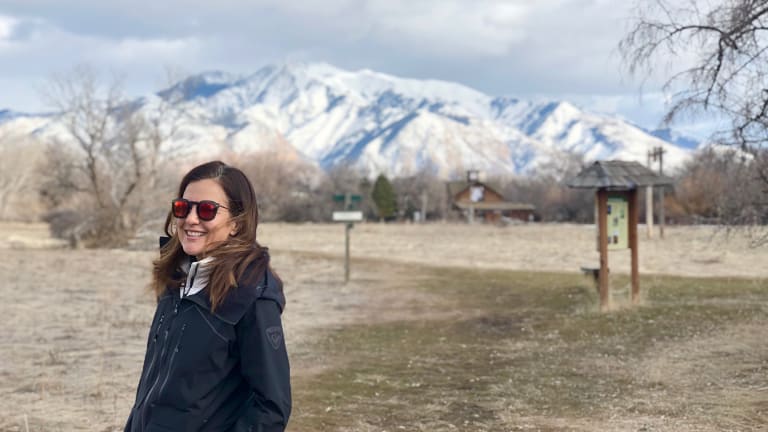 Things to See and Do in Ogden Valley, Utah
Places to play, eat and stay: everything your family needs to know when planning a trip to Ogden Valley, Utah
It should come as no surprise that I'm planning on retiring out West in 20 years. The question is, where will I live? As I write about travel I absolutely love exploring Utah. My latest passion is Ogden Valley. The Valley is home to Pineview Reservoir for water sports and three amazing ski resorts. Bonus: It's under an hour from Salt Lake City Airport. On my recent visit I did a bit of reconnaissance and here's some of the highlights from the valley. 
Related: Plan the Perfect Family Ski Trip to Snowbasin, Utah
There are two small towns that make up the valley, Hunstville and Eden. Ogden proper, aka the big city, is 15 minutes away. The valley is a sleepy community that's focused on ranches and outdoor activities. I think this area will continue to grow as more city slickers like me discover the charms of the wide open space and mountains.
Where to Stay in Ogden Valley
We stayed in the Edgewater townhouses in Huntsville. These lodgings are managed by Mountain Luxury Homes. Unlike Airbnb, this is a high-service operation. Guests deal with a management company NOT individual owners. 
There is no on-site check in, you proceed right to your unit. All you need is the access code to get in the door. There is construction goin on in the development, but since I was skiing all day, I hardly noticed it. 
My unit was incredibly luxurious. Each room was decorated with luxurious touches like tasteful artwork and yummy throw blankets. The marble kitchen had EVERY top-end appliance and stunning views of the mountains. I had space to stretch out and do my morning yoga by the fireplace. 
Our unit had and outdoor hot tub with mountain views. At night, after dinner I'd watch the stars as I soaked in the tub. 
Each unit had covered parking and there is additional parking in an adjacent outdoor lot. The community also has a playground and pool. 
Find out more https://www.mountainluxurylodging.com/
Things to See and Do in Ogden Valley
While I love skiing, I also like exploring off-mountain offerings. Ogden Valley is a growing community with loads to do in and around the valley. My first stop was to visit a family-friendly nature center.
The Ogden Nature Center
Opened in 1974, the Ogden Nature Center was Utah's first nature center dedicated to uniting people with nature.  It's got 152 acres of open space ideal for kids to discover and explore with a parent. A highlight of any visit is checking out the birdhouses on exhibit. Each year the center hosts a bird house design competition and the entries live on display outside.
I wandered through some of the 1.5 miles of walking trails on the property to do some bird watching. Though it was winter, I got a feel for how lush the garden will be when spring arrives and the native perineal and organic gardens come alive. Along the way I saw many deer and paid a visit to the bird sanctuary to meed a few injured owls. In addition to the birds that are rehabbing, there are in door hands-on nature exhibits.
Momtrends tip: bring your snowshoes. Rent snowshoes (you'll have to do this BEFORE you get there) and then explore.
Head to the website to find out more about special events and summer camps.
The center is open all year 9am to 5pm
Closed most major Holidays
Admission: $5 for adults and kids $3
966 West 12 Street, Ogden, UT 84404
New World Distillery 
My next stop wasn't something I'd bring the kids along for (in fact, it might be against the law in Utah). I got a private tour and tasting at the New World Distillery.
Owned by, Chris and Ashley, a couple that is dedicated their next act to creating delightful sips, I was blown away by the quality of the spirits. 
The distillery hosts 20-person tours on Fridays and Saturdays. You'll definitely want to book ahead of time as they sell out. Chris will drop so many agave knowledge bombs on you that your brain might explode. I wasn't a spirits geek before I arrived, but I sure do know a thing or two now. 
They focus on using agave as a base in all the concoctions. That and a well-tended operation seem to be the secret to the success. The duo keeps winning awards and selling out of the small batch offerings.
My favorite sip? I'm glad you asked, it had to be the Oomaw GIN. I plan to make a nice crisp tonic with it as soon as my order arrives. (Momtrends Tip: use a good tonic like Bittermilk and add a twist of grapefruit).
4795 2600 N, Eden, UT 84310
(385) 244-0144
Shooting Star Diner
For a memorable meal, head to this quirky spot in the heart of town to Utah's oldest bar in operation.  The offerings are stick-to-your-ribs and kid-friendly, but don't ask for anything on the side. You get what you get and don't get upset. Pick from burgers, hot dogs and the "Star Burger," two burger patties loaded with melted cheese and grilled onions and topped with a spicy knackwurst sausage. It's the perfect thing to refuel after a grueling ski day.
Sign your name on a dollar bill and leave it on the ceiling for good luck.
7350 E 200 S, Huntsville, UT 84317 
(801) 745-2002
HALO Observatory
The observatory is tucked into a silo at the new boutique hotel in town.  On a semi-clear night I made reservations to view the sky through HALO's 16-inch aperture Ritchey-Chretien-style telescope. It's designed with hyperbolic shaped mirrors like the Hubble Space Telescope and offers a great viewing experience to view galaxies, and nebulae with minimal light pollution. 
For an adult getaway, I'd highly recommend the Compass Rose. It's teaming with vintage ski gear and memorabilia. The antique pieces are juxtaposed with an airy/industrial aesthetic that totally works. 
This small hotel has a breakfast room and coffee bar, you'll need to eat on mountain otherwise (until more restaurants open).
198 S. 74oo E.Huntsville, UT 84317
MORE SKI FEATURES FROM MOMTRENDS
PIN IT!
Use pinterest to save your favorite family travel features. Be sure to follow our Ski Moms Pinterest Board.