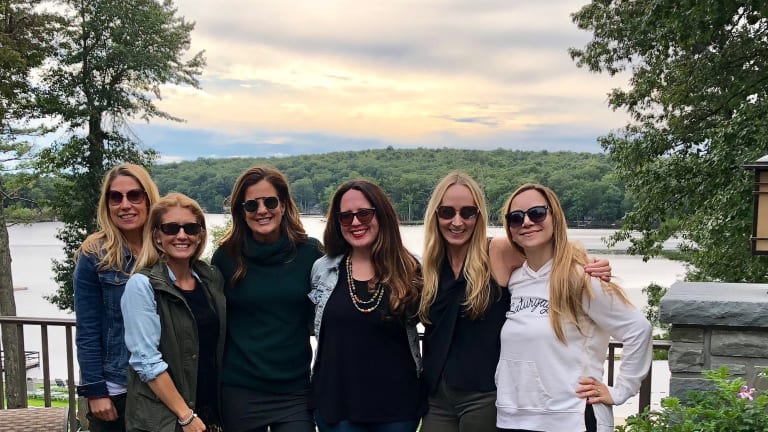 The Ultimate Weekend Getaway #MTSummit18
Every year, the Momtrends team gathers to communicate, strategize, and spend time together. It's our annual summit and retreat; a way for us to reflect on accomplishments (and, yes, a few shortcomings) and focus on new goals and grand plans to improve as a company. It's also an opportunity to bond and recharge. As working moms, we need these 48 hours--to better our team and our individual selves.
For the second consecutive year, we headed to Woodloch Resort in Hawley, PA, for an early autumn weekend of team togetherness. Now, you might be wondering: Why Woodloch... again?
Well, this video sums it up... From a luxury spa to hoaky-fun family-friendly activities, Woodloch has it all. And while it's only a two hour drive from NYC, it feels a world away--making it the ultimate weekend destination for busy families, me-time starved mamas (girls' trip!), and calendar-crunched career women. 
Where to Stay
There are multiple accommodation options fit for every group's individual needs--traditional hotel style rooms, suites, condos, full homes, and lakeside estates. You can stay in the main lodging resort area, central to most of the amenities and activities, for ultimate convenience, or you can choose a spot slightly off-the-beaten path. 
Last year, we stayed in the beautiful Tallwoods accommodations, which were modern and upscale, but, while technically located on the main resort, felt slightly isolated from activity. This time, we changed it up, calling Woodloch Springs our home base. These beautiful condos and stand-alone houses can fit families of all sizes. We split up and stayed in two houses, each with three comfortable bedrooms. With full kitchens, living rooms, dining rooms, expansive decks, and stocked basements, you can really make yourself at home in the Springs. Better yet, you have access to golfing, a sports complex, playgrounds, a sparkling pool, and a private club with restaurant. 
Unwind and Relax
Whether you're traveling with work friends, girlfriends, or as a family, every mom deserves a little "time out." That's where the amazing Lodge at Woodloch comes into play. Directly across the street from Woodloch Springs, The Lodge at Woodloch boasts 57 luxurious guestrooms and suites and a stunning spa, which recently underwent a $1 million renovation. Indulge in a rejuvenating spa treatment, detox with a healthy lunch, and enjoy a range of fitness classes. This adults-only spot is a true sanctuary for those seeking some wellness and solitude.
Wine and Dine 
The great part about staying at Woodloch Springs, is that you can make some of your meals at "home." Of course, you wouldn't want to miss out on the excellent dining options Woodloch has to offer. The Overlook at Woodloch Springs has a full bar and a beautiful outdoor patio for scenic sipping. Inside, the restaurant has a small but satisfying menu--we recommend the prime rib. 
There is also a great family-style breakfast every morning at the Springs, offering piled-on plates of eggs, waffles, potatoes, and yogurt parfaits a plenty. There are a few a la carte options for meals, but to get the full family Woodloch experience, you'll have to head to the main lodge dining room  where heaping portions meet hearty appetites. Either way, you can choose an inclusive meal-plan that meets your group's needs.
The Momtrends team took a lovely little breather at the relatively new, Gigi's Coffee House, located on the main resort. There are great grab-and-go options and delightful coffee drinks, teas, and pastries (Woodloch is known for their baked goods).
Play Together
There are countless activities, physical challenges, immersive classes, and fun opportunities for team building, family bonding, and playing at Woodloch Resort. With only two days to experience the amenities, we had to schedule ourselves thoughtfully.
It was a perfect weekend to experience the early foliage and hike the trails, but #lakelife was beckoning us, so we were happy to get a little light foot pedaling done in the paddle boats available to guests. For those who prefer an even more passive ride, there are scenic boat tours that explore the gorgeous surroundings.
Competitive outdoor bowling brought out our team spirit, as we giggled, cheered, and knocked down pins. We even got ourselves coveted Woodloch gold medals!
Never ones to turn down a team challenge, we were excited to test out our skills in one of two Woodloch escape rooms. With an hour to free ourselves, we worked together to unlock the door in just over 59 minutes! And then of course, we needed some mindfulness.
Of course with more free time, we could have tried Go Karts, archery, bumper boats, mini golf, and the towering climbing wall ... We could have checked out the kiddie rooms, splash zone, and an epic forest-inspired indoor climbing area and play complex. We could have watched Broadway-style shows, placed bets in faux horse-racing, and participated in game show competitions. We could have taken classes, made pottery, and painted palettes... 
We could be sad we didn't get the chance to enjoy and experience these endless activities, but, for the Momtrends team, it just means more for us to try next time... Let the 2019 summit planning begin!
This is not a sponsored post. Woodloch Resort hosted our work summit. Accommodations and most meals were included.