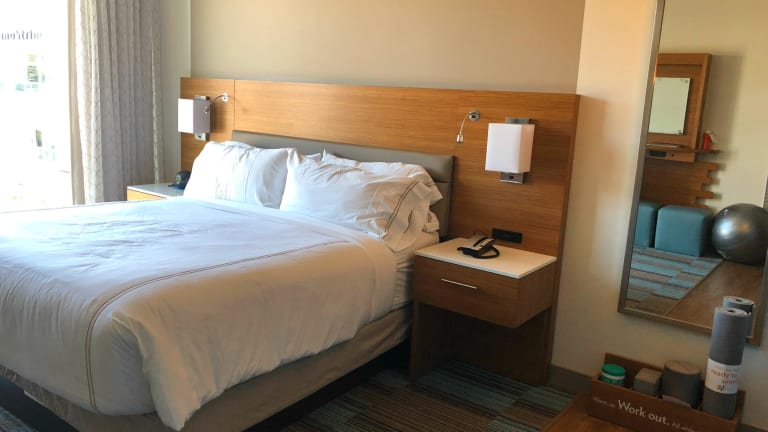 The Best Hotels for Active People
When you travel do you find it tough to fit in a workout? Don't we all? Well, never fear, today I'm going to talk about the best hotel for active people! Because tough work schedules or all day travel itineraries shouldn't interfere with your desire to get a good sweat sesh in! I know there have been many times where I've had a few extra minutes in the morning, at night or even in between meetings when I wished I could grab a quick workout. That being said, I don't always feel like heading down to the hotel gym, especially if I'm running short on time. Enter the EVEN Hotels in room gym equipment...
Hotels for Active People
That's right...I said IN ROOM. From rollers to bands and even bikes, EVEN Hotels has everything you need to complete a solid workout right from the comfort of your room. Wellness is really important to me and I don't want to have to give up that focus when I travel. I am simply a more productive person when I'm able to stay active, so hotels for active people are, obviously, right up my alley. And the fitness fun at EVEN Hotels doesn't stop in your room...They have a large gym (I'm talking much larger than most hotel gyms), a serene outdoor courtyard where you could throw down your yoga mat and, at the location that I visited in Seattle, you're minutes from beautiful Lake Union. Can you say KAYAKING?! It's even a short jaunt to downtown. You really couldn't ask for more from a hotel, except, of course, good food. Wait, they have that too! Breakfast is divine at the Cork & Kale café. Order the acai bowl...You'll thank me!
Hotels for Families
Now there's something really special about this EVEN Hotels property beyond they're attention to wellness, it's a dual branded property. That means, under the same roof are Staybridge Suites, which are perfect for families thanks to their large rooms, full size kitchens and outdoor living spaces. They also offer a social each evening so families who are staying on a longer term basis can get to know one another. I love that the brand has really thought about the overall well being of their guests. If your family needs to be at a hotel for an extended stay due to an illness and the proximity of the property to a medical facility, being able to interact with other families who know what you're going through would be so good for your family's emotional health!
I know I'm not the only mama out there who's always looking for ways to live a cleaner lifestyle, from my body to my mind. So, if you're of the same mindset and have been thinking about visiting Seattle, EVEN Hotels is just what you need...You'll have no trouble keeping your wellness focused lifestyle going!
We were not paid for this post. Our travel and accommodations were covered.