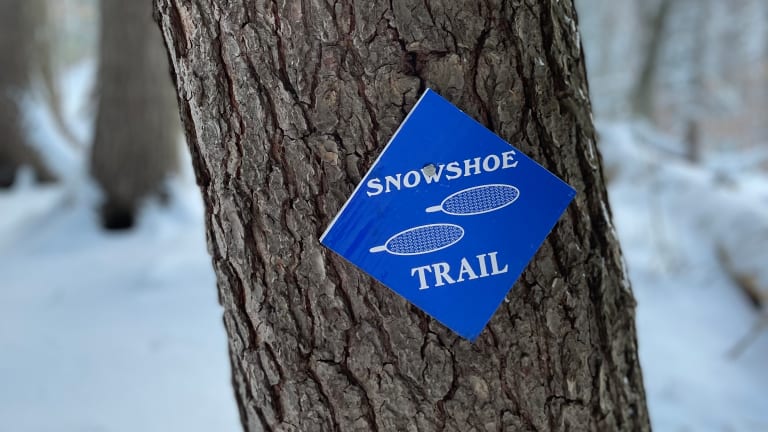 The Beginners Guide to Snowshoeing
Help for novices to try winter snowshoes with zero stress and tons of fun.
How will you embrace winter this year? I like to have a variety of winter sports at my disposal. I like to have variety of adventures and heading out in my snowshoes is one of my absolute favorite ways to play in the snow. When I want a day off from skiing, or if I'm just looking for a bit of solitude, a good snowy walk in snowshoes does the trick. I've put together this beginners guide to snowshoeing to help the novices out there try this activity with zero stress and tons of fun.
Related: 13 Ways to recycle and resell old ski gear
Seven Reason I Love Snowshoeing
If you are one of those people for whom skiing is a hard NO, or if you are nursing an injury, or maybe sitting out a season as a mom-to-be, you've got to give this great winter activity a try!
Warmth: On the coldest days, I venture out into the woods instead of up a chairlift. When I'm snowshoeing, I can generate a lot of heat and I warm right up. Plus, if I pick a wooded route, I'm likely sheltered from the winds. 
Safety: If skiing and riding and chairlifts freak you out, you'll love the chill vibes of snowshoeing. You pick the pace and the setting and you'll be worry-free about getting hit from behind or falling off a lift.
Dog-Friendly: Snowshoes trails are often dog-friendly (be sure to check before you head out). When you head out on your adventure you can bring your furry friend and everyone gets fit.
Family Fun: If you pick an easy route, even little kids can join the fun. We used kid carriers when the girls were little, then we upgraded them to their own gear as they grew. It's a sport that works for all ages and ability levels.
Budget-Friendly: Many snowshoe trails are absolutely free. Even if you go to a resort trail that's maintained, you'll save a bundle on this activity when you compare it to skiing and snowboarding.
The Workout: As a runner, I'm always on the hunt for an outdoor workout. Snowshoeing is an excellent low-impact aerobic exercise. It lets you extend your hiking and running season and lets you enjoy solitude in areas that might be crowded in summer. Snowshoeing on an equivalent hard pack trail will burn about 450 calories.
No Lessons Required: If you can walk, you can snowshoe. Once you've got the shoes affixed to your boots, you're ready to go!
Getting Started on Snowshoes
To get started, you might want to rent a pair the next time you are at a ski resort. Or you might want to borrow a pair or get an inexpensive set off Craigslist or Facebook. When you've got your boots set, follow these simple instructions
Attach Snowshoes: Pick a spot that's flat and sheltered from the wind. Follow the instructions on to attach the shoes to your boots. Make them secure and then lift your foot up and wiggle it around to make sure you don't have any issues. It's easier to get your snowshoes on in flats than in deep snow, so double check that you are all set before venturing out.
Set Your Poles: Poles really do help. To set your pole length, flip the pole upside down, grasp one hand below the basket and then adjust the pole trying to make it so your arm is at a 90-degree angle to the snow.
Proper Stance: You'll likely have your feet a little wider than normal. It doesn't take long to adjust, but you might feel awkward on the first few steps.
Start Walking: Yep, it's as easy as putting one foot in front of the other. Walk as you normally would, but don't shuffle! You'll want a nice purposeful step. This means you won't stumble on roots or roots and will get you a good grip in slippery, snowy conditions or icy terrain.
Practice backing up: It's easy to lose your balance when trying to walk backward. If a need to backtrack arises, it's easier to go the long way around and simply turn around in a small circle.
Look Up: Now that you are off on an adventure, enjoy yourself! Beginners often forget to look ahead and enjoy the trail. Trust that the shoes will do the work! Lift your head and put your shoulders back.
Gear You'll Need
I love how budget-friendly snowshoeing can be. You likely have everything that you need (minus the snowshoes and the poles) at home. 
Snowshoes: Get snowshoes that are right for your weight, the terrain and the snow conditions
Boots: Wear warm, waterproof boots. You'll want a sturdy boot since this is where the snowshoes attach. Winter boots, snowboarding boots, and even hiking boots can work. Wear something comfortable and broken in. Your boots should be warm and waterproof.
Winter Gear: Dress in layers with clothing that can handle cold, wet conditions
Poles: Bring adjustable poles with snow baskets. Poles will help with you to help with balance and traction. I like this pair I found on L.L.Bean.
Pack: A small pack can carry your snacks, map and water.
Where to Find Great Snowshoes
Once you are hooked on spending time in the snow, you should invest in a great pair of snowshoes. I love my Wildhorn DelanoX2.
They are incredibly easy to attach to my boots and fully adjustable. With other pairs, I've had to tighten the fit after a mile or two. With this pair, they stay securely attached to my boots even on steep terrain. 
The "hard pack" grip teeth work on icy conditions. I have great traction wherever I go. These lightweight snowshoes are perfect for any of your adventures.
Getting in and out is a breeze. They are made with a quick lock release, I just need to pull one of the handles to loosen the grip.
It's available in six colors and two widths. How much you weigh typically determines what size to choose. For example, our Delano snowshoes come in 2 sizes: 22" and 28". The cutoff weight for 22" is 160 lbs or less. If you are over 160 lbs (like me) you want the larger size. Surface area is the primary driver of snow flotation.
The Next Steps of Snowshoeing
Once you get the basics, you'll start going on longer adventures. Golf courses (make sure it's ok) and local hiking trails are great easy adventures, from there, head to your favorite resorts for more challenging trail. Taking an organized tour can be a ton of fun.
MORE SKI FEATURES FROM MOMTRENDS
PIN IT!
Use Pinterest to save your favorite family travel features. Be sure to follow our Ski Moms Pinterest Board.
This is not a sponsored post.