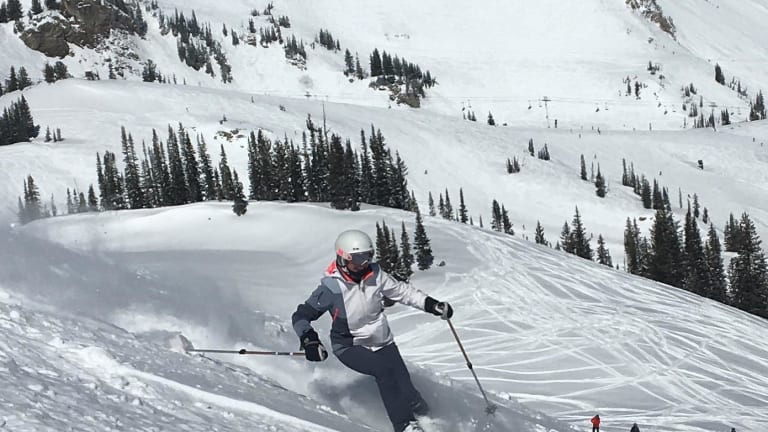 Ten Reasons Moms Should Ski
Don't let the kids have all the fun on the slopes
Our 2017 Family Ski Guide is live! This year we had some new contributors share stories and resources to help even more moms get out on the snow. I asked Kristen Lummis, the Founder of BraveSkiMom.com help me talk more of you into skiing. She came up with ten reason moms should ski. And she knows a thing or two about fun on snow. Her site is all about sharing family skiing tips, unbiased resort and mountain reviews. It's a must-visit for any moms who love the outdoors.
Ten Reasons Moms Should Ski
1. Skiing is enjoyable. It's a challenge, it's a joy and, with professional lessons, getting started is easy.
2. Skiing gets you outdoors. Winter can be trying, with cold weather and gray skies. Skiing takes you to a world apart, of beauty and fresh air.
3. Skiing is good exercise. Think cardio and weight room. Skiing works your legs, abs and arms, and makes you breathe deeply, especially at altitude.
4. Skiing can be cell-phone free. Bulky mittens deter the phone and checking social media. Stash the phone in an interior pocket and enjoy being unplugged.
5. Skiing rewards with guilt-free pleasures. Keep your muscles happy with a mid-afternoon massage or long soak in the hot tub.
6. Skiing fashion is fun. Ski clothing can be basic: water and wind resistant outerwear and cozy warm layers. It can also be trendy, beautiful or classic. Enjoy finding your style. (Check out this cute winter gear from SKHOOP to prove our point)
7. Skiing with friends is your time. Moms need a break. Take a half-day or more to ski, laugh and catch up with your chicas on the chairlift. (Check out how much fun we had at Alta on a girls trip).
8. Skiing with your spouse is time well-spent. Sharing a physical activity together builds endorphins together. Just don't let your spouse try to teach you how to ski.
9. Skiing is family time. This is our favorite reason for moms to ski. There is no better sport than skiing for multigenerational fun. Skiing together builds strong bonds and plentiful memories. Plus, your kids will think you're cool.
10. Skiing leads to après-ski. Never an afterthought, and not all about drinking, après with the family can mean hot chocolate and s'mores, ice skating or sharing stories as you drive home together.
It's bonding, times two.
What do you think? Are you going to join the kids out there this year?
This is not a sponsored post.