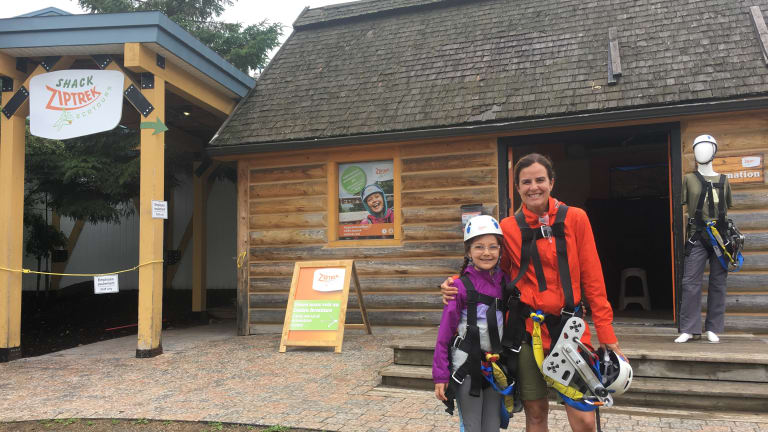 Summer Fun for Families at Mont Tremblant
Summer Fun for Families at Mont Tremblant: there's something for everyone in Quebec. Let's talk about my six favorite summer family-friendly activities.
I love the trend of adventure vacations with the kiddos. You know I love skiing with my kids - we've traveled all over the US getting in turns. This summer, I've had a blast getting to experience the best North American resorts in the summertime. I just got back from Quebec checking out the Tremblant Blues Festival, while I was there I also scoped out the best Summer Fun for Families at Mont Tremblant.
Check out our feature on Tremblant in the Winter here.
Book your stay at the Fairmont Tremblant here.
Six favorite summer fun activities at Tremblant
Rafting, horseback riding, zip-lines, canoeing, kayaking, rock climbing, boat rental, waterskiing, nature watching - there's something for everyone in Quebec. Let's talk about my six favorite summer fun activities at Tremblant.
1. Luge
2. Gondola Rides
3. Birds of Prey Show
4. Village Activity Center
5. Lake Tremblant
6. Ziptrek Ecotour
Luge Trek Skyline Luge
Zoom down the 1.4km luge trek as you take in the scenery. It's not an alpine slide, it's not a coaster, it's more of a car. They say it's a "unique wheeled gravity ride" you control the speed and steer into the turns. There's a purpose-built track. I found it easy to master the braking and steering system. My little one was a little nervous, no problem, she fit in the car with me. Be a dare devil or take the turns slowly, it's up to you. One thing I know, you'll love to ride the skylineluge.com. The luge is open from May to October.
Gondola to the Top
I love taking a gondola, especially when I'm not wearing skis! The ride takes about 11 minutes and gives you great scenery. Once you're at the top take a minute to walk around and enjoy being up on the highest peak in the Laurentians. You can purchase an activity pass or get a solo ride to take in the views. We made a little picnic at the top before taking in the bird show. Other families took the gondola up and hiked down (or vice versa). You'll get a view of the entire village - it's a great first day activity to get your bearings.
Everything is set on a national park—Park National du Mont-Tremblant. Whether you are hiking or on the gondola you'll love the natural splendor.
Birds of Prey
My kids and I love animals. We're always eager to learn more about them and how to protect their environments. Once you're at the top of the mountain make a date with some feathered friends.
Use your activity pass to attend the Falcon Environmental Services' show. We met raptors, eagles and owls as they showed off their natural behaviors. We saw them eat, fly and train. My daughter even got to put a owl on her arm. Birds of Prey Flight Show from June to September at 12:30 and 2:30pm at the summit of Mont Tremblant. Get more details here https://www.tremblant.ca/things-to-do/activities/birds-of-prey-show
Village Akropark 
My daughter loves to climb and jump. Heck, that's what being a kid is all about. She loved the village at Mont Tremblat and the summer set-up. She started at The Akropark. It's a mini ropes course perfect for kids 10 and under. The course is is a 30 feet long and is only 20 feet high. Properly challenging without being scary. Move from one platform to another by means of 6 different types of suspended bridges and games. There are two different log bridges, suspended ropes, monkey bridge, stability beam and fish net. Climb away.
We've done a Eurobungy before - when we were in Big Sky and at Crested Butte. Bounce, flip and generally pretend the rules of gravity don't apply to you. The kiddos are safely tethered to ropes so they don't go flying off the trampolines.
Her favorite? Well, it's hard to pick, but she did love the climbing wall. There are four course in all. The climbs are all safe - there are ropes keeping your kids safe. The climbers are all outfitted with harnesses before they head up the 30-foot high tower.
Read to have fun? Grab your Activity Card and set the kids loose in the village. My 9-year-old loved the get them for 3, 5, 7 or 10 activities. Kids rate $27.49 for 3 activities (ages 6-12 years). 
Beach at the Beach & Tennis Club
Tremblant is blessed to have both a mountain and a lake. We made our way over to the Centre Nautique Pierre Plouffe to explore some boating fun. We took out a kayak and tooled around the lake. Pick from canoes, paddle boats, SUPs and more. The water was chilly but clean and the lake is just a short 15 minute walk from the Fairmont hotel. Get all the details here https://www.tremblant.ca/things-to-do/activities/centre-nautique-pierre-plouffe
Ziptrek Ecotours
I saved the best for last. I loved our adventure on Quebec's longest zip-lines. Our zip-line experience with Ziptrek was exhilarating! We've zip-lined before but never with an outfit that focused so much on the environment. Seriously, the best guides I've had yet and I've been to more than ten zip-line locations.
Ziptrek has established itself as the #1 outdoor activity in Tremblant. They focus on developing a well-trained team of guides and making safety paramount. Plus, their respect for the environment is impressive.
We started off with a safety demo and then geared up in our harnesses and helmets. From there you'll head up in the gondola to the top of the mountain. Then you start the fun!
The course is a 5-line zip-line. In between zips, you'll get a little hiking in and a chance to get to know the guides. I loved how they mixed a little learning with a lot of fun. I'm all for educating kids at teachable moments. My daughter learned about sustainable woods, flora and fauna and had the thrill of her life. Start at the top and finish at the bottom. It's even more fun than skiing down.
TIP: You must have closed toe shoes. We wore our hiking boots. Also, be sure to apply bug spray and sunscreen.
A few more facts: Minimum age is 7, minimum weight is 70 lbs. (this is so your kids don't get stuck out on the middle of a line somewhere). Allow about three hours for the whole experience. Book your trip at 1-888-ziptrek or ziptrek.com
Plan your Summer Fun for Families at Mont Tremblant
These were just our favorites. There's so much more to do! Book everything on the mountain at the Activity Center Tremblantactivities.com or call 819.681.4848 online advanced reservations recommended. Want to go in the winter? Head here to see our full review of Mont Tremblant in the Winter.
Where to Stay
Home base for all our adventures was the Fairmont Tremblant. It's the best location to get out and enjoy all that Tremblant has to offer. The Fairmont is right in the village with a sizable outdoor pool that overlooks the mountain.
Need a little recuperation after all your adventures? Check out the spa or the fitness center for a little me time. Fuel up for your adventures as the tasty breakfast buffet and be sure to visit the newly redesigned restaurant for gourmet dinners.
The staff is wonderfully attentive, just ask and they will do all they can to make you happy and set you on the path towards your next adventure.
More Summer Fun in the Mountains
PIN IT!
Use Pinterest to save your favorite family travel articles, and be sure to follow our Travel with Kids board.