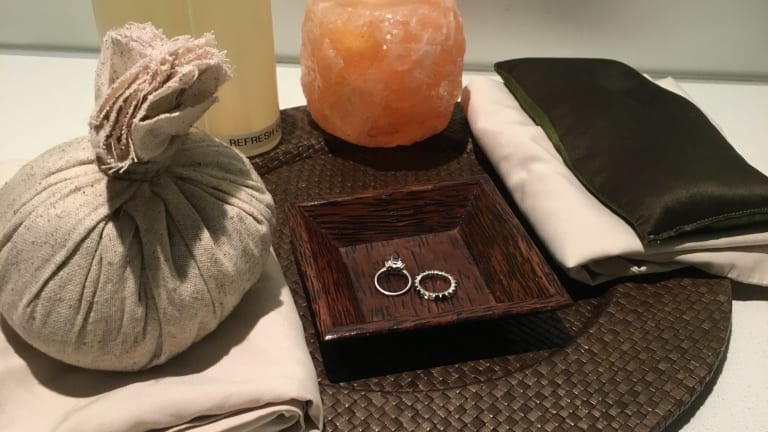 Relax and Rejuvenate at Westin Riverfront Beaver Creek
Spa plus yoga equals happy mom
I love a good ski day. I also love "me" time. When we travel to our favorite ski destinations, I almost always work in a day of mom R & R. As a 40+ skier it's a bit of self preservation both physically and emotionally. It is my journalistic duty to talk about creating a spa day at Beaver Creek.
As you know, skiing is incredibly active. I try to prep by keeping myself in good shape as well as stretching before and after my ski day.
First the Workout
Cross-training is really important to the, erm, older skier. I need to plan stretching and cardio to complement my ski time. I also believe in the power of massage. Of course you can accomplish this at a full-service resort, but did you know you can also simply spend a day at the Westin and take advantage of the amenities!
When you head to ski at Beaver Creek plan a day and head to the Westin to use the spa and athletic facilities (to check out our full review of the Westin from 2016 visit this page).
When you book a spa appointment, you get access to the fabulous Athletic Club at Westin Riverfront Beaver Creek. This club is pretty awesome. First, you should know Olympians train here—it's the official club for Mikaela Shiffrin! And it's got every gadget, machine and workout you could want…including a magnificent outdoor heated lap pool.
There are more than 70 group exercise classes weekly. Complimentary classes include pilates mat, pilates barre, circuit training, HIIT, TRX, Total Body, Tabata, Chisel, Aerial Yoga and Masters swim. 
Restorative Yoga
I thought my 40+ body deserved restorative yoga! It was a big three days of skiing and I think moderation is the key to staying healthy.
The 50-minute class was excellent. After a brief introduction and warm up, the instructor moved us through about 30 minutes of gentle flow yoga with lots of breathwork. The studio was well-lit, impeccably clean and stocked with all my favorite yoga props.
Speaking of props, the last 10 minutes was all about letting go in supportive poses. It was divine. My spine was incredibly happy after this session.
Get the full yoga schedule here http://www.spaanjali.com/yoga-clases
Spa Day Beaver Creek
Spa Anjali's vibe is all chill. Inspired by the "healing powers of Mother Nature" the spa has all the touches I expect from a luxury resort. 
The locker room has plenty of space to move around and one of the fastest-heating steam rooms I've ever experienced (0 to steamy in about 2 minutes!). There's also a sauna and plenty of showers. And, of course, all the fluffy towels and robes your heart could desire.
There's a well-appointed relaxation area full of reading material and surrounded in silence (amen). I grabbed tea, some snacks and gave myself time to sip and read. All I could hear was the trickle of water in the nearby fountains. Heaven.
From there, my massage therapist welcomed me and took me to my clean, spacious and warm room (I hate a cold spa room). She fully explained what was coming up. 
Ponderosa Pine Therapy
The spa is deeply connected to nature and Native American influences. This therapy "borrows ancient Native American remedies to treat inflammation and muscle pain." It was a combo of deep tissue massage and light stretching, with the magic touch - a heated poultice filled with sage, pine and lavender.
Back in the wild west, poultices were common. This is homespun medicine and it's healing properties are well respected. A poultice is a soft, moist mass of material, typically of plant material, applied to the body to relieve soreness and inflammation and kept in place with a cloth.
The poultice is sublime. I just had to share it on instagram....I only wish you could smell it though this digital medium. My 75 minutes were all bliss. I wish I could give each of you this gift!
Check out the full spa menu here http://www.spaanjali.com/spa-journeys
As a extra treat, you get to go home with the poultice. Reheat in warm water or with a few seconds in the microwave.
This is just one of a myriad of treatments. There's truly something for every stress bunny out there. Weary parents, I applaud you for all the time you put in on the ski hill, book a sitter and build a spa day at Beaver Creek into your schedule.
Find out more and book your spa day at Beaver Creek here http://www.spaanjali.com/
Momtrends Tip: Don't forget to give yourself time to shop in the cute boutique near the entrance.
This is not a sponsored post. Accommodations were made to facilitate this review.