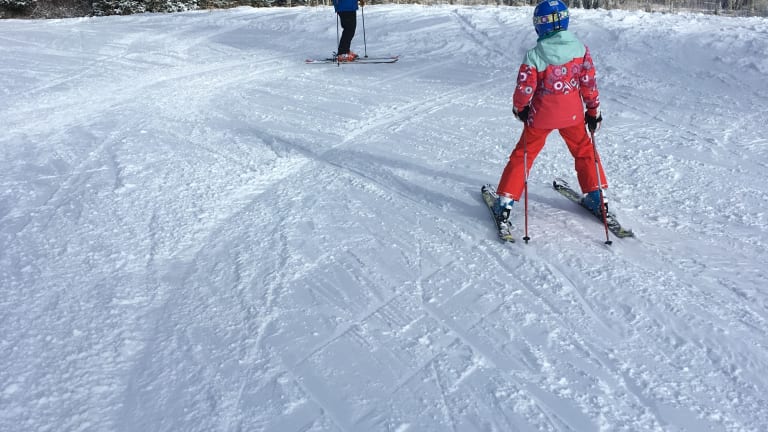 Publish date:
Ski Gear You Didn't Know You Needed
Ideas to help families navigate ski season. Winter tailgating is going to be big this year as families figure out ways to ski safely during COVID.
Ideas to help families navigate ski season. Winter tailgating is going to be big this year as families figure out ways to ski safely during COVID.
In most years you won't need these. You get ready in the lodge and then are out in snow pretty quickly. But this year, we will have to get ready in the car many days, the walk on concrete is deadly to expensive ski boots.
Related: Easiest ski and snowboard lease for families
Protecting Your Boots
Consider this your reminder to order boot protectors. Many of us will be getting ready in the parking lot this season. These rubber soles slip on top of ski boots to protect the plastic from getting beaten up on the walk to the slopes. They are then small enough to stash in your day pack.
Our team's coaches recommended we all get cat tracks or the like.  Traction cleats designed especially to fit on ski boots make it easier and safer to walk on snow, ice, and slippery surfaces.
Brands to consider:
Yaktrax SkiTrax Ski Boot: Tracks Traction and Protection Cleats.Feels like I have nice, cushy suspension under my boot & great traction. Make sure you have your boot size handy to order the correct size. Get Yaktrax here on Amazon.
Ski Skooty: This also slips over your boot. I like that I can color code the family with these Ski Skooty boot protectors. Get Ski Skooty on Amazin here.

5 Pretty Ways To Organize Your Jewelry
I admit - I'm guilt. Despite my best efforts, my "jewelry drawer" has become a tangled mess of necklaces, bracelets and earrings. This cluttered collection not only makes it hard to see what I have, but difficult to untangle the pieces I do want to wear! This summer, I'm ...read more
This Year's Coolest Jumbo Pool Floats
Pool season is almost here! I can't wait to relax, read a book, and sip a cocktail while lazily drifting in an oversized float. (Just kidding, I have two toddlers--but a swim mama can dream, right?). If you've got a staycation planned, check out this year's coolest jumbo pool ...read more
Crystal Clear and Pristine: Pool-Cleaning Tips
Tropical Storm Isaiah gave us quite the midsummer surprise here in the suburbs of New York City. We just got our power back on after a whole week of darkness! With trees down, debris everywhere, and lots of uncertainty, one thing we forgot to check on: our above ground Intex ...read more
Gear for Getting Ready in the Lot
This work bench makes a great space to get boots on. Get it at Lowe's here for $34.
Warming up in the car
There's going to be a lot of time spent in the car. Base areas will want families to arrive and start skiing. Many won't even be selling tickets at the window. 
Lunches will be reserved ahead of time and tables will be hard to secure. The best bet is to carry snacks with you and eat before and after you get to the mountain. Here are my favorite finds.
MORE SKI FEATURES FROM MOMTRENDS
PIN IT!
Use Pinterest to save your favorite family travel features. Be sure to follow our Ski Moms Pinterest Board.
This is not a sponsored post. It is loaded with affiliate links. When you use and shop our links, you support Momtrends.