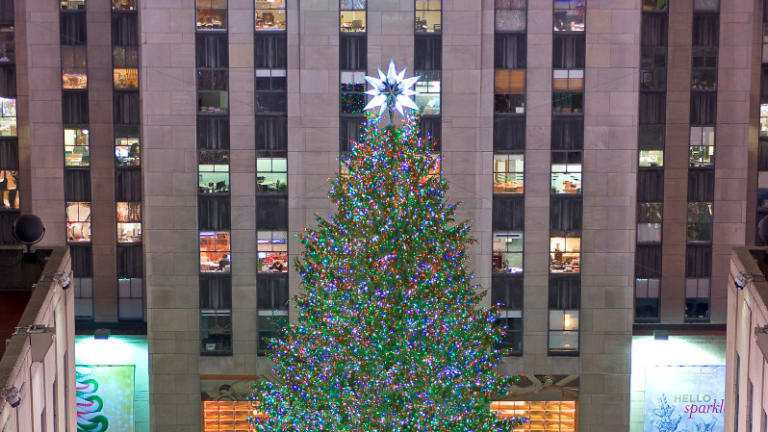 Holidays at Rockefeller Center New York City
Plan your visit to Rockefeller Center in New York City to celebrate the holiday season with skating, dining and more.
Get ready for Christmas with the annual Rockefeller Center Christmas Tree lighting. The Rock Center Christmas Tree is a world-wide symbol of the holidays in NYC--and a great free activity to take the kids. The tree, traditionally a Norway Spruce, is illuminated by 30,000 environmentally friendly LED lights on five miles of wire, and crowned by a Swarovski crystal star.
Related: Plan a visit to American Girl flagship in NYC
Holidays at Rockefeller Center New York City
The tradition began in 1933 and you can expect hoards of holiday revelers every year. If you can handle crowds it's truly an event that can't be missed.
Rockefeller Center is located at 30 Rockefeller Plaza (Between 48th & 51st Street and 5th & 6th Avenues). 
Tens of thousands crowd the sidewalks for the event and hundreds of millions watch the Christmas Tree Lighting Ceremony broadcast live across the globe. If your family is planning to attend in person, please rely on public transportation.
For more details about the Rockefeller Center Christmas Tree & Skating visit https://www.rockefellercenter.com/
One of our favorite places in NYC during this time of year is the Rockefeller Center Rink. After 75+ years The Rink is still enchanting for all who visit it, said Nick Valenti, restaurateur and CEO of Patina Restaurant Group, which operates The Rink and its surrounding restaurants. We are proud to be a part of its history and look forward to many memorable years to come."
Each year this iconic spot offers new packages and family-friendly experiences. Both a symbol of the spirit of the American family and an international cultural landmark, The Rink is a must-visit destination beloved by a multitude of generations. The first ice rink to open in New York each year, The Rink is one of the most-visited sites in the world, with more than a quarter of a million skaters visiting annually.
Special packages to consider:
Christmas Spectacular Show Packages: November tickets to the Radio City Christmas Spectacular, along with VIP Skate, and three-course dinner at Rock Center Café or The Sea Grill.
VIP Skate: Bypass the line to the ice and enjoy a first-class experience at the rink-side Igloo with hot cocoa, freshly baked cookies and more.
First Skate: Be the first to skate at 7am, with complimentary coffee, hot cocoa, freshly baked pastries provided by Cucina & Co.
Breakfast with Santa: Late November-Christmas Eve, families join St. Nick at Rock Center Café and The Sea Grill for a decadent breakfast with live carolers, gifts, and skating with Santa.
Engagement on Ice: Offering couples an unforgettable engagement at center ice, with private ice time for proposals, Champagne toast and optional dinner packages.
Sky Skate: Post-holiday, take a spin on the ice and visit Top of the Rock Observation Deck.
For schedules, skate rental information, and to purchase programs, guests may visit www.therinkatrockcenter.com or call 212.332.7654. VIP Reservations available at 212.332.7605
MORE FROM MOMTRENDS ABOUT A NYC VISIT
Check out our NYC page for things to see and do in NYC and don't miss these highlights.
PIN IT!
Use Pinterest to save your favorite NYC outings. Be sure to follow our New York City board here.
Momtrends was not paid for this post.