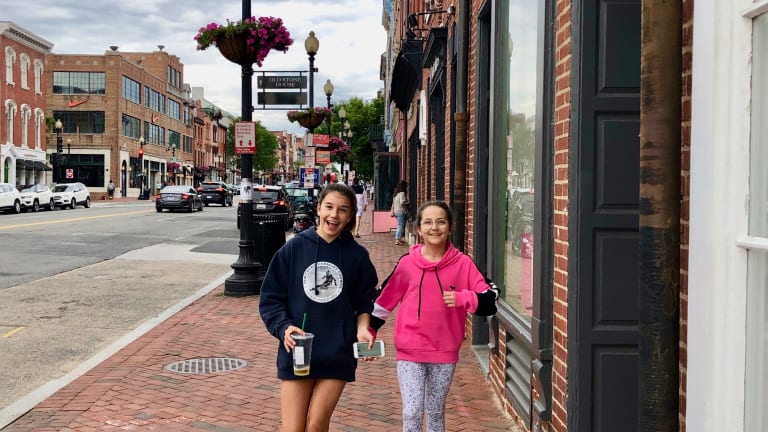 The Reasons Why We Love Washington DC Family Travel
Plan your trip to Washington DC with Expedia
Disclosure: This The Reasons Why We Love Washington DC Family Travel feature is brought to you by Expedia.com. While this was a sponsored opportunity, all content and opinions expressed here are my own.
My family lives in the Washington DC area. Half are in Maryland, half are in Virginia. I get down to the area frequently and I've learned a great way to tackle family visits is to play tourist on these trips. This is one of the main reasons why we love Washington, DC family travel -- there's so much to do and discover that's all walkable. Every trip home is a chance to explore.
Where to start planning your Washington,  DC Family Trip
I start all my trip planning with Expedia. Whether you are planning a weekend escape with your girlfriends or the big summer family trip, Expedia can connect you with the best travel deals to destinations around the world.
The search engine at Expedia has figured out how to source the best deals for you and your family. Finding savings on Expedia is a snap. I've used Expedia to plan trips to Europe, like our last trip to London, and for more simple trips like this recent visit to Washington, DC. 
I start with the basics of getting from NYC to DC. Flying into DC Reagan airport is a breeze. It's even easier when you can use Expedia to compare flight deals. Since I go to Washington, DC a few times a year, I am a pro at using Expedia to find the best flight deals. 
Momtrends Tips to Georgetown with Kids
Once you have your destination in mind (like DC), Expedia can generate a huge selection of activities to help you figure out how to make the most of your vacation. I'm sharing my insider tips to a fun day with the kids in Georgetown.
This recent trip combined family fun, squash and some American history. I signed the girls up for a one-day squash tournament at Squash on Fire, a new sports club that's dedicated to this racquet sport (find out more about squash here). The tournament location is steps away from Georgetown --one of my favorite places to explore on foot in Washington, DC. 
Once you park in Georgetown, you can get everywhere on foot. Momtrends Tips: Be sure to feed the meter and wear comfortable shoes! On our day in Georgetown we started off with some squash and then set out early to shop. The brick streets along M Street get busy. Plan to get in your retail therapy before noon. We popped into our favorite stores -- Athleta, Paper Source, Urban Outfitters and Brandy Melville -- and found a few treasures.
Since I always like to throw in a little culture, we stopped by The Old Stone House. This pretty structure is the oldest unchanged building in Washington, D.C. It's got a pretty garden and museum, and here's a fun  tip: as part of the park service, visiting is FREE! 
Built in 1765, Old Stone House is located at 3051 M Street, Northwest in the Georgetown neighborhood. Visit at 3051 M St NW, Washington, DC 20007.
A visit to the famous Georgetown Cupcake shop was a "must do" on our list. Yes, there are healthier options, but all the squash and walking deserved a special treat. I met the founders of this treat brand a few years ago and always go out of my way to support them.
We were bummed we couldn't get into Crumbs & Whiskers kitten lounge. The pop-up Kitten Lounge is a place filled with adorable rescue kittens who are looking for their forever homes. You can play with them, cuddle with them, nap with them, do a photoshoot with them, and if you fall in love...adopt them!
Visit The Kitten Lounge at 3109 M Street NW, Washington, DC 20007. Call to book reservations! 202-333-2814
DC has put a lot of time and energy into renovating the libraries that dot the city. If you've got little kids, the libraries are a great spot to beat the heat and give the kids some down time. This one is the West End Library on 2301 L St. NW, Washington, D.C. 20037. For a full list of libraries visit here.
You won't have to look far for some great street art in Washington DC. I love these angel wings by Colette Miller. If street art is your thing, use this cool mural locator to entertain the kids. https://muralsdcproject.com/murals/map-of-muralsdc-locations/
Expedia Recommendations in Washington DC
Since I get to DC so often, I'm always looking for "what's next." For our next trip, Expedia suggested a Monument Tour at Dusk. This sounds perfect for us. The girls are steeped in American history and I think this instagram-worthy tour would be perfect for them. The Expedia rate is $58 per person for this three-hour tour.
The tour begins at the US Navy Memorial and loops around the National Mall, stopping at iconic landmarks and powerful tributes to key moments in American history along the way. Admire the Jefferson Memorial, a classical structure perched regally on the banks of the Potomac, and stand at the feet of the 16th president at the Lincoln Memorial.
I also love the private tour of the Smithsonian National Museum of American History. Through Expedia you can book this cool experience. Spend 2.5 hours with a guide visiting the unique collection of American artifacts at the National Museum of American History.This entirely private tour will tell the tale of a ragtag group of colonists who built one of the world's most powerful countries, the United States.
The Smithsonian National Museum of American History traces this ascent through a one-of-a-kind collection of items including the actual banner that inspired the country's national anthem. Learn about the first president, George Washington, while viewing his sword and discover how Hollywood has helped shape this country when you check out Dorothy's ruby red slippers. Discuss segregation through the Greensboro lunch counter and the role of women through the first ladies' gowns. This tour will help you to understand the turbulent history that has marked the United States of America.
Ready to book your trip? You can get Big Savings when you book Flight + Hotel Together. Expedia makes is easy and affordable to bundle your travel needs.
Using Expedia to plan a Washington DC Family Trip
Expedia has everything you need to plan the perfect trip. From airfare, hotels, car rentals, vacation rentals and activities, you can plan the perfect family trip all at one site. 
Start planning your next trip with Expedia here.
On this trip I stayed with family, but on my next one I'm eager to snap up package deals. I did a little research and found an awesome package with the Kimpton Hotels. I'm a huge brand fan. I don't have to use multiple websites to organize my trips. Expedia gives me access to everything I need.
Pin it!
Use pinterest to save your favorite family travel articles like this Reasons Why We Love Washington DC Family Travel.